Photos of rotten teeth on cans of soft drinks could deter young adults from buying them, according to a new study.
The academics behind the research wanted to investigate whether warnings on packaging would stop adults aged between 18 and 35 from consuming sugar-sweetened products like soda, which at least half of Americans consume a minimum of once a day.
The study presented at the European Congress on Obesity involved four types of warnings, cautioning that soft drinks can cause obesity, type 2 diabetes and tooth decay. The least graphic was a plain text message, while the most was an image of rotten teeth.
To test their hypothesis, the researchers at Deakin University asked almost 1,000 young people aged between 18 to 35 to complete an online test. They were instructed to imagine a store, cafe or vending machine where they could buy one of 15 drinks. While some of the sugar-sweetened drinks carried warnings or health star ratings used in Australia and New Zealand, others did not have labels.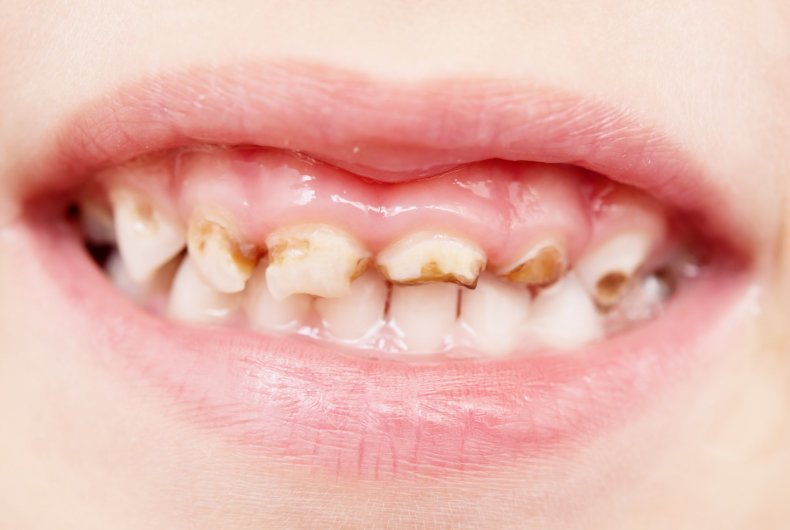 The authors found that graphic warnings caused a 36% drop in people wanting to purchase sugary soft drinks compared to a product with no label.
The study demonstrated how effective warnings on packets could be in changing people's buying habits, she argued, and said there is a "compelling case" for them to be emblazoned on drinks worldwide.
"The question now is what kind of impact these labels could have on the obesity epidemic," Professor Anna Peeters, the lead author of the study, said in a statement. "While no single measure will reverse the obesity crisis, given that the largest source of added sugars in our diet comes from sugar-sweetened drinks, there is a compelling case for the introduction of front-of-pack labels on sugary drinks worldwide."
As over one-third of U.S. adults suffer from obesity, lawmakers are attempting to tackle the epidemic by putting consumers off buying products such as sugary drinks which are linked to the chronic disease.
Earlier this year, research showed that Philadelphians were less likely to drink soda every day after the city rolled out a tax on sweetened drinks at 1.5percent per ounce from January 2017.
A survey of almost 900 residents showed they were 40% less likely to consume sugar-sweetened drinks compared with those who lived in nearby cities without such a tax.
Pav Kalsi, senior clinical advisor at the charity Diabetes U.K., told Newsweek: "It's fair to say that shock tactics like this will work for some people but not for others. There needs to be some more longer-term research on the specific effectiveness of looking at images of rotten teeth and how this affects the rates of consumption of sugar drinks."
It is also important to look at the bigger picture and manufacturers should aim to reduce sugar in all drinks, including some fruit juices and milk-based products, as well as foods in general with the view to reducing obesity rates.
"We want people to enjoy what they eat and drink, and encourage everyone to make healthier swaps where possible. This could mean choosing lower sugar, or no calorie drinks or, if you already have sugar in tea and coffee, you may want to try a sweetener instead," she said.
This piece has been updated to include comment from Professor Anna Peeters and Pav Kalsi as well as background information.