'Obey the Rules': China Warns U.K. After Royal Navy Enters Waters
An editorial published Thursday by a Chinese state-run newspaper warned the U.K.'s Royal Navy to "remain restrained and obey the rules" as a carrier strike group journeys this month through the South China Sea, a contested territory that China has aggressively claimed as its own waters.
Earlier in July, British Defense Secretary Ben Wallace inflamed existing tensions between the U.K. and China by insisting the Royal Navy would sail wherever international law permitted. The navy is permanently deploying two warships to the region after its new Queen Elizabeth aircraft carrier and escort ships sail to Japan through the disputed Asian waters.
"Following on from the strike group's inaugural deployment, the United Kingdom will permanently assign two ships in the region from later this year," Wallace said in a joint announcement in Tokyo with Japanese Defense Minister Nobuo Kishi.
Despite international court rulings in 2016 saying that the South China Sea is not a Chinese territory, Beijing has continued to treat it as such, building military bases and developing airport runways on islands in the disputed waters.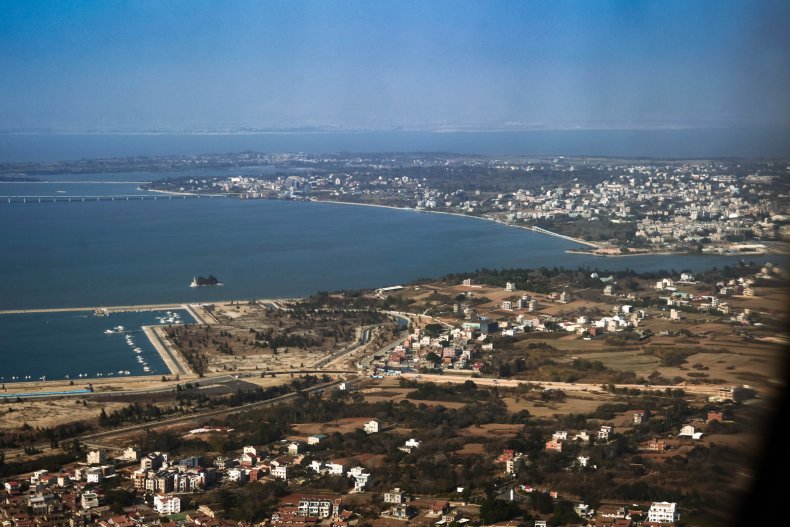 The editorial in the Global Times, a propaganda arm of the Chinese government, threatened the U.K. with suggestions of military retaliation and advised U.S. allies to be "particularly cautious."
"The Queen Elizabeth carrier strike group's navigation to the South China Sea was the UK's effort to show its presence in the region," the editorial says. "Please follow the current international shipping lanes and stay at least 12 nautical miles away from the Chinese islands and reefs."
Wallace told The Economic Times that the U.K. would not be intimidated by China's threats following his announcement of the Royal Navy's planned route through the territorial waters for the high-profile visit to Japan.
"It's no secret that China shadows and challenges ships transiting international waters on very legitimate routes," he told the Times. "We will respect China and we hope that China respects us.... We will sail where international law allows."
Japan has signaled its increasing concerns to the international community regarding China's growing expansion in the region, particularly in regard to Taiwan. Upon arrival, the Royal Navy's vessels will be divided for separate port calls to U.S. and Japanese naval bases along the Japanese archipelago.
Pentagon officials expressed support for the British deployment in a statement, noting the U.K.'s "commitment to an inter-connected network of allies and partners, who mutually cooperate and support freedom of navigation and a rules-based order in the Indo-Pacific region."