A woman's adventures with her pet duck have gained much notoriety across social media.
On December 5, the TikTok user @dunkin.ducks posted a video of her and her duck driving around town. Viewed over 10.5 million times and liked over 4 million times, the video is captioned, "She is so obsessed with ice."
In the video the woman says that her female duck is so obsessed with Dunkin' that she pants whenever she goes through the drive-thru.
"She is such a faker," the woman says, opening the duck's carrier after mentioning that the duck had just consumed an ice-filled cup of water and fruit at Starbucks only minutes prior.
When the poster tells the viewer to look at the duck, the duck responds with a look of dismay as if it is being bothered or shunned for its affinity for ice.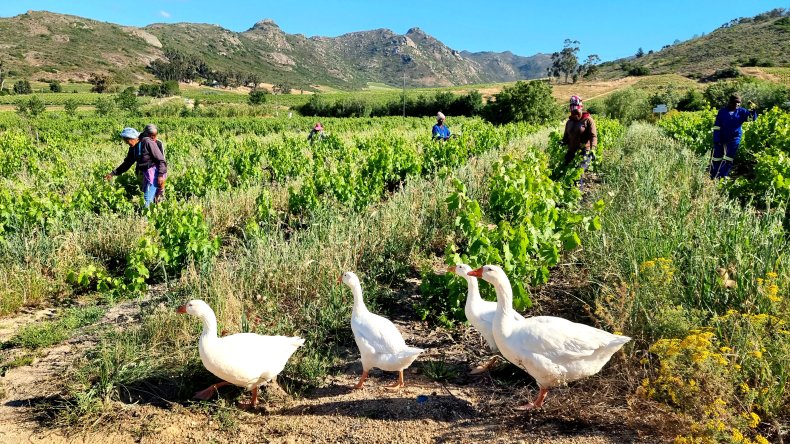 The video proceeds to show the duck sticking its beak into the Starbucks cup, chomping on a piece of ice. The woman said in the comments section that her duck actually consumes the fruit in the cup, too, but only after all the ice has been picked out.
The duck's reaction when outed for liking ice so much drew many comical reactions. More than 10,000 people commented on the 32-second footage of animal entertainment.
One poster said the duck's reaction mimicked someone going, "'She look at you like "girl what you say.'"
A head tilt by the duck—a display of dramatic acting, some joked—drew rave reviews.
"THE HEAD TILT 'WHO ME? AM I THE DRAMA?'" one user said.
"Great it's 25 past midnight and now not only do I want ice water.… I also want a duck," another user said.
One user even commented and claimed that a restaurant employee asked if the person ordering the ice water owned a duck, potentially linking the woman's videos of trips to Dunkin' to the customer.
The way the duck consumed the ice also drew plenty of attention.
One user said the duck looked "so happy" while eating ice. Another user said, "Birds and ice is the funniest thing i swear mines will be starving but still prefer ice to food."
But Dunkin' may not the be the duck's only hangout. When someone suggested the duck try ice from Sonic, the original poster said that the duck is all about it.
And if the duck doesn't finish its beverage in the car?
"She shares it with my other ducks when we get home," the poster said.