Amazon New York Deal: Alexandria Ocasio-Cortez Blasts Officials for Offering 3 World Trade, Farley Post Office Building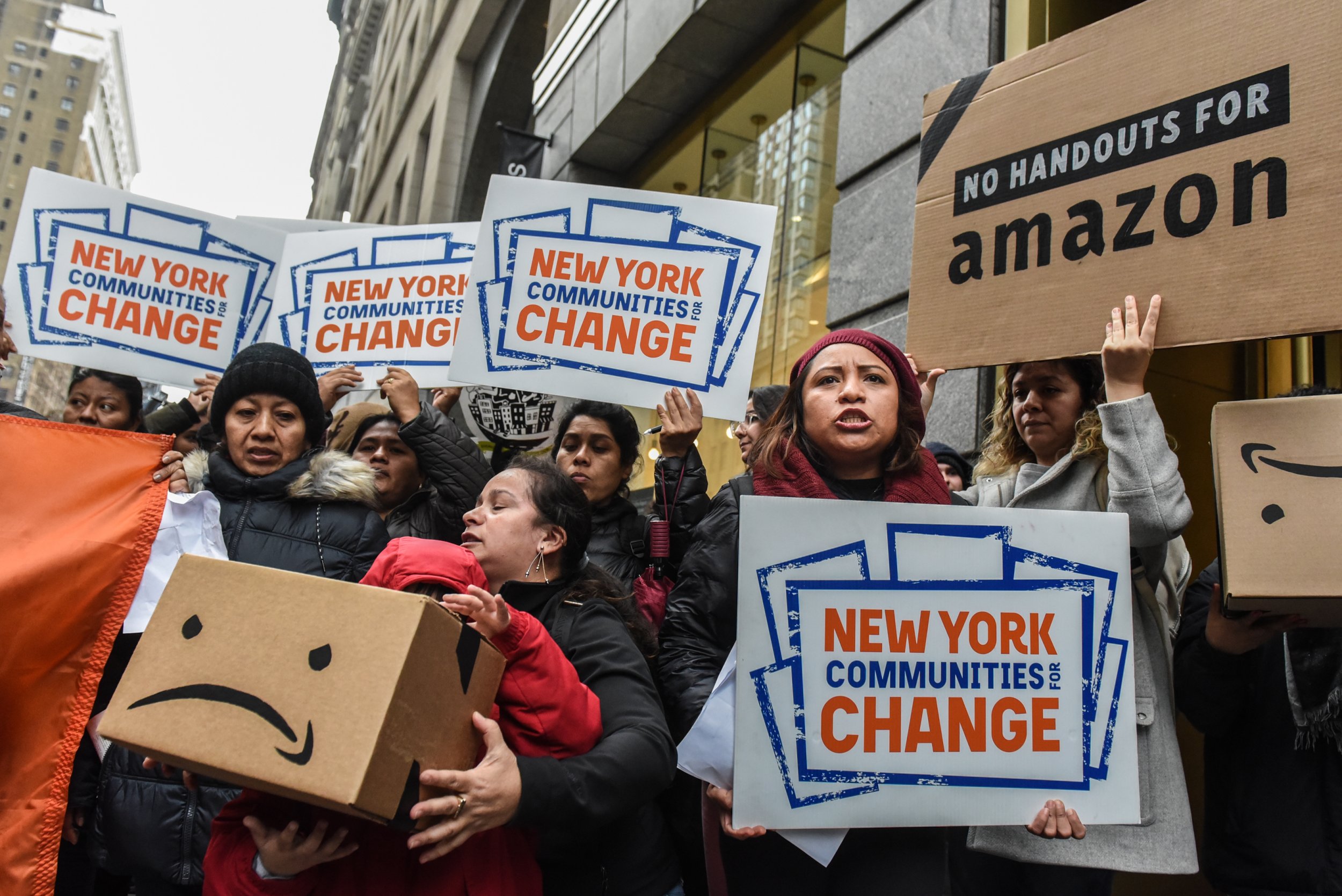 Incoming Democratic Congresswoman Alexandria Ocasio-Cortez blasted New York City and state officials for offering to use eminent domain to secure desirable real estate for Amazon's new campus.
On Monday night, the New York City Economic Development Corporation released the proposal sent by to Amazon by the city and state. The Wall Street Journal reported that officials had offered iconic structures, including the Farley Building and 3 World Trade Center, in the attempt to woo the company.
Last month, Amazon announced it would split its HQ2 facilities between Long Island City, New York, and Arlington, Virginia.
"'Officials dangled prime real estate at Amazon + offered to use eminent domain to scoop up any necessary properties for a campus, newly disclosed documents revealed,'" the Cortez tweeted on Tuesday. "Using eminent domain to seize land from people & hand it to a billion-dollar corporation. Utterly unacceptable."
"Subject to public approvals, [New York's Empire State Development] is empowered to acquire, encumber and dispose of any real property interest, including through eminent domain," the proposal said. "ESD can also override local zoning, offer tax subsidies while holding title to a property, and provide lower-cost financing or grants to economic development projects.
The proposal also attempted to appeal to the company by touting the city's median rent prices, which The Wall Street Journal reported are lower than those in San Francisco, Los Angeles and Washington DC.
"We wanted to be fully transparent about actions we have taken on this project to date, and are proud of them," a spokesperson from the Economic Development Corporation told The Wall Street Journal. "We felt that it was important that the public knows that we pitched NYC for its talent, real estate, infrastructure and industry strengths."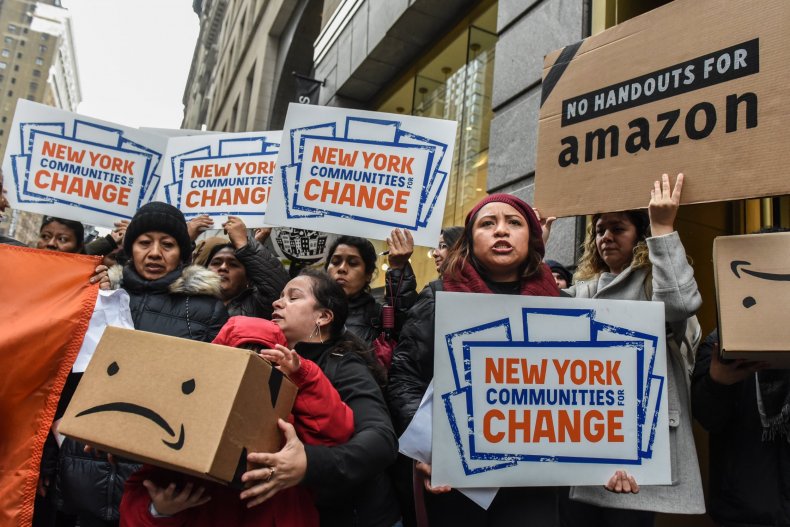 The decision by state and city officials to offer as much as $3 billion in tax incentives to Amazon has sparked protests from the public and legislators. Last month, New York State Senator Michael Gianaris and City Council member Jimmy Van Bramer released a statement opposing the deal and criticizing "massive corporate welfare."
Opponents have expressed concern that Amazon's arrival will lead to a drastic escalation in housing prices. In Seattle, where Amazon has its first headquarters, housing prices increased more than 35 percent in the years after the company arrived, Forbes reported, citing First American senior economist Odeta Kushi. The prices have continued to rise.
Ocasio-Cortez criticized the Amazon deal last month, asking why the tax incentives offered to Amazon weren't being spent on existing residents and the subway system, which is plagued by old equipment and struggling economically after decades of fiscal mismanagement.
"Displacement is not community development. Investing in luxury condos is not the same thing as investing in people and families," she wrote on Twitter.
Governor Andrew Cuomo defended the deal in an op-ed written last month, in which he said "the Amazon transaction is an historic transformative moment for the entire New York City region." He promoted the 25,000 to 40,000 jobs, which would pay an average of $150,000, brought by the Amazon headquarters and called the deal "a lightning rod for the political rhetoric on both extremes."
"The extreme conservatives and the socialists both now vehemently oppose 'incentives' for Amazon, which is one of the most profitable companies in the country," he wrote. "New York State and New York City gave Amazon nothing. Amazon, by our current tax structure, would generate approximately $1 billion per year in new revenue. Our proposal offered that, when and if those revenues are realized, the government would effectively reduce their $1 billion payment by about $100 million for a net to New York of approximately $900 million."