Alexandria Ocasio-Cortez Is America's 'Most Powerful Democrat in Office Right Now,' Says Charlie Kirk
Conservative activist Charlie Kirk called Rep. Alexandria Ocasio-Cortez the "most powerful Democrat in office right now" during a discussion on Fox News about the New York Democrat's concentration camp comments.
Ocasio-Cortez had described the Trump administration as "fascist" and said its detention centers for undocumented migrants crossing the southern border are concentration camps, amid reports of human rights abuses and child separations.
While her supporters praised Ocasio-Cortez, a self-described democratic socialist, for what they argue is her appropriate characterization of American migrant detention centers, critics said the Nazi concentration camp comparison is crass and offensive.
Kirk, founder of the Trump-supporting student group Turning Point USA, claimed on Tuesday night's The Ingraham Angle that the media was misrepresenting the conservatives criticizing Ocasio-Cortez over the concentration camp remark.
Newsweek subscription offers >
"Immediately when she says something that is historically wrong, morally incorrect, and something that's totally detestable, anyone who calls her out for that or criticizes her, all of a sudden we're 'attacking' her. Isn't that strange?" Kirk told host Laura Ingraham.
"It's like we can't have a conversation about something that she's said wrong. They're saying 'Republicans pounce,' or conservatives are unfairly going after Alexandria Ocasio-Cortez.
"Let's just be very honest. She's basically the most powerful Democrat in office right now in America. If you really think about it she has more social media power, she's able to draw crowds.
"I mean, you can see most of the Democrats... they can't even fill up coffee shops. She has the power of the base of the party because she's angry and she's committed towards these radical ideas.
Newsweek subscription offers >
"And shame on her for saying this, and shame on the media for not allowing us to have a conversation about it without criticizing us for attacking her."
During an Instagram Live stream on Monday night, Ocasio-Cortez spoke about the southern border issue and the conditions in which undocumented migrants, including very young children, picked up by border enforcement officers are held.
"The United States is running concentration camps on our southern border and that is exactly what they are," Ocasio-Cortez said. "They are concentration camps."
She continued: "The fact that concentration camps are now an institutionalized practice in the home of the free is extraordinarily disturbing and we need to do something about it," and made reference to "never again," a phrase connected to the Holocaust.
In a letter to Ocasio-Cortez, the Jewish Community Relations Council (JCRC) expressed concern about the language she used to describe migrant detention in America.
"We are deeply disturbed by the language used in your recent Instagram live video which seeks to equate the detention centers on America's southern border with Nazi-era Concentration Camps," the JCRC said.
"The terms 'Concentration Camp' and 'Never Again' are synonymous with and evocative of the atrocities committed by Adolf Hitler's Nazi Germany in which 6 million European Jews were systematically denied civil and human rights due to their race and ultimately murdered in a state-sponsored genocide.
"As concerned as we are about the conditions experienced by migrants seeking asylum in the United States, including family separation, unusable facilities, and lack of food, water and medical resources, the regrettable use of Holocaust terminology to describe these contemporary concerns diminishes the evil intent of the Nazis to eradicate the Jewish people."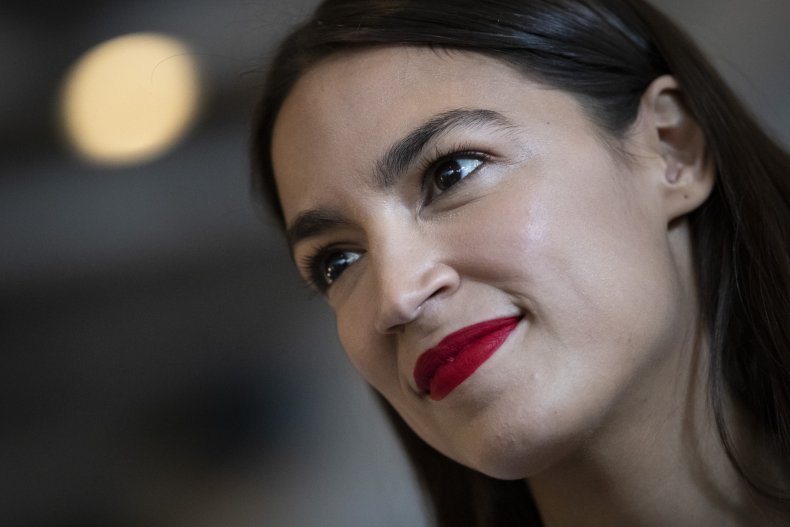 Alexandria Ocasio-Cortez Is America's 'Most Powerful Democrat in Office Right Now,' Says Charlie Kirk | Politics