Alexandria Ocasio-Cortez Blasts Republicans 'Screeching' About 'Socialism' While Cheering 'Authoritarian' Trump
Representative Alexandria Ocasio-Cortez responded to President Donald Trump's criticism of The New York Times on Wednesday, calling the commander in chief "authoritarian" and saying conservatives were defending "the destruction of American Democracy."
Trump took aim at paper on Wednesday morning, tweeting that "The New York Times reporting is false. They are a true ENEMY OF THE PEOPLE!"
The president did not indicate what prompted his outburst.
But the Times published a damning report about him on Tuesday. The article said, among other revelations, that Trump had sought to have U.S. Attorney for the Southern District of New York Geoffrey Berman, an ally, put in charge of an investigation into hush money paid to women who said they had affairs with the commander in chief.
Trump called the report "fake news."
Shortly after Trump took aim at the newspaper, whose publisher had previously cautioned the president against referring to the news as "enemy of the people," Ocasio-Cortez responded on Twitter.
"While the right keeps screeching on calling everything 'socialism' (as nations w/ univ healthcare + better work standards enjoy better health & work life than Americans), they happily cheer on an authoritarian President & defend the destruction of American Democracy," she wrote.
Her criticism was joined by a range of reporters expressing concern at the president's remarks, noting last year's attack on journalists in The Capital in Maryland and bomb scares targeting CNN.
The freshman New York legislator has been a prominent critic of the president, and her embrace of democratic socialism has drawn extensive criticism from conservatives.
Trump has sought to turn Ocasio-Cortez's self-identification into a political mobilizer.
"Here, in the United States, we are alarmed by new calls to adopt socialism in our country. America was founded on liberty and independence—and not government coercion, domination and control. We are born free, and we will stay free. Tonight, we renew our resolve that America will never be a socialist country," he said during his State of the Union address earlier this month.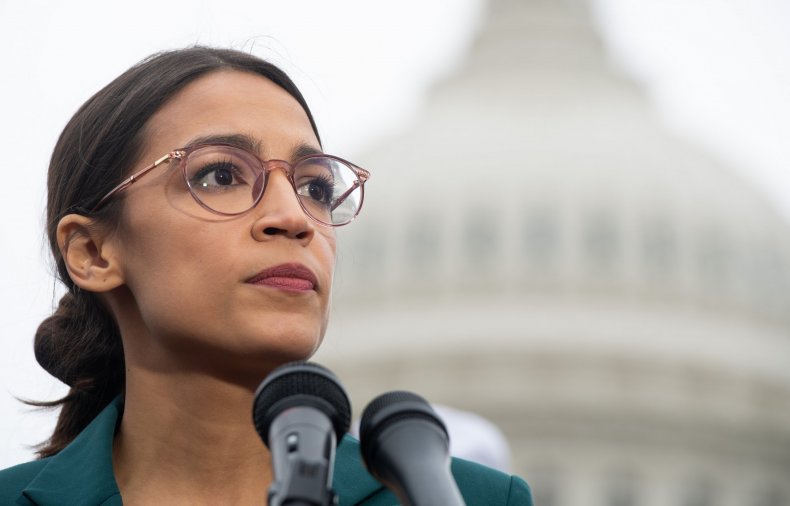 Fox News hosts and guests have also extensively criticized socialism and Ocasio-Cortez. Figures on the network have regularly invoked the crisis in Venezuela to stoke fear about socialism while deriding progressive proposals such as Medicare-for-all and the Green New Deal.
On Tuesday, Fox & Friends host Brian Kilmeade responded to Senator Bernie Sanders's announcement of a presidential run by saying "we look at Venezuela as a case in point of what could happen to America with all our natural resources, with all our history like Venezuela, much richer than Venezuela, and all their oil resources. They have gone into the toilet as a country. They can't even stock their shelves with food that would be too expensive to buy anyway because of inflation."
Sanders, who emerged as a surprise challenger to Hillary Clinton for the Democratic nomination in 2016, has described himself as a democratic socialist.