Alexandria Ocasio-Cortez Says Trump 'Melted on Stage,' 'Had No Cohesive Argument' in Debate
Rep. Alexandria Ocasio-Cortez has said that President Donald Trump was "outperformed" by Joe Biden in the first presidential debate and she expressed hope that the Democratic contender will find more common ground with her on environmental issues despite their differences on the Green New Deal.
Giving her assessment of the fiery exchanges in Cleveland, Ohio on Tuesday, the New York congresswoman told Just The News: "When it comes to a debate, it's between two people, right, and I think that there was no question that he outperformed Donald Trump in every class and category because Trump just melted on stage.
"He just had no cohesive argument to say about anything. And not only that, but I'm going to go with the guy who's not a white supremacist."
When asked about the point made by some Republicans that Trump was asked to denounce far-right groups but Biden did not denounce the far-left group antifa, she said: "Trump specifically name-checked the Proud Boys.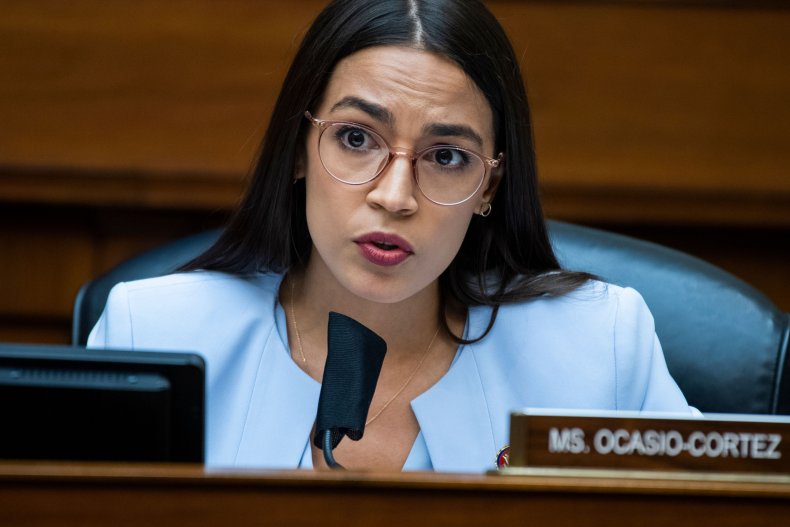 "He specifically name-checked an actual white supremacist organization, and I can guarantee you that, I mean, first of all, Biden has denounced this violence on numerous occasions, and Trump has a habit of encouraging his white supremacist brethren.
"So, of course, this is going to be an issue where Trump has to be asked about this, because he is not clear."
The Proud Boys was mentioned during the debate when moderator Chris Wallace asked Trump to disavow white supremacist groups. Trump's response, "Proud Boys, stand back and stand by," has been embraced by the group.
The day after the debate, Trump said he was not familiar with the group, telling reporters, "I don't know who the Proud Boys are…whoever they are, they have to stand down. Let law enforcement do their work." Newsweek has contacted the Trump campaign for comment.
Separately, the New York congresswoman was optimistic she could find more common ground with Biden's environmental policies, with the pair differing on a timeframe to end use of fossil fuels. During Tuesday's debate, Biden distanced himself from the Green New Deal which he described as "not my plan."
But Ocasio-Cortez told Just The News: "We've worked with his team to set out a timeline, of course, my number is going to be very aggressive, but I'm very encouraged about the fact that we've worked with his team, put down 2035 as a marker, because before then, 2050 was a marker, and that's way too late," she said, referring to the year that Biden's campaign pledges to reach a 100 percent clean energy economy and net-zero emissions.
"I came in at 2030," she added. "He's coming in at 2035 on some of our pegs, not necessarily for the phasing out of all fossil fuels, but for us to make very strong strides towards carbon neutrality."
The graph below provided by Statista shows what viewers thought of the first presidential debate.