Ocasio-Cortez Hits Out at Criticism That She Wasn't 'Spirited and Warm' During Trump's 'Embarrassment of a SOTU' Address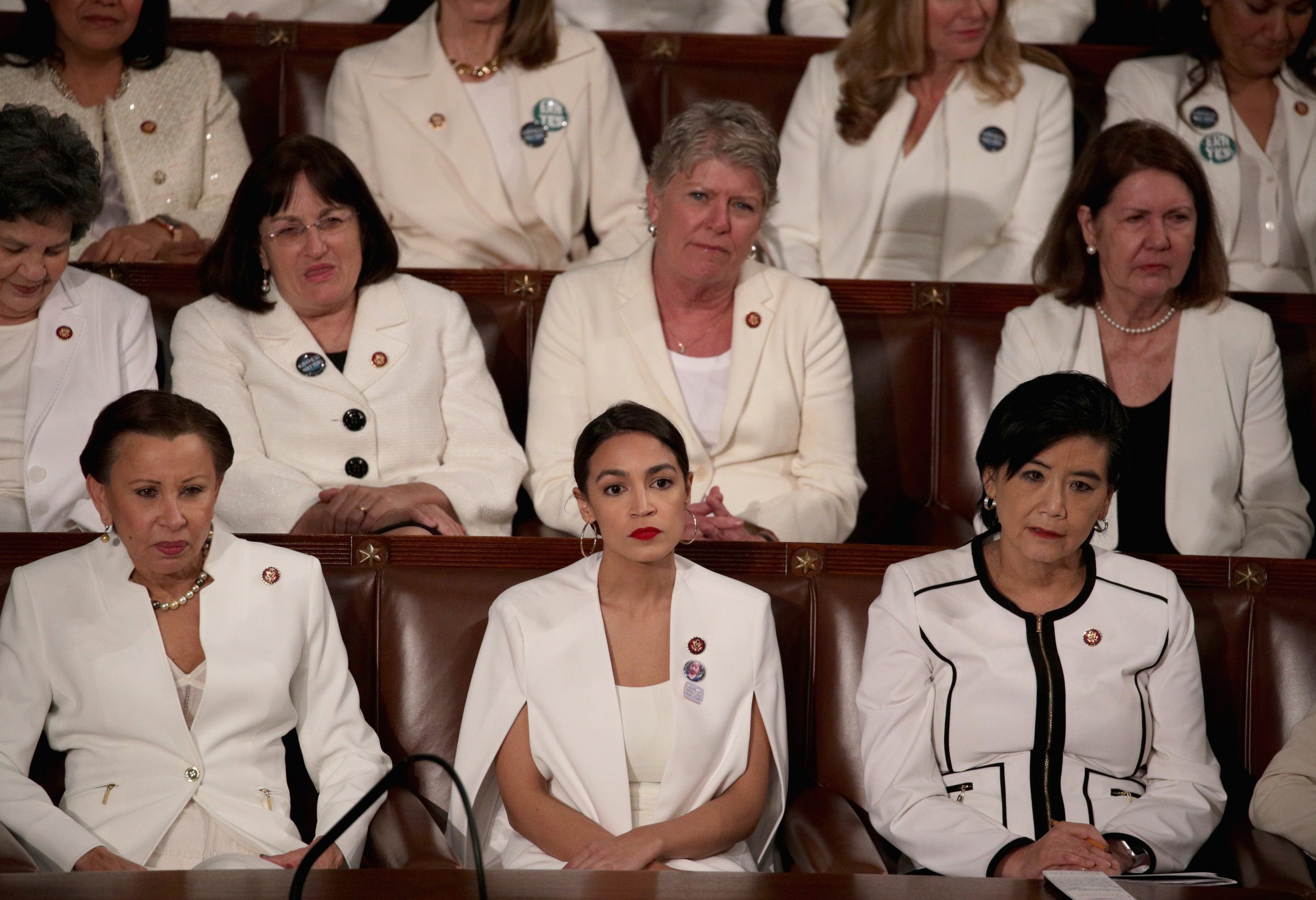 New York Representative Alexandria Ocasio-Cortez has hit out at criticisms that she wasn't as "spirited" and "warm" as usual during President Donald Trump's State of the Union address on Tuesday evening, questioning why she should appear upbeat during what she branded an "embarrassment of a #SOTU."
Like many other congressmembers, Ocasio-Cortez took Tuesday's State of the Union address as an opportunity to make a political statement, donning a "suffragette white" outfit in a show of solidarity with women across the country and wearing a pin honoring the life of 7-year-old Jakelin Caal Maquin, the Guatemalan child who died while in the custody of U.S. Customs and Border Protection. Jakelin and her father had been arrested at the border after crossing into the U.S. with a group of other asylum seekers outside a designated port of entry.
Peggy Noonan, a columnist for The Wall Street Journal, was among the conservatives to criticize Ocasio-Cortez for her manner during the presidential address. The columnist claimed the representative "had a rare bad night, looking not spirited, warm and original as usual, but sullen, teenaged and at a loss."
Retweeting Noonan's criticism, Ocasio-Cortez pushed back. "Why should I be 'spirited and warm' for this embarrassment of a #SOTU?" she asked.
"Tonight was an unsettling night for our country. The president failed to offer any plan, any vision at all, for our future," Ocasio-Cortez said. "We're flying without a pilot. And I'm not here to comfort anyone about that fact."
Ocasio-Cortez did stand and cheer when Trump commended the record number of women serving in Congress. Women now make up more than 23 percent of the voting members in the House of Representatives, according to the Pew Research Center, and more than a third of them won for the first time this past November. Twenty-five women now serve in the Senate.
Trump appeared to take aim during his address at Ocasio-Cortez, as well as Vermont Senator Bernie Sanders, both self-described democratic socialists. "America will never be a socialist country," he vowed. The president's words drew chants of "USA, USA" from Republicans in the chamber.
Sanders later delivered a response to the president's address in which he criticized the president's boasts about the strong U.S. economy. "For many of President Trump's billionaire friends, the truth is, they have never, ever had it so good," Sanders said. "But for middle-class and working families of our coutnry, the truth is that the economy is not so great."
Ocasio-Cortez made her feelings clear about Trump's State of the Union address well ahead of the Tuesday event.
As the U.S. leader prepared to deliver his speech, Ocasio-Cortez tweeted out a CNN story on "what to watch" in the address. "None of it," she wrote. The congresswoman did not elaborate any further on her message, but many interpreted the statement as Ocasio-Cortez suggesting that potential viewers give the president's address a miss altogether.