Ocasio-Cortez Joins 4 GOP Lawmakers in Opposing $480 Billion Coronavirus Aid for Small Businesses, Hospitals and Testing
Representative Alexandria Ocasio-Cortez (D-N.Y.) was one of only five members of the U.S. House of Representatives to vote against a nearly half-a-trillion-dollar package to provide another tranche of aid to small businesses struggling to keep their companies afloat and their employees paid amid the coronavirus pandemic.
The other four lawmakers were Republicans: Jody Hice (Ga.), Ken Buck (Colo.), Andy Biggs (Ariz.) and Thomas Massie (Ky.).
Despite the opposition, the $484 billion package passed 388-5 with overwhelming bipartisan support. Independent Justin Amash of Michigan voted present. Overall, 35 members did not vote. The legislation was approved by the Senate on Tuesday with unanimous support and will now head to the White House, where President Donald Trump is expected to swiftly sign it into law.
Roughly $380 billion is included for small businesses, $320 billion of which is to replenish the Paycheck Protection Program (PPP) for mostly forgivable loans that ran out of money two weeks ago; $75 billion for hospitals; and $25 billion for expanded virus testing.
The relief for businesses will be distributed by the Small Business Administration, though it's unclear how long this additional batch of money will last, as the initial $350 billion for PPP was depleted within roughly two weeks by upwards of 1.6 million businesses.
The bill marks the fourth relief package Congress has appropriated since the onset of the global health crisis that's crippled the U.S. economy. The Labor Department reported Thursday morning that another 4.4 million people filed for unemployment benefits last week, bringing the total number of jobless Americans to more than 26 million since March 14.
When PPP funds ran dry, the Trump administration and congressional Republicans called for a no-strings-attached supplemental to pump more funds immediately into the popular program. However, Democrats forced negotiations over the aid and demanded for additional money for things like testing, hospitals, and local and state governments.
The final version included roughly $130 billion more for small businesses than the administration requested, along with added provisions that ensure portions reach underserved populations like rural, minority and women-owned small businesses. The money for expanded testing and hospitals was included to appease Democrats.
But one of the chamber's most liberal members chose not to support the bipartisan deal, saying it failed to go far enough and provide individual economic relief for Americans. Ocasio-Cortez threatened to oppose the legislation days ago and told Newsweek in the hours leading up to the vote that she remained undecided.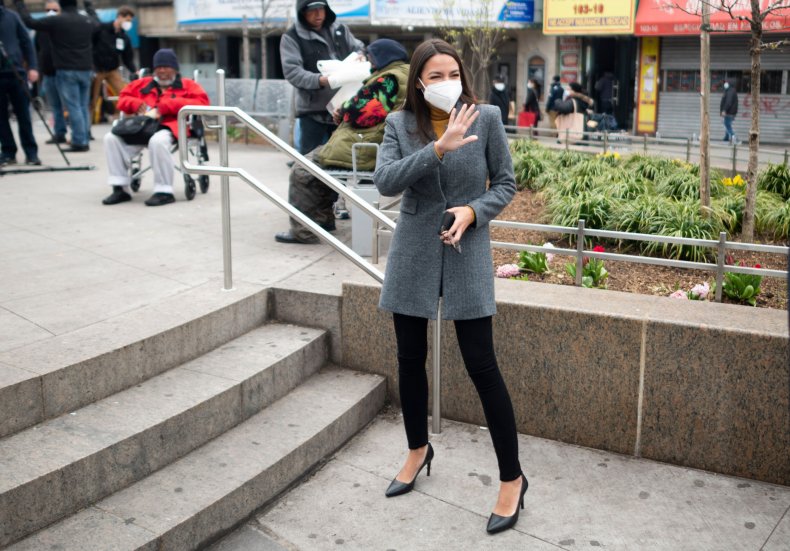 "It is a joke when Republicans say they have urgency around this bill. The only folks they have urgency around are folks like Ruth's Chris Steak House and Shake Shack. You are not trying to fix this bill for mom and pop," Ocasio-Cortez said in a floor speech. "We have to fight to fund hospitals, fighting to fund testing. That is what we're fighting for in this bill. It is unconscionable. If you had urgency, you would legislate like rent was due on May 1 and make sure we include rent and mortgage relief for our constituents."
She wasn't the only progressive who disliked the legislation. Several members of the Congressional Progressive Caucus voiced concerns about it this week. Representative Pramila Jayapal (D-Wash.), co-chair of the caucus, had similar gripes with the bill. She's proposed for Congress to assist companies in paying their employees 100 percent of their salary for up to three months. However, Jayapal voted for the measure.
"We have to do better, we have to deliver real relief. This is not it," Jayapal told Newsweek. "We took a bad, insufficient Republican package that was proposed, and we made it better, so that's good. But in a couple of days, we will reach the same number of American lives lost that we had in Vietnam."
Conservatives, such as Buck, have increasingly cited concerns about what the several relief packages Congress has passed will mean for the national deficit.
"We are engaged in a bipartisan bankruptcy of this country," he said in a statement. "We will not heal our communities and put an end to this crisis by throwing trillions of dollars at an economy chained by a government-mandated quarantine."
Biggs cited opposition to giving money to localities that support contact tracing, which he said could amount to government overreach and invasion of privacy. He questioned how much longer the "American people will acquiesce to unconstitutional and crushing government action," referencing the forced business closures to stop the virus' spread. "We need to open America now," he added on the floor. "I call on our governors to free their citizens immediately."
In a series of tweets, Amash argued the proposal at hand "doesn't fix structural flaws that made the last bill so unfair and ineffective."
Still, the successful passage caps off two weeks of intense partisan negotiations over the small-business loan program that both parties support.
Democrats are already pushing for another massive relief package, one to include more individual benefits and resources for state and local governments. They're envisioning its size and scope to be similar to the $2.3 trillion stimulus passed last month and have the ambitious timeline for the measure to be drafted when Congress returns May 4.
But both of those tasks face hurdles, and the road to a speedy, bipartisan agreement seems unlikely. Republicans have become increasingly skeptical of doling out more money amid lawmakers forcing the national debt to skyrocket by appropriating a total of about $3 trillion to combat the pandemic's effects.
Brandishing bandanas and masks across their faces, members ascended to the House floor in the hours leading up to the vote to lob partisan attacks and accuse their colleagues on the other side of the aisle of stalling the much-needed relief.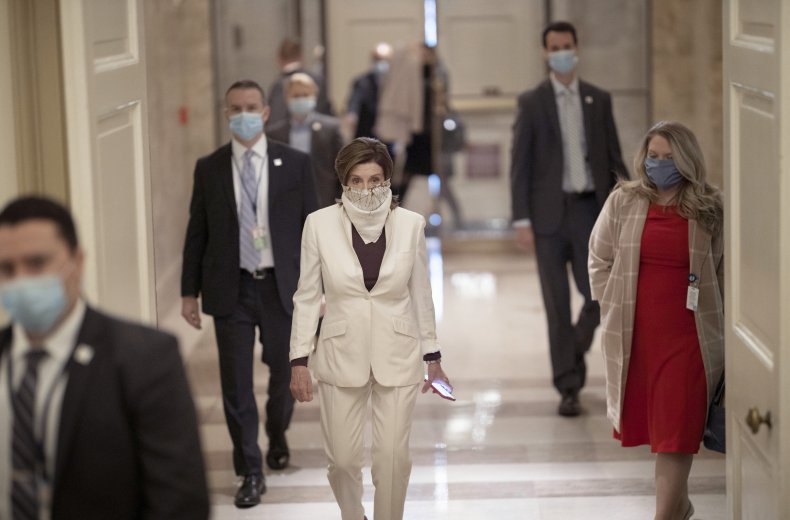 "Congressional Republicans stood ready to act. But Democrats demanded sweeping changes to a solid program and blocked the money," Minority Leader Kevin McCarthy (R-Calif.) said. "But because Democrats decided to obstruct... The cruel result is less assistance and more anxiety for workers, families, and small businesses."
Majority Leader Steny Hoyer (D-Md.) shot back.
"I think we ought to all be realistic," he said. "We waited two weeks. What for? So that the proposal that we made two weeks ago, or three weeks ago, which has now effectively been accepted by the Republicans, would be accepted."
The act of returning to the nation's capital so Congress could vote amid the worst public health crisis in modern history was a surreal procedure for the historic institution.
Lawmakers had to cast their electronic votes in small waves in order for the chamber's 435 members to practice social distancing. Masks of all colors, materials and sizes were worn throughout the building by members, aides, reporters, police officers and staff. The chamber, including its hundreds of seats, were scrubbed clean by roughly a dozen U.S. Capitol employees in between two separate, hours-long vote series.
A push by Democrats this week to temporarily alter House rules to allow for votes and committee meetings to be conducted remotely was met with fierce GOP pushback, forcing Democratic leadership to scrap the endeavor. A closed-door meeting Thursday between Hoyer, McCarthy and other top members failed to produce a bipartisan solution.
With the House and Senate still tentatively scheduled to return May 4, Hoyer said their bipartisan talks with continue next week.
"I think we need to raise the confidence level that technology can, in fact, work and will be fair to both sides," he told reporters.