Alexandria Ocasio-Cortez Joins List of Democrats Calling for Brett Kavanaugh's Impeachment
Alexandria Ocasio-Cortez became the latest Democrat to call for the ouster of Supreme Court Justice Brett Kavanaugh in the wake of new sexual misconduct allegations that surfaced over the weekend.
"It is unsurprising that Kavanaugh, credibly accused of sexual assault, would lie under oath to secure a Supreme Court seat," the freshman New York lawmaker wrote in a tweet on Monday, along with footage of a speech she made last year opposing Kavanaugh's confirmation. "Because sexual assault isn't a crime of passion - it's about the abuse of power. He must be impeached."
Ocasio-Cortez joins a growing list of congressional and 2020 hopeful Democrats who believe the newest justice should be impeached for additional allegations of sexual misconduct being brought to light in a New York Times report, which said a former Yale classmate witnessed a drunken Kavanaugh drop his pants and "thrust his penis" at a female student during a dorm party. The story was later updated to say that the unnamed female reportedly did not recall the event.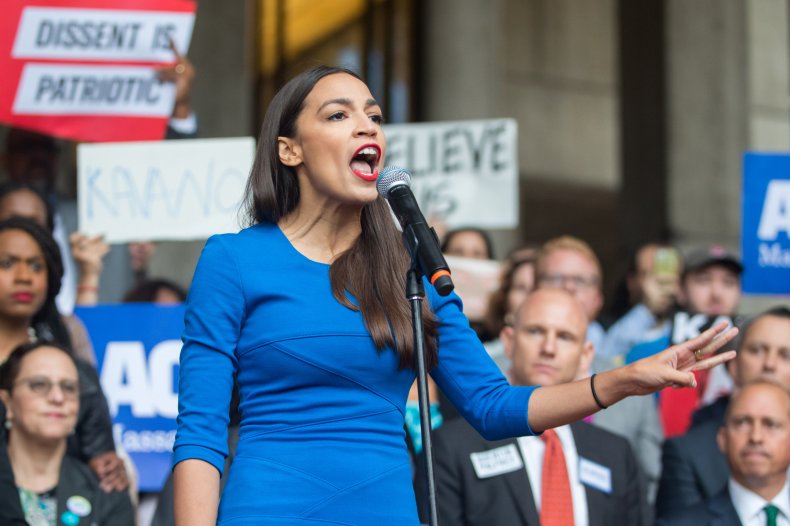 Senators and the FBI were reportedly notified of the alleged incident last year during Kavanaugh's confirmation, a process that became hyper-partisan after two women came forward to say Kavanaugh sexually assaulted them in high school and college. A third woman claimed he was part of a group who orchestrated gang rapes of girls at high school parties. Kavanaugh vehemently denied any wrongdoing in his testimony to lawmakers before his confirmation.
The FBI conducted a supplemental background investigation into the claims of one of the women—Dr. Christine Blasey Ford, who also testified before Congress—but the week-long probe reportedly did not contain conclusive, corroborating evidence.
The new allegation has caught the eye of politicos in Washington, from President Donald Trump—who nominated Kavanaugh—to 2020 Democratic presidential candidates and to Democrats on Capitol Hill.
Sen. Mazie Hirono (D-HI), a member of the Senate Judiciary Committee, said her panel should "immediately begin an impeachment inquiry to determine whether Justice Kavanaugh lied to Congress and why the FBI wasn't permitted to investigate all credible allegations against him."
At least six 2020 hopefuls are calling for Kavanaugh's impeachment: Senator Elizabeth Warren (D-MA), Senator Kamala Harris (D-CA), former Housing and Urban Development Secretary Julian Castro, former Rep. Beto O'Rourke (D-TX), Indiana Mayor Pete Buttigieg and Senator Cory Booker (D-NJ).
Former Vice President Joe Biden, Sen. Amy Klobuchar (D-MN) and Sen. Bernie Sanders (I-VT), also presidential candidates, support an impeachment investigation.
Rep. Jerrold Nadler (D-NY), chairman of the House Judiciary Committee, threw cold water on the prospect of a Kavanaugh impeachment, telling WNYC radio Monday morning that his panel was too preoccupied with investigating Trump for potential impeachment.
The most recent sexual assault allegation and calls for Kavanaugh's impeachment has caught the eye of Trump, who in recent days has tweeted about the Supreme Court justice at least half a dozen times.
"Brett Kavanaugh should start suing people for libel, or the Justice Department should come to his rescue," the president wrote in one of his tweets that were issued Sunday. "The lies being told about him are unbelievable. False Accusations without recrimination. When does it stop? They are trying to influence his opinions. Can't let that happen!"
In a Monday morning tweet, Trump suggested the "one who is actually being assaulted is Justice Kavanaugh - Assaulted by lies and Fake News!"
The likelihood that the GOP-controlled Senate will take any steps to potentially oust Kavanaugh is non-existent, according to Judiciary Committee Chairman Lindsey Graham (R-SC). In a series of tweets, he vowed that Kavanaugh "will not be impeached over these scurrilous accusations" and described the allegations as "beyond the pale."
"What have we learned the last few days? The@nytimes writes first, verifies later. Republicans are presumed to be 'guilty.' Democratic presidential candidates are willing to ruin Justice Kavanaugh's life for political gain. All very sad," Graham wrote. "My heart goes out to Justice Kavanaugh's family for being forced to endure this ridiculous treatment once again."
This story was updated to include comments from Sen. Graham made on Twitter.