Alexandria Ocasio-Cortez Says She Doesn't Think Donald Trump Is 'All There' and Joe Biden Has 'Systemic' and 'Deep' Issues
Alexandria Ocasio-Cortez has spoken about the significance of the age of those running for election in 2020 and raised questions about the performance of the Democrat front-runner Joe Biden.
In an interview with the New Yorker's radio hour, the representative for New York's 14th district was asked about the ages of Bernie Sanders, 77, and Biden, 76, who if either were elected would enter the White House older than former President Ronald Reagan was when he left office.
Ocasio-Cortez said: "I think age gets used as a proxy for capacity and so I think there are some folks that are of a certain age, where you can kind of question their capacity."
While she steered clear of criticizing Sanders, with whom she works closely, when asked who in particular she was referring to, she replied, "I think Donald Trump is one, he's a perfect example. I don't think he's all there."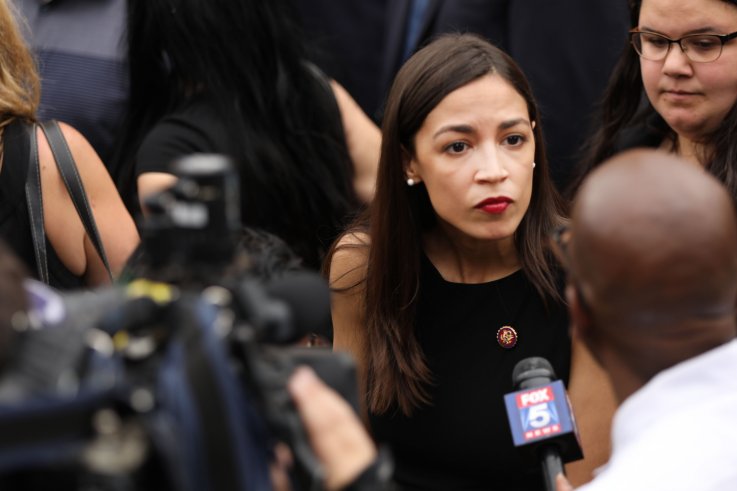 "I think Joe Biden, his performance on the stage, raised some questions," she added, referring to the first Democrat presidential debate, in which he was targeted by California senator Kamala Harris over his remarks that earlier in his career he had worked with two prominent segregationists.
"I don't want to say just because someone is 79, they can't, or shouldn't run for president… You have to assess a person's capacity," she said.
Host David Remnick pursued the line of questioning over the former vice-president, asking her, "What makes Joe Biden 'not there' for you?" He also asked how progressives within her party would react if such a centrist candidate got the nomination.
While Ocasio-Cortez did not directly lump Biden in with Trump, she did not correct Remnick's "not there" assessment of the former vice president. She said: "It's not just about being a centrist per se. When you are struggling to talk about segregationists and you err on the side of discussing them in glowing terms, that is a big problem.
"I think struggling in talking about women's rights is a big issue, struggling to convey respect for women in this day and age, is a big issue," in an apparent reference to Biden's apology for allegations that he inappropriately touched women and invaded their personal space.
"I think those are systemic issues, those are very deep, those are not gaffes. They are problems. Before you even get to where are you on public college, or where you are on a living wage, I think just like, where are you on understanding the people that live in this country?"
Remnick asked her whether political candidates like Biden, who have had a long career, should be condemned for mistakes, or behavior that took place in a different political era.
She replied: "I think, number one indicator on this is does the person know how to apologize. And if you don't know how to apologize for praising segregationists, then that's a red flag."
She held back on who her preferred Democrat candidate was, but pointed out that she wanted Sanders "to do well" but she also thought Elizabeth Warren was "doing a great job too."
Alexandria Ocasio-Cortez Says She Doesn't Think Donald Trump Is 'All There' and Joe Biden Has 'Systemic' and 'Deep' Issues | News