Alexandria Ocasio-Cortez Says All Americans Should Have the Affordable Healthcare she now gets as a Congresswoman
Representative-elect Alexandria Ocasio-Cortez criticized the disparities in healthcare offered to regular citizens and lawmakers and advocated reforming the healthcare system.
"In my on-boarding to Congress, I get to pick my insurance plan," the incoming New York legislator tweeted on Saturday evening.
"As a waitress, I had to pay more than TWICE what I'd pay as a member of Congress. It's frustrating that Congressmembers would deny other people affordability that they themselves enjoy. Time for #MedicareForAll."
Her endorsement of Medicare-for-All, which would provide government Medicare coverage to every American, is supported by 70 percent of the country, according to a poll from Hill.Tv and Harris Polling Company.
Ocasio-Cortez, who worked as a waitress and bartender to supplement her mother's income after graduating from Boston University, has repeatedly dominated headlines for speaking out against political norms and established practices.
She is leading a plan to create a special congressional committee on climate change and, along with other legislators, is also promoting drastic shifts in the country's approach to climate change.
The "Green New Deal," a play on the extensive government programs, public work projects and financial reforms that President Franklin D. Roosevelt implemented to boost the economy during The Great Depression, suggests shifts to clean energy within 10 years. The plan, although currently in its incipient phase, "intends to push climate change, clean air and water, pollution and unhealthy environmental conditions in poor and minority communities to the forefront of the agenda of the new Congress that will convene in January. They also are pressing lawmakers to stop accepting political contributions from fossil fuel companies," NBC News reported.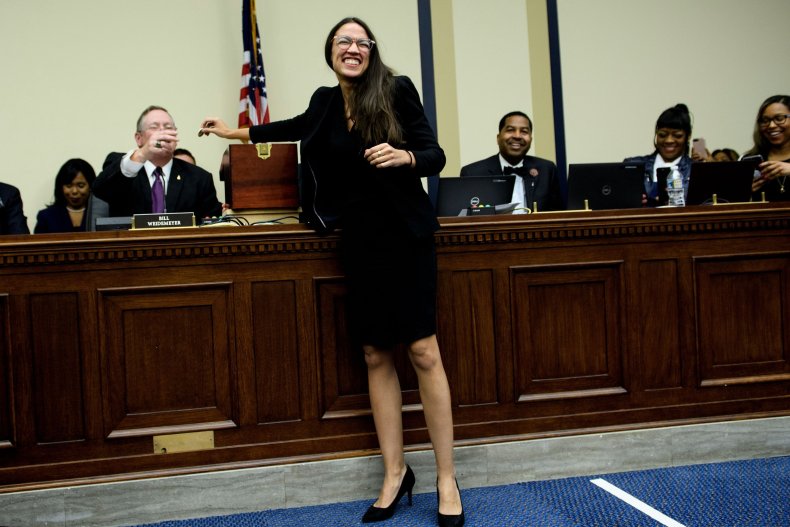 At the end of last month, Ocasio-Cortez railed against the use of tear gas against migrants at the U.S.-Mexico border, comparing those seeking refuge in the U.S. to Jews during the Holocaust.
"Asking to be considered a refugee & applying for status isn't a crime. It wasn't for Jewish families fleeing Germany. It wasn't for targeted families fleeing Rwanda. It wasn't for communities fleeing war-torn Syria. And it isn't for those fleeing violence in Central America," she wrote.
The progressive lawmaker, who has experienced a range of criticism, including sexist attacks, has used Twitter to call out political opponents.
She broadly rebuked the GOP legislators last month.
"Maybe instead of Republicans drooling over every minute of footage of me in slow-mo, waiting to chop up word slips that I correct in real-tomd, they actually step up enough to make the argument they want to make: that they don't believe people deserve a right to healthcare," she tweeted after being ridiculed for mistakenly referring to "the presidency, the Senate and the House" as the three chambers of government.