Alexandria Ocasio-Cortez Urges Support for Muslim Community Following New Zealand Mosque Attacks
Alexandria Ocasio-Cortez is urging support for the Muslim community following mass shootings at two New Zealand mosques on Friday that left at least 49 people dead and nearly 50 injured, saying that we must come together to "stand up for neighbors."
"This is a time of great vulnerability for our communities," Ocasio-Cortez wrote on Twitter. "We must come together, fight for each other, & stand up for neighbors. Isolation, dehumanizing stereotypes, hysterical conspiracy theories, & hatred ultimately lead to the anarchy of violence. We cannot stand for it."
In another social media post, the freshman congresswoman from New York urged people to "check in" and "perhaps extend a kind gesture at your local mosque."
The shootings took place in two mosques in Christchurch, New Zealand, during Friday prayer. A gunman streamed a live video of the attack on Facebook and appears to have written a manifesto online. Four people are in police custody following the attack and, according to officials, one man in his late 20s has been charged with murder.
New Zealand Prime Minister Jacinda Ardern described the terrorist attacks as "an extraordinary and unprecedented act of violence."
In the wake of the shootings, Ocasio-Cortez also tweeted a link to Arden's news conference in which the prime minister gave an update about the event. In the post, Ocasio-Cortez wrote: "At 1st I thought of saying, 'Imagine being told your house of faith isn't safe anymore.' But I couldn't say 'imagine.' Because of Charleston. Pittsburgh. Sutherland Springs."
"What good are your thoughts & prayers when they don't even keep the pews safe?" Ocasio-Cortez added. She later wrote in a follow-up post that her "thoughts and prayers" comment was in reference to the National Rifle Association, which often uses the phrase after mass shootings and attacks.
"('Thoughts and prayers' is reference to the NRA's phrase used to deflect conversation away from policy change during tragedies. Not directed to PM Ardern, who I greatly admire.)" she wrote.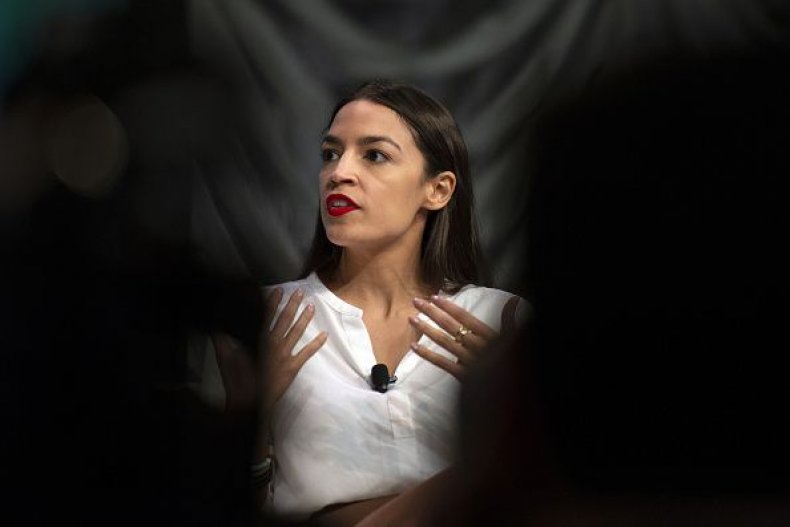 The White House responded to the mass shootings in a statement on Friday, writing that the "United States strongly condemns the attack in Christchurch. Our thoughts and prayers are with the victims and their families. We stand in solidarity with the people of New Zealand and their government against this vicious act of hate."
President Trump followed up on the White House's statement with a tweet of his own, writing that the United States will stand by New Zealand "for anything we can do."
"My warmest sympathy and best wishes goes out to the people of New Zealand after the horrible massacre in the Mosques. 49 innocent people have so senselessly died, with so many more seriously injured. The U.S. stands by New Zealand for anything we can do. God bless all!" Trump tweeted.
National security adviser John Bolton said Friday that the U.S. is "very concerned" about the attack, which he characterized as one that "seems to be a terrorist attack."
"We're very concerned, we're going to cooperate with New Zealand authorities to the extent we can if there's any role we can play, but we're obviously following the events there very closely," he said.