Alexandria Ocasio-Cortez Welcomes 82-Year-Old Congressman Into 'the Squad'
Democratic Representative Alexandria Ocasio-Cortez has publicly welcomed her 82-year-old colleague Representative Bill Pascrell to join the so-called "squad" of progressive Democratic congresswomen.
It started with a satirical post by The Onion, which was titled: "82-Year-Old New Jersey Congressman Bill Pascrell Quietly Asks Ilhan Omar If He Can Be Part Of The Squad." The comical article featured an image of the New Jersey Democrat speaking to Omar, a Democrat from Minnesota. Besides Omar and Ocasio-Cortez, Representatives Ayanna Pressley of Massachusetts and Rashida Tlaib of Michigan are part of what has been dubbed "the squad."
Pascrell decided to retweet the satirical post on Tuesday afternoon, tagging all the progressive Democratic congresswomen as well. He quipped: "Well. How about it."
Ocasio-Cortez replied by retweeting Pascrell about half an hour later. She wrote: "You're in" and added several friendly emojis added after his name.
Continuing the playful Twitter banter, Pascrell tweeted out a GIF from the iconic 2004 film Napoleon Dynamite of the character Kip saying "yes.".
As have other Democratic lawmakers, Pascrell has defended "the squad" in the wake of racist tweets from President Donald Trump. In the controversial posts, the president argued that the congresswomen should "go back" to the countries "from which they came." He said: "you can't leave soon enough."
Three of the four congresswomen were born as American citizens in the U.S. Omar was born in Somalia and immigrated to the U.S. as a young girl. She became a naturalized U.S. citizen in 2000, nearly two decades ago. As all the representatives are women of color, many critics were quick to point to the long racist history of people suggesting that non-white Americans should leave the country. Democrats and some Republicans have blasted the president's remarks as overtly racist and xenophobic.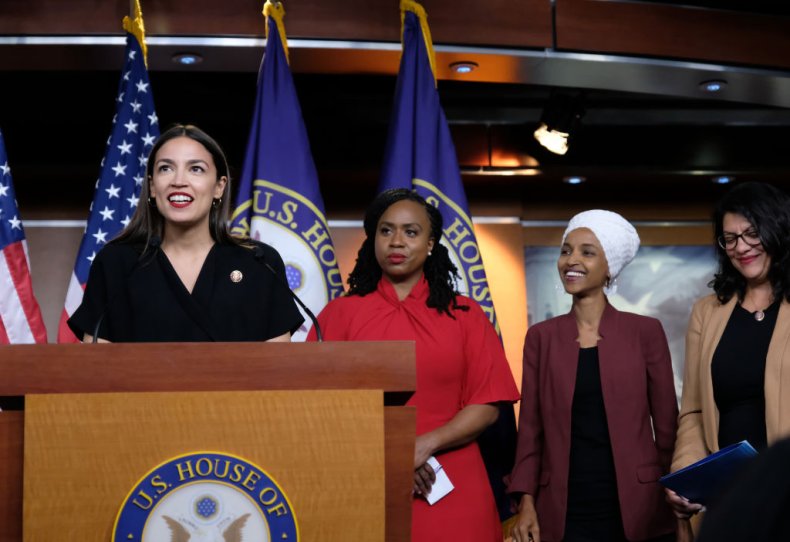 Trump has doubled down on the comments however, saying he doesn't like the congresswomen's criticism and insisting they should "leave." He also claimed that the remarks were not racist.
"The same tiny man who spent years lying that Pres Obama wasn't American is back to his racist birtherism against my colleagues," Pascrell posted to Twitter on Sunday after Trump's original tweets. "Disgusting, despicable, and a slur on all Americans," he added.
On Tuesday, he again stood behind the congresswomen. "My colleagues are our sisters and our caucus stands beside them against Trump's racism and republicans' dereliction to that racism," Pascrell wrote. In a Monday tweet, the congressman also slammed Republicans for avoiding condemning the president's remarks.