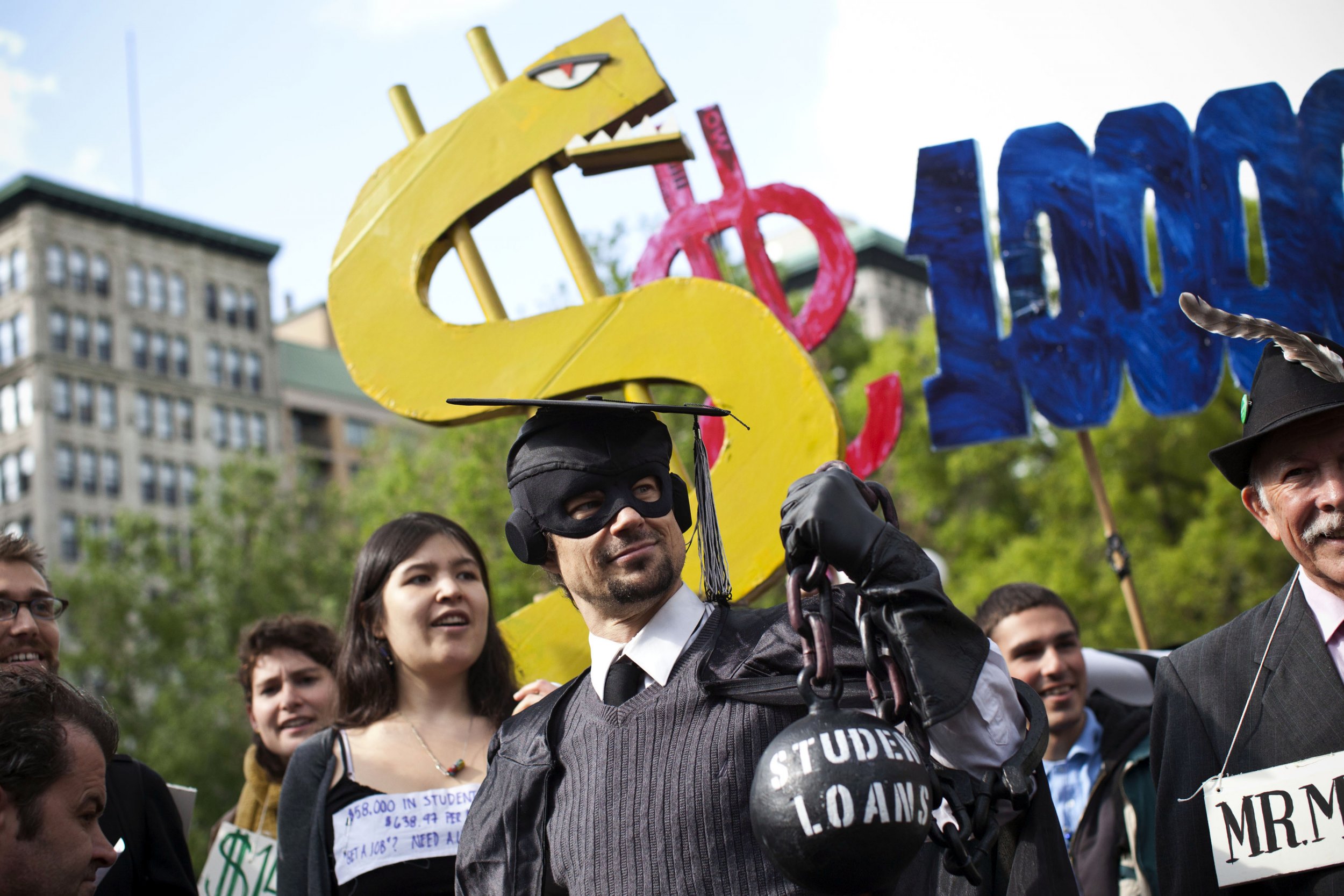 Attention, student loan-saddled millennials! Tired of taking on second jobs to pay off your mounting student loans? Are you fed up with "The Man," man? You might want to make nice with Rolling Jubilee, a debt cancellation group of economic activists who started out advocating for debtors' rights during Occupy Wall Street's heyday. Strike Debt, Rolling Jubilee's initiative, is intent on buying and abolishing "the debt that binds the 99 percent."
Today, on the third anniversary of OWS, the company has announced that it has bought and eliminated debt for 2,761 students at the for-profit Everest College, totaling nearly $4 million dollars in unpaid private student loans. NPR reports that since 2012, Rolling Jubilee has eliminated roughly $15 million worth of debt accumulated from unpaid medical bills.
Strike Debt raises donations online to purchase debt. By doing so, they're able to buy the secondary market debt—meaning debt that has previously been issued—at three cents to the dollar, once for-profit institutions have sold them as a tax write-off. For-profit colleges, like Everest College, are prime targets of Strike Debt. The for-profit college industry chalks up a little less half of student loan debt, although they enroll only about 13 percent of college students nationwide. To date, student loan debt totals about $1.2 trillion.
Everest's owners, the company Corinthian Colleges, currently has roughly 200 pending lawsuits for fraudulent financial practices, including predatory lending and violating consumer security and protection laws, according to NPR. After Corinthian Colleges failed to fulfill the Department of Education's information requests, the DOE put a temporary freeze on the company's acceptance of financial-aid payments.
But Thomas Gokey, a chief organizer at Strike Debt, doesn't believe that the organization's payouts to students will solve the debt crisis. Speaking to The Washington Post, Gokey said that the future of Strike Debt holds "larger, more aggressive tactics. We want to make all public higher education completely free—that's a practical, achievable goal. We can't wait for Congress to do it."
Instead he hopes that it will raise awareness of the debt crisis, especially as more than 40 million Americans are strapped to student debt alone. The organization is working with educators in the public education sphere to empower people to "counteract the self-serving myth that finance is too complicated for laypersons to understand."
That's why Strike Debt unveiled Debt Collective today, an online platform that mobilizes debtors to resist and advocate for widespread policy change. "If you owe the bank thousands of dollars, then the bank owns you. But if you owe the bank millions, then you own the bank. Collectively, we own the bank," the website reads. The organization encourages people to put their debt on an interactive map, whether it's from housing, credit card, medical or student debt, as part of its debtors allegiance.
Strike Debt's website reads: "This will not be our last debt buy announcement," but it's unclear how organizers are selecting whose debt to buy. We hear bribes involving fresh-from-the-oven cookies talk.