The Ocean Floor is Sinking Due to Climate Change
Climate change is sinking the ocean floor at a rate around 0.1 millimeters (0.004 inches) per year.
That is not enough to protect coastal cities from rising sea levels but could mean existing methods of calculating sea level rise are off, according to researchers who have developed a new, more accurate system.
Scientists studying sea-level rise use a concept called the sea-level budget. This calculates total sea-level rise based on known independent variables.
The problem is this can differ from actual sea-level rise if not all variables are accounted for—or if the equations are off. Scientists now aim to close this gap.
Traditionally, the sea-level budget is calculated from the addition of fresh water caused by retreating ice sheets (i.e. mass change) and changes to the composition of the ocean water (known as steric change). The latter can be triggered by rising temperatures attributed to global warming or declining salinity caused by the melting of freshwater glaciers.
However, this method omits other processes that can affect sea level rise—including ocean bottom deformation. This refers to the way increases in mass can contort the seabed. In theory, an increase in mass should push the ocean floor downwards.
"[Ocean bottom deformation] is happening in real-time—the earth is being stretched like an elastic band as hundreds of billions of tons of water enter the ocean each year, over and above the water evaporated back out again," Matt King, Professor of Polar Geodesy at the University of Tasmania in Australia, told Newsweek.
"So when we measure the changing ocean volume from space or from tide gauges, these changes in shape need to be considered and corrected for."
To correct this omission in the original equation, authors of a new study published in Geophysical Research Letters revised old equations to account for ocean bottom deformation. They then compared the old equations to the amended version. The new sea budget equation, they argue, is more consistent with satellite and in-situ observations.
"This study provides scientists with a formal framework to account for the fact that the ocean bottom deforms under the 'weight' of extra water in the oceans," Bramha Dutt Vishwakarma, Research Fellow in the School of Geographical Sciences at the University of Bristol in the U.K., told Newsweek.
"It is important because the 'sea-level budget,' which explains sea-level changes in terms of density changes and mass changes, validates our observation systems and tells us about different processes that change the sea level."
According to the study, ocean bottom deformation contributes 0.1 mm to the global mean sea-level change each year, a figure roughly equivalent to the contribution of deep-sea steric change (i.e. change that takes place between 1.24 miles or more below surface). It equates to 3 to 4 percent of the total global-mean sea-level change.
This is a significantly higher figure than that of just a few decades ago. According to the study's authors, ocean bottom deformation's contribution to the sea-level budget was "negligible" until the early 2000s, when steric changes were the primary driver of variations in sea surface height.
However, its contribution has risen in recent years to the point where "ocean bottom deformation can no longer be assumed to be negligible." This is at least partly because ocean mass has overtaken steric changes as the most important contributor to variations in sea-surface height.
"We now know that the mass change contributes more than 50 percent of sea-level change and it is increasing," said Vishwakarma. "More mass means more pressure on the ocean floor, which will affect the ocean bottom shape."
Vishwakarma and colleagues expect this trend to continue into the future, with mass change and ocean bottom deformation contributing more to global sea-level rise. Therefore, they say, future research into sea-level rise should include their revisions.
Will a downward deformation of the ocean floor reduce the effect we see from sea level rise? "Not really," said Vishwakarma. "The expected magnitude of ocean-bottom deformation is an order of magnitude smaller than the rate of mean sea-level rise."
It also means sea level rise calculated from satellite observations has likely been underestimated.
"This new paper adds some further theoretical underpinning to the very important work of closing the 'sea-level budget,'" said King, who was not involved in the study but was involved in a 2017 paper investigating ocean bottom deformation.
"If we can close the budget, we can be even more confident that we understand how sea levels are changing and why, and that is super important given the amount of change we're expecting in the coming decades and centuries."
The paper comes in the same week that scientists announced the discovery of record warm water under the Thwaites Glacier in West Antarctica. Waters two degrees above freezing were found at the glacier's grounding zones, where the ice transitions from bedrock to ocean.
Researchers said the warm waters should "serve as a warning" about the potentially dire results of climate change— "If these waters are causing glacier melt in Antarctica, resulting changes in sea level would be felt in more inhabited parts of the world," David Holland, director of New York University's Environmental Fluid Dynamics Laboratory and NYU Abu Dhabi's Center for Global Sea Level Change, said in a statement.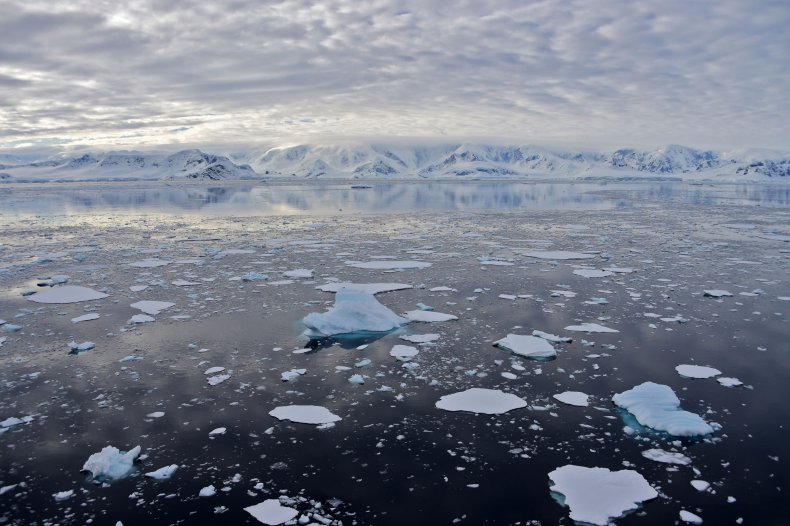 Vishwakarma and colleague's research builds on the 2017 study that found the ocean bottom should deform as a consequence of mass and, therefore, should be accounted for in research monitoring sea levels.
Following this research into global sea-level budgets, the researchers hope to turn their attention to regional variations.