Ocean Glows With Bioluminescence in 'Out of This World' Images
Photographs captured the "out of this world" moment the ocean in New Zealand glowed blue with bioluminescence.
Landscape photographer Sajith Muraleedharan captured the images at a beach in Hawkes Bay in Napier, after sunset. The photographs show the sea shining a fluorescent blue against a pitch-black sky.
Muraleedharan told Newsweek: "It was really amazing to watch that and really unbelievable. It was an out of this world experience to be honest."
This rare phenomenon occurs in warmer, coastal waters, and is caused by bioluminescent plankton and algae lying below the surface. Bioluminescence is caused by a light-producing chemical reaction within an organism's body.
The sea will only glow this way when there is an abundance of bioluminescent organisms in the area.
The light is only visible in the dark and only happens when the organisms are disturbed. Any changes in the surrounding environment—sometimes caused by a large wave or splash of water—can cause the organisms to shine.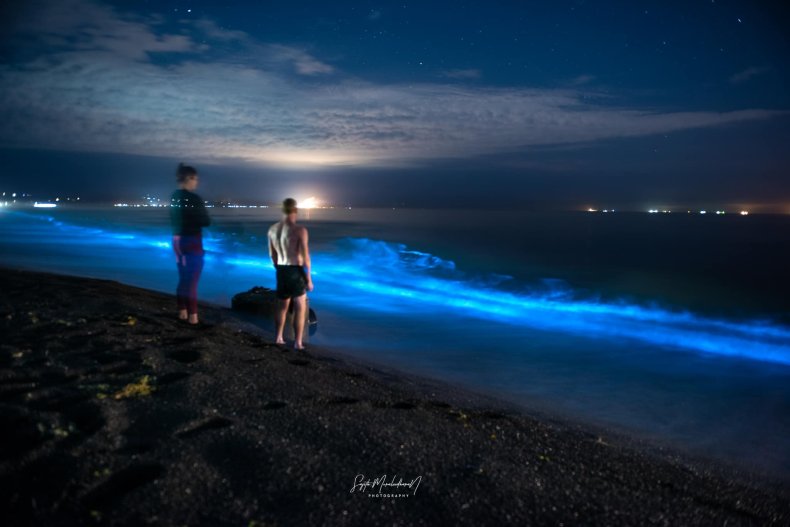 Muraleedharan said he came to know about the natural wonder through a videos posted to a Facebook group. He decided to venture down to the coast in the hopes he would see it with his own eyes.
"I have seen this phenomenon in photos from overseas in the Maldives and different islands, but never in New Zealand... So I thought like this will be a great opportunity. I wasn't sure whether I would be able to capture it, or whether it would even be possible to capture," he said.
Muraleedharan went down to the coast after sunset at about 7.30 PM. He said it started slowly when it started to "get really dark."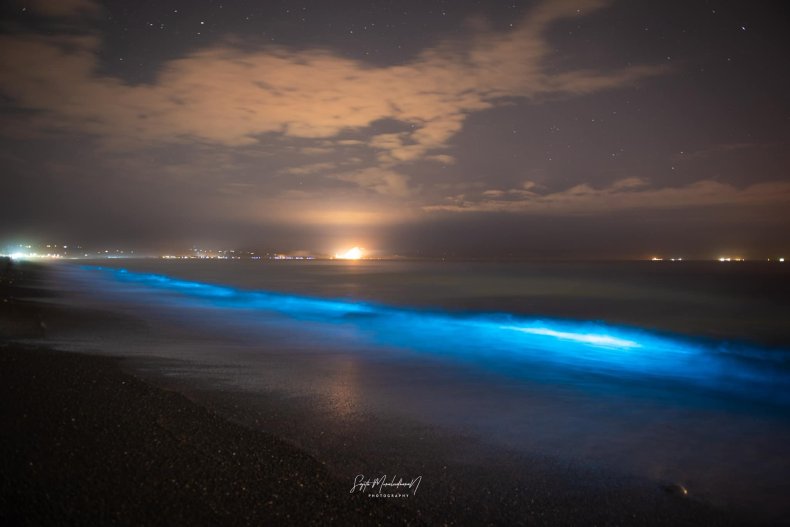 "By around 8.40 p.m. I captured these photos," he said.
The bioluminescent waves are a rare sight to behold on land. Muraleedharan said conditions must be just right.
"It is not constantly you can see all this color...it really depends on how the wave is, and only happens when a really good wave comes in and reflects off the algae," he said.
"You never know when you're gonna get a good wave with good light. So it was worth it. And I got a lot of good feedback about the photos. I'm so glad about that."
While rare on land, bioluminescence can be seen regularly out at sea, particularly in the pelagic zone, a water column in the open ocean. Here, there is an abundance of bioluminescent sea life that lives at depths of 650 and 3,200 feet.
Scientists believe that bioluminescence is a defense mechanism for smaller sea creatures. It may also be for luring prey, and communication.
Other local people gathered on the beach to witness the phenomenon.
One told The New Zealand Herald it had been a "stunning, still, warm night to sit on the beach" and watch, while another told the newspaper it was "absolutely beautiful."