10 October Albums to Look Forward To, Featuring Lady Gaga, Beck and More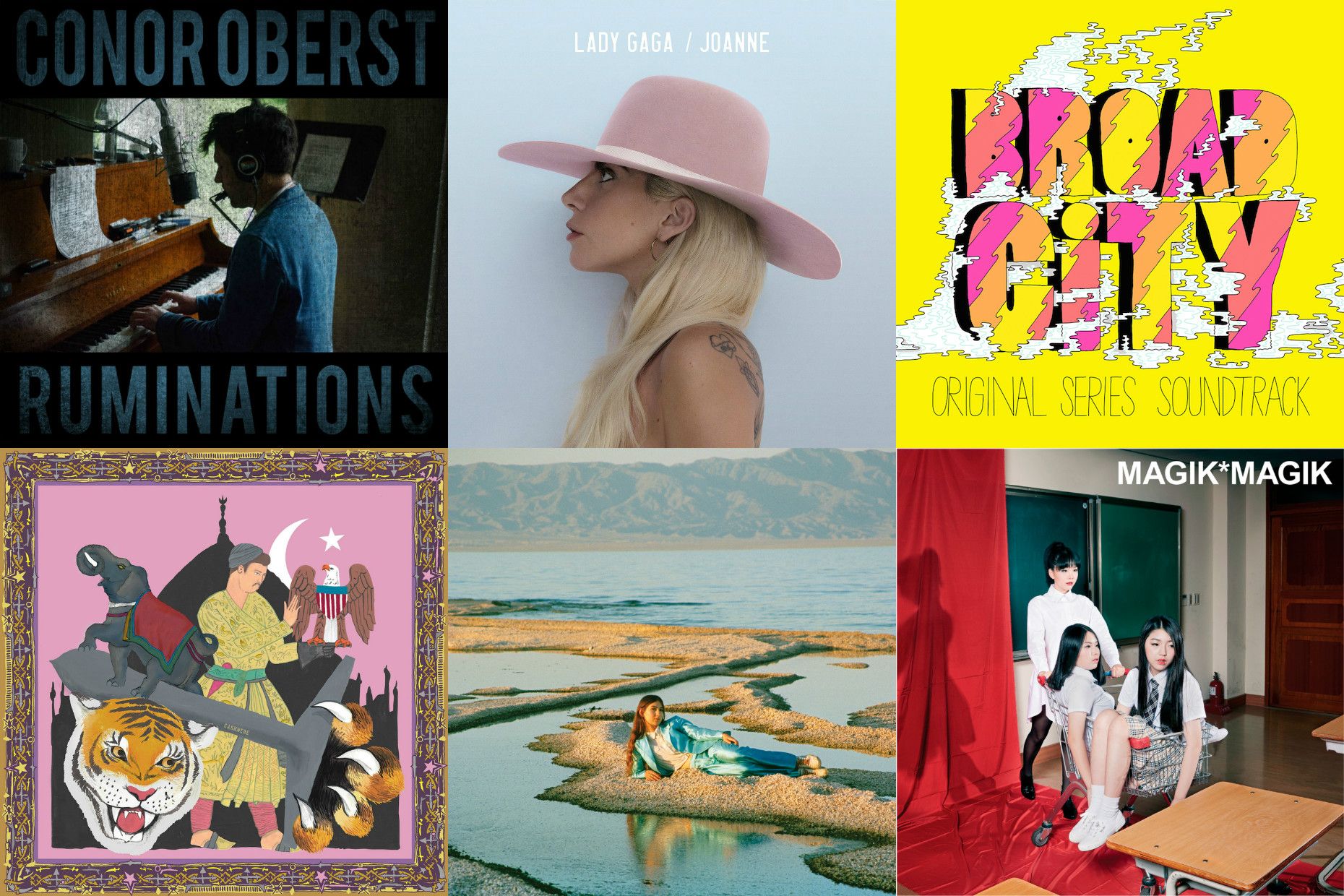 After a September jam-packed with new releases, a few heavy hitters are dropping much-anticipated new albums as summer officially gives way to fall. The internet exploded last month when Lady Gaga announced the release of her new album, Joanne, Green Day is back with their first album since 2012, and Beck's (still) yet-to-be-tiled new album will finally arrive after a year of teasing. We're excited for these, sure, but they're only a few of the October releases we can't wait to take for a spin.
Norah Jones, Day Breaks
Release Date: October 7
Label: Blue Note Records
Remember Come Away With Me? It was Norah Jones's debut album in 2002 that sold millions of copies and earned the artist her first Grammy awards. Her sixth solo album, due out October 7, is being billed as "a kindred spirit to her breakout debut Come Away With Me." Jones performs covers of Neil Young's "Don't Be Denied," Duke Ellington's "Fleurette Africaine (African Flower)" and Horace Silver's "Peace," along with nine original songs. In the video for "Carry On," the first single off the forthcoming album, Jones plays and sings at a living room piano while the camera pans from old framed photographs on display to a newer photo tacked onto a fridge and an older couple cooking—moving around each other with a comfort and familiarity that implies they've been doing this for years—until they come face to face and take each other's hands for an impromptu dance in the kitchen. All the while, Jones's smooth voice fills the home and promises an album her fans (and new fans) will savor.
Green Day, Revolution Radio
Release Date: October 7
Label: Reprise
Green Day embraced high ambition with 2004's American Idiot and high indulgence with 2012's ¡Uno!/¡Dos!/¡Tré! trilogy. Now the band appears to be scaling back: The relatively taut, 44-minute Revolution Radio is Green Day's first album in about four years and fourth album in five years. Our first taste of the album is a righteous blast of gun violence–inspired fury titled "Bang Bang."
Swet Shop Boys, Cashmere
Release Date: October 14
Label: Customs
For fans already missing the HBO miniseries The Night Of, Swet Shop Boys' new album Cashmere is here to fill the void. The brainchild of Riz Ahmed, the British-Pakistani actor who plays Nasir "Naz" Khan on the show, and Himanshu Suri, the American-Indian rapper formerly of Das Racist, Swet Shop Boys tackle racism, random airport searches and Zayn Malik in Cashmere. A video for the album's first single, "T5," just dropped and sees Ahmed and Suri go head-to-head with Transportation Security Administration agents between clips of Donald Trump and refugees crammed on flimsy dinghies, as tigers snarl and snap in the background.
Magik*Magik, Magik*Magik
Release Date: October 14
Label: Trans- Records
Magik*Magik is the alter-ego of Minna Choi, the San Francisco arranger and orchestra leader who has worked with everyone from Jonny Greenwood and Death Cab for Cutie to John Vanderslice on his excellent 2011 release White Wilderness. Choi is striking out solo with a self-titled release that's due out October 14 and full of overcast strings and intricate electronic arrangements. Inspirations apparently include "sad scenes in films" and Björk's 1997 masterpiece Homogenic.
Navy Gangs, Navy Gangs
Release Date: October 14
Label: No Road Records
New York (by way of Omaha, Nebraska) rockers Navy Gangs will release their debut EP on October 14. Though the quartet is young, it's been a long time coming. Back in Omaha, they ditched high school to work in a zoo and save money to move somewhere that wasn't Omaha. After making the move east, they began recording in a makeshift studio built in guitarist Noah Kohll's grandmother's living room. The result is a promising, exuberant collection of fuzzed-out garage pop gems. To celebrate, Navy Gangs will settled in for a four-date October residency at Manhattan venue Berlin.
Conor Oberst, Ruminations
Release Date: October 14
Label: Nonesuch
From the Faint to Bright Eyes to Desaparecidos to his solo material, Conor Oberst has released a lot of music over the past 20-plus years. On Ruminations, he takes the concept of a "solo album" to its extreme. Its 10 tracks were recorded in a 48-hour span while Oberst was spending the winter in his home town of Omaha. There is no band, only Oberst's acoustic guitar, piano and harmonica. "I wasn't expecting to write a record," he wrote in a press release. "I honestly wasn't expecting to do much of anything. Winter in Omaha can have a paralyzing effect on a person but in this case it worked in my favor. I was just staying up late every night playing piano and watching the snow pile up outside the window. Next thing I knew I had burned through all the firewood in the garage and had more than enough songs for a record. I recorded them quick to get them down but then it just felt right to leave them alone."
The result is a sparse, meditative album that highlights what has always been Oberst's greatest strength: his sometimes heartbreaking, sometimes uplifting, always enthralling lyrics.
Lady Gaga, Joanne
Release Date: October 21
Label: Interscope/Streamline
"It's everything about Joanne," Lady Gaga told Zane Lowe when she announced her new album on his radio show. Named for her late aunt, who passed away from lupus at the age of 19, this will be her fourth solo studio album. "It's all the toughness of the pain of losing her that made us all strong and made us who we are. She is the woman of my past who is becoming and helping me bring more of my honest woman self into the future." Joanne's 11-song track list features one named guest—Florence Welch of Florence and the Machine on "Hey Girl"—but reportedly also includes contributions from Josh Homme, Tame Impala's Kevin Parker, Father John Misty, Beck, BloodPop and Mark Ronson. Lady Gaga, whose real name is Stefani Joanne Angelina Germanotta, appears in profile on the cover with a wide-brimmed pink hat resting on her blond head. It's simpler and more natural than her previous album art for Artpop (2013) or Born This Way (2011), and there are murmurings that the music might follow that lead as well. The only single and video released so far, "Perfect Illusion," do suggest less outrageous otherworldly personas and more of a human candor. But that doesn't mean Gaga has lost any of the spellbinding energy and intensity fans love. Posted to YouTube on September 20, it's already racked up more than 20 million views. There's a lot of Gaga ahead: NFL announced on Thursday that the artist will be headlining the next Super Bowl halftime show in February.
Weyes Blood, Front Row Seat to Earth
Release Date: October 21
Label: Mexican Summer
Natalie Mering, also known as Weyes Blood, is kind of goofy. In her latest video, for "Do You Need My Love," above, she sports a ridiculous fake mustache. In the video for "Seven Words," which was released in August, she plays a mermaid. "I am a ham. I like to joke around," she told Pitchfork, "which is a little bit of the opposite of the implications of my music—it's so heavy, I guess."
As Mering says, there isn't much goofiness in her music. Front Row Seat to Earth is filled with maudlin songs that explore the complicated nature of love. From "Diary" to almost-title track "Front Row Seat," Mering envelopes hearts with her mournful, full-throated bellow, which would have been just as at home in the folk-heavy '70s as it is in 2016.
Beck, TBA
Release Date: October 21
Label: TBA
Way back in 2013, when Beck was preparing the Grammy-approved Morning Phase, he actually hinted at two new albums for 2014: one acoustic and somber (that's Morning Phase) and another one that was expected to be more funky and, well, Beck-y. Now it's 2016, and we're still waiting on that damn second album. If anything, Beck seems to have an excess of inspiration, given one-off singles like "Dreams" and the verifiably ridiculous jam "Wow." Whatever the album is called, it's supposed to finally come out October 21. Wow.
Broad City Original Series Soundtrack
Release Date: October 28
Label: Milan Records/Comedy Central Records
One of the secrets of Broad City's still-in-progress reign as the coolest show on TV is the music that soundtracks Abbi and Illana's stoned-out misadventures through New York City. Over the course of three seasons, music supervisor Matt "FX" Feldman has provided a lively sonic texture for the version of the city portrayed in series by drawing from outside the mainstream. "When I first started working on the show, our resources were so low to the point where working with unsigned and unknown artists was the only way we could possibly afford to score an entire episode the way we wanted," he told Rolling Stone. "These days, I see it almost as an obligation to keep the platform growing."
This mean you're not likely to recognize many of the names on the soundtrack's playlist, but if you're a fan of the show, the songs will trigger memories of Abbi and Illana quicker than that first bong rip in the morning will get you on their level.