The Odds Favorite? Gonzaga Looks Vulnerable in Conference Championship Win
The Gonzaga men's basketball team looked like it would sail smoothly into the top overall seed for the NCAA tournament that starts next week.They looked tough. They looked tested.
And Tuesday night in the West Coast Conference championship against BYU, they looked vulnerable. Despite their 88-78 win Tuesday night in Las Vegas, the Gonzaga Bulldogs faced their toughest test since early December.
Gonzaga (26-0) enters the NCAA tournament undefeated, and they have won the last 23 games by double digits. They should receive the top overall seed in Indianapolis.
On Tuesday night, the Bulldogs faced a hot BYU squad that lit up the stat sheet in the first half en route to a 53-41 lead at intermission. The Cougars (20-6) shot 67.7 percent from the field in the first 20 minutes, including 9-for-13 (69%) from 3-point range in that span.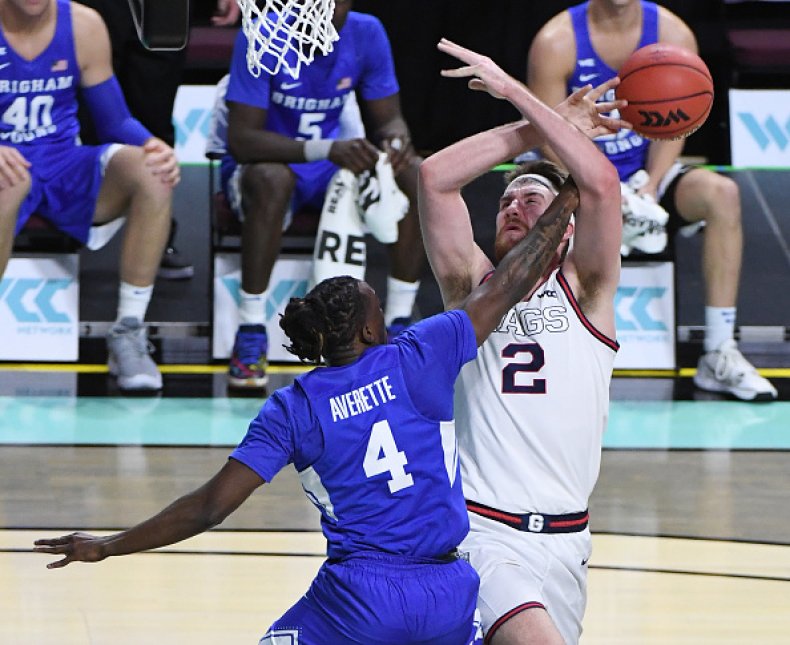 Gonzaga applied more stringent defense to begin the second half and tied the game at 57, but then BYU went on an 11-2 run to take a 68-59 lead with nine minutes remaining.
The Bulldogs took its first lead in the game at 3-2, but didn't lead again until Joel Ayayi made a layup with 6:59 remaining to give them a 69-68 lead. Ayayi hit a pair of free throws to extend the lead, setting up the finale for these conference foes meeting for the third time this season.
When Gonzaga's Jalen Suggs drained a 3-pointer to give the Bulldogs a 79-73 lead, it seemed to be over. Suggs drained another with 1:08 to play, giving his team an 82-73 lead that they wouldn't relinquish.
Gonzaga is the favorite to win the NCAA Men's Basketball Tournament, and the Bulldogs have been the prohibitive No. 1 team in all of college basketball since early in the season when they beat Kansas, Auburn, West Virginia, Iowa and Virginia.
The only team they didn't beat by double digits this season was West Virginia, which the Bulldogs held off, 87-82.
Gonzaga averages 92 points a game, and it looked like Tuesday night's game would reach that mark by either team with the halftime score, but solid defense and cold shooting kept the score in check.
The Bulldogs are the top team in both the Associated Press and coaches polls, and they are the projected No. 1 overall seed in the March Madness tournament that begins March 18. All tournament games will be played in Indiana for COVID protocols.
Going back to last season, Gonzaga is on a 30-game winning streak. The other teams expected to be named No. 1 regional seeds this Selection Sunday are (in order): Baylor, Michigan and Illinois.
The Gonzaga men's tournament win comes on the heels of its women's team winning the WCC title earlier on a last-second basket.