Odds to Win 2020 NBA Title Now That League Moves Forward With Season, Playoffs
The NBA is just one vote away from approving a restart to the 2019-20 season, which has been put on hold indefinitely because of COVID-19 (coronavirus). Players could return to meaningful games on July 31 in Orlando, and a playoff would soon follow.
The NBA's Board of Governors on Thursday approved a 22-team return at ESPN's Wide World of Sports Complex at the Walt Disney Resort in Central Florida. Now the players association must second the notion, which is perhaps just a formality at this point as NBA Commissioner Adam Silver has kept players in the loop of all negotiations.
Once approved, teams would schedule training camps at their team sites at the end of June, and then travel to Orlando at the beginning of July to begin mandatory quarantining—consistent with Florida governing travelers coming into the state.
The league will likely approve a 22-team plan, which includes 16 playoff teams plus six more teams in contention. The added teams bring added enthusiasm for a playoff push, but then again, it's also about money. If the team were to limit it to 16 teams, then it would miss out on TV revenue from extra games and the race for playoff spots.
The NBA was the first major American sport to postpone (or cancel) its season because of coronavirus. On March 11, after a player from the Utah Jazz tested positive for the virus, the NBA shut its doors until further notice. The next day, Major League Baseball and the NHL followed suit. By afternoon of March 12, the NCAA had canceled its lucrative men's basketball tournament and the rest of its winter and spring championships.
The NBA has been a leader in trying to get back into finishing its season and helping restart sports in America. The biggest key was doing it safely.
"I think we're looking for the number of new [coronavirus] infections to come down," Silver said. "We're looking for the availability of testing on a large scale. We're looking at the path that we're on for potentially a vaccine. We're looking at antivirals. On top of that, we're playing close attention to what the CDC is telling us on a federal level and what these various state rules are that are in place."
With a tentative plan in place, new odds emerged from Las Vegas on who has the best shot at winning the title in the abbreviated 2019-2020 season. Right now, the LeBron James-led Los Angeles Lakers and the Milwaukee Bucks are the co-favorites to win it all.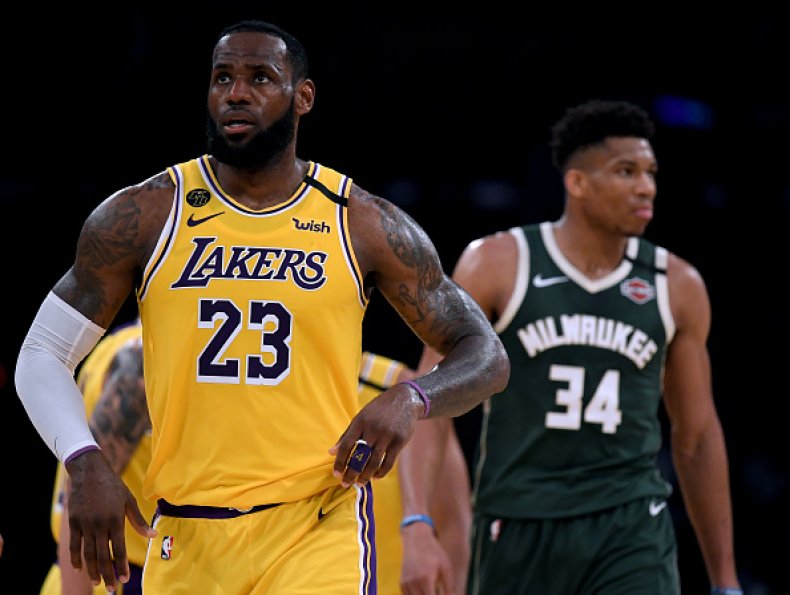 Here are the odds of teams winning the NBA title, according to vegasinsider.com.
5:2 Los Angeles Lakers
5:2 Milwaukee Bucks
33:10 Los Angeles Clippers
12:1 Houston Rockets
20:1 Boston Celtics
24:1 Toronto Raptors
25:1 Denver Nuggets
27:1 Miami Heat
27:1 Philadelphia 76ers
29:1 Utah Jazz
36:1 Dallas Mavericks
60:1 Brooklyn Nets
100:1 Indiana Pacers
100:1 Oklahoma City Thunder
120:1 New Orleans Pelicans
210:1 Memphis Grizzlies
210:1 Portland Trailblazers
210:1 San Antonio Spurs
250:1 Orlando Magic
250:1 Phoenix Suns
250:1 Sacramento Kings
250:1 Washington Wizards