Supected Odessa Gunman Failed Previous Background Check, Did Not Undergo Check for Assault Weapon Purchase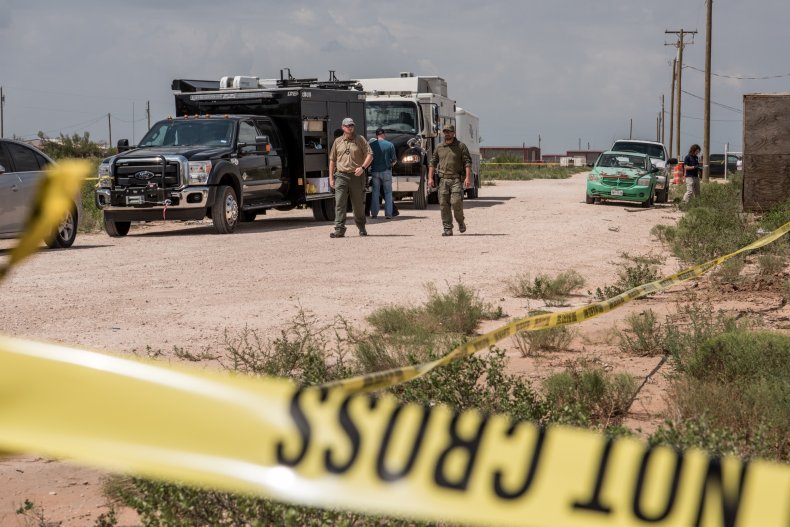 The man identified by police as the likely perpetrator of the Odessa massacre once failed a previous background check and did not receive a background check when purchasing the weapon used to commit the shooting, according to Texas Governor Greg Abbott.
Seth Aaron Ator of Odessa, Texas, was pulled over Saturday by Department of Public Safety patrol officers for a routine traffic stop when he allegedly opened fire with an AR-15-style rifle and sped away. The rampage claimed seven lives along the Texas interstate, where Ator is accused of shooting indiscriminately at other cars and passersby.
Ator, 36, is accused of hijacking a mail delivery truck, murdering the U.S. postal worker driving it and continuing to a movie theater where he engaged in a shootout with police, eventually dying from injuries sustained there.
This is Texas' second mass shooting in one month. A 21-year-old is accused of murdering 22 people, many of them Hispanic, on August 3 at a Walmart in El Paso. That case is being investigated as a possible hate crime.
In addition to the dead in the Odessa shooting, at least 21 others were left injured, including a 17-month-old infant who had shrapnel sprayed across her chest.
The revelation from Abbott about Ator's history with the FBI's National Instant Criminal Background Check System (NICS), combined with reporting that shows Ator has a prior criminal record, suggests that he may not have been legally allowed to purchase a firearm.
According to the Austin American-Statesman, Ator, 18 at the time, was arrested in 2001 for evading arrest and criminal trespass, both misdemeanors. A search of Ector County court records shows he received a traffic citation in 2018 for violating federal motor carrier safety rules. But none of these charges alone would likely have prevented him from possessing a weapon, which is reserved for felony convictions or crimes related to domestic violence.
It is still unknown if Ator acquired the assault-style rifle legally, and police have not confirmed how he made the purchase. It is also unclear, despite Ator's criminal history and prior background check failures, whether he was prohibited from owning a firearm. Even if he was, a private sale may not have flagged Ator's prohibited status because background checks are only required at federally licensed dealers.
ABC News reported on Tuesday that Ator purchased the rifle through a private sale, which would likely have circumvented the requirement for a background check. It is still a crime to knowingly sell a weapon to a prohibited possessor, regardless of venue, though further details about the purchase are not known at this time.
The Texas Department of Public Safety told Newsweek that Ator's previous, unsuccessful attempt to buy a weapon occurred in January 2014. The agency would not disclose the seller or the reason the purchase was blocked.
Lawmakers are set to reconvene on Capitol Hill to debate, among other items, whether federal background check rules should be expanded to cover all gun sales, including those between private parties.
Even Abbott, the governor of a staunchly conservative state who once pleaded with residents to help Texas surpass California in new gun purchases, acknowledged the inadequacy of the current system, noting how Ator was able to slip through the cracks. "We must keep guns out of criminals' hands," he wrote.
As the national conversation over new gun control legislation heats up, both sides of the debate are preparing for an entrenched fight in the nation's capital. Gun control groups outspent the National Rifle Association in ad campaigns after the massacres in El Paso and Dayton in early August. And the NRA is relocating its mid-September board meeting to D.C. to retain close proximity to lawmakers as they consider several gun control proposals, including the universal background checks bill and "red flag" legislation.
The bipartisan red flag bill, sponsored by Senate Judiciary Chairman Lindsey Graham, would incentivize states to adopt their own red flag laws, which allow courts to temporarily confiscate a gun owner's weapon if a police officer or family members believes it will be used to cause imminent harm.
This article has been updated to include ABC News' reporting and comments from the Texas Department of Public Safety.