Off Duty ICU Nurse Saves Week-Old Baby's Life in Grocery Store
An off-duty nurse was waiting in line for an iced tea at her local grocery store when a mother frantically asked her to help her bleeding infant.
Binta Diallo, a Neuro ICU nurse at UNC-Chapel Hill, was waiting at the store's bakery counter when she heard a woman start screaming nearby. The woman ran over to Diallo and handed her the one-week-old infant who was bleeding from the nose.
"I looked at the baby and it was just slumped and she handed me the baby and I just took her," Diallo told Newsweek. She then ran to the front of the store with the baby and laid her down on a bag of rice.
"When I was walking with the baby her nose was just pouring with blood so I used the blanket and kept cleaning her nose with it to make sure the baby was breathing. But when I looked at the baby it didn't look like she was breathing. The baby was just slumped."
The incident occurred in Cary, North Carolina, a suburb outside of the state's capital. Diallo, who's been a nurse since 2006, knew exactly what to do in an emergency situation.
"I was trying to find a pulse but the baby was little. I've done CPR on adults but never on a baby but I just tried," she said.
CPR on infants utilizes two-finger compressions in order to protect the ribs and internal organs. A one-handed compression would be too much force on an infant.
"I put my head in the baby's chest and there was nothing, I couldn't even feel a heartbeat. I just started doing CPR but I don't know how long I did it because her face had so much blood and every now and then I would clean her nose because I was looking for bubbles to see if she was breathing."
But Diallo says this method wasn't working on the lifeless infant. That's when she decided to remove her mask and attempted to breathe into the infant's mouth.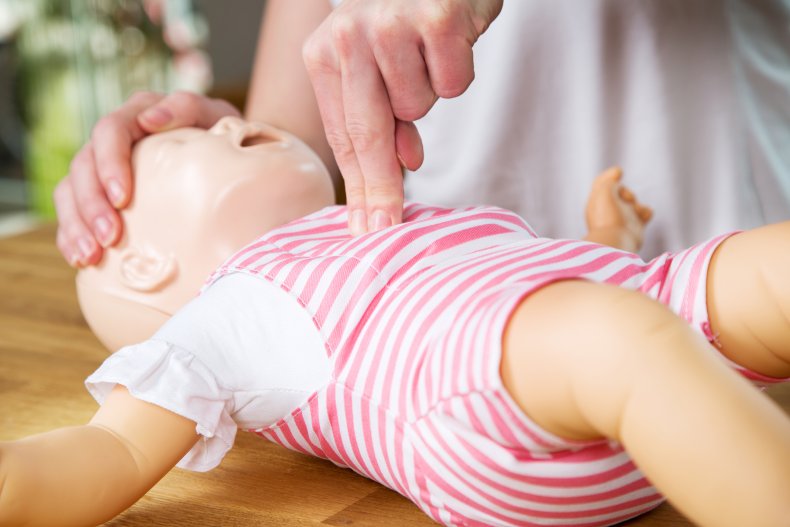 "Usually for a baby, you do the nose and the mouth, but there was so much blood I just took a big breath on her," Diallo said. "I started the CPR and then the baby just gasped. She moved her head back and opened her eyes and at that point, I put my hand on her chest and I could hear a rapid heartbeat."
Almost immediately, Diallo said the fire department arrived at the scene and she handed the baby girl to them. She then comforted the frantic mother and told her that her week-old baby was breathing.
Diallo said once the adrenaline wore off she realized the severity of the situation. "When I handed over the baby something just went through me and I just started shaking. Like this is real now." She then walked back into the store and grabbed the iced tea she had ordered earlier.
Back in 2017, Diallo started a non-profit organization based in West Africa called "Save a Life." The nonprofit teaches nurses in the community how to do CPR on infants and adults. "I guess it's a full circle," she says. "We teach skills to nurses. We teach CPR on babies."
Diallo says she attempted to gather her thoughts but was left in a moment of complete shock. She wrote on Nextdoor, a social media platform for neighborhoods, about the incident which went viral in the local area. "I walked back and one of the girls said 'that's my sister' and she hugged me and she said thank you. I just went and sat in my car and cried," she told Newsweek. "I was thinking of the baby and the mom and that's why I put the post on Nextdoor, I was hoping someone in the family would say 'hey she's fine.'"
"On 08/02 around 5pm something crazy and surreal happened to me inside the H-Mart store in Cary," Diallo wrote on the social media app last Friday. "I did CPR on a week-old baby and I was able to revive the baby. The fire department came and took over. I just left when the ambulance got there because I was so in shock. I still think about that mom and her baby every day. And praying the baby was okay"
Many of the comments on Diallo's post are neighbors showing support and saying this is a great reminder to get their CPR certifications.
"The good thing that came out of this is that people are realizing the small skills you can learn can save your life or save your loved one's life," Diallo said.
John Reeves of the Cary Police Department told Newsweek that the family was visiting from out of town but that the baby was in the hospital and was alive.
"The family was out of town, so my thing is I hope they read this somewhere and get in contact with me," Diallo said. "I would love to hold that baby again. Smiling, not looking like that."