Off Duty Security Guard Shot in Argument Over Social Distancing at Wawa, Police Say
An off-duty security guard was shot on Friday morning at a Wawa convenience store in Philadelphia, after an argument broke out over the store's social distancing policies, according to police.
In an email sent to Newsweek, the Philadelphia Police Department stated that at approximately 4:38 a.m. police responded to the Wawa location near the 1300 block of East Erie Ave. in the city's Juniata neighborhood for a report of a shooting.
According to Fox 29 News in Philadelphia, Police Chief Inspector Scott Small said that the suspected shooter was told by one of the store's security guards that he must wait outside because of the number of customers already inside the store.
The suspected shooter began arguing with the security guard, when an off-duty security guard, who does not work at the store, tried breaking up the fight. Fox 29 News reported that the situation escalated quickly, and the suspect pulled out a gun and shot the off-duty guard.
According to police, the man who was shot was described as a 25-year-old Black man.
"The victim was transported by private vehicle to St. Christopher's Hospital for Children and was transported to Temple University Hospital by private ambulance," the department told Newsweek, adding that the victim is currently in critical condition.
"I don't know if the suspect forced his way into the store. The suspect at one time was in the store. And when that suspect was struggling with the security guard, who does not work here, they had a physical altercation which spilled out into the vestibule area. Not outside – into the vestibule area – which is a very small area but it's still inside the store," Philadelphia Police Chief Insp. Scott Small said, according to CBS 3 News in Philadelphia.
Police were unable to identify the suspect, as they noted that he fled the scene in an Acura, but they described him as a Hispanic male, wearing a white t-shirt.
"The scene was held, no arrest and no weapon recovered," the department said in their email to Newsweek. "The investigation is active and ongoing with East Detectives Division."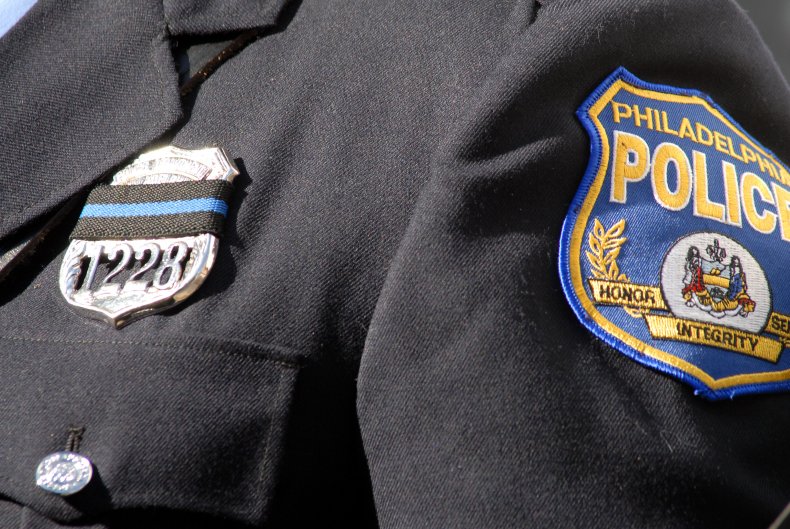 In a video posted to Twitter by Steve Keeley of Fox 29 News, several police cars can be seen surrounding the Wawa as an investigation is currently underway.
In a subsequent video posted by Keeley, the vestibule area where the victim was shot can be seen, where several social distancing and mask requirements signs are posted.