'The Office' Cast Reunites to Surprise Couple by Recreating Dance from Jim and Pam's Wedding
The Office star John Krasinski planned a virtual wedding for two fans of the hit NBC sitcom after finding out that they recreated Jim and Pam's gas station proposal from the show.
On the latest episode of his YouTube show, Some Good News, Krasinski—who played Jim—invited John Lush and Susan Hedrik on to talk about their The Office-inspired proposal. But the actor and director surprised the couple with a virtual wedding attended by their parents and friends, Pam actress Jenna Fischer as maid of honor, and the rest of The Office cast as the wedding party.
After Krasinski's friend, Zac Brown, played the couple an original song, Krasinski, who got ordained for the occasion, married the couple via webcam. Then, instead of a speech, Krasinski cut off his tie with a pair of scissors—as Jim did before his wedding—and offered to send it to the newlyweds.
Krasinski then said: "I don't even know where to go from here. That's a lie, I do. And guys, there's only one way out of this wedding and Susan and John, as you so elegantly ripped off our show for your proposal, I feel like it's only fitting that you rip off the wedding too."
Jim and Pam got married in Season 6 of The Office and their family, friends and colleagues surprised them with a flash mob dance to Chris Brown's "Forever."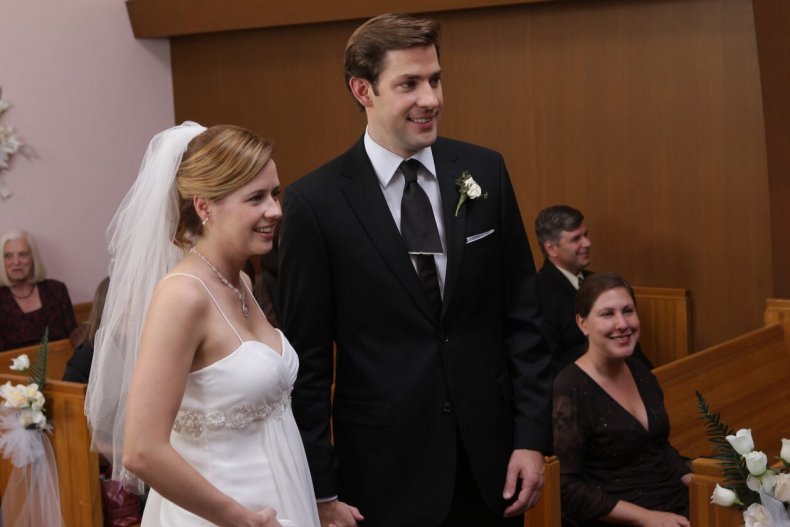 On the YouTube show, Krasinski began playing the song and said: "So, let's rock! But we can't play this song unless you let me invite some of my family to the party. Ladies and gentlemen, the cast of The Office."
Steve Carell, Rainn Wilson, Angela Kinsey, Mindy Kaling, B.J. Novak, Brian Baumgartner, Ed Helms, Phyllis Smith, Kate Flannery, Oscar Nunez, Creed Bratton and Ellie Kemper all popped up on the screen, recreating their dances from the wedding.
Wilson even recreated Dwight's martial arts-inspired dance and pretended to kick his wife in the face, while Flannery channeled Meredith and ran away with a bottle of alcohol to the delight of Lush and Hedrik.
Baumgartner brought back Kevin's Kleenex shoes for the occasion and Kinsey danced with her cat.
Krasinski closed the virtual wedding by saying: "John and Susan, congratulations! Yes! Thank you so much for being a part of this. You're not only good sports, and a beautiful couple, but you also represent all the other beautiful couples in the world who are going through the exact same thing.
"So we at SGN are here for you and we're here for them. Congratulations to all, thank you so much and what a beautiful night."
Krasinski launched his YouTube channel on March 30 to share good news during the coronavirus pandemic and has been posting a new video every Sunday. His channel currently has 2.29 million subscribers and the latest video has more than 470,000 views as of Monday morning.