A Reboot for 'The Office' Is Never Going to Happen, But Maybe a Reunion, Says Ellie Kemper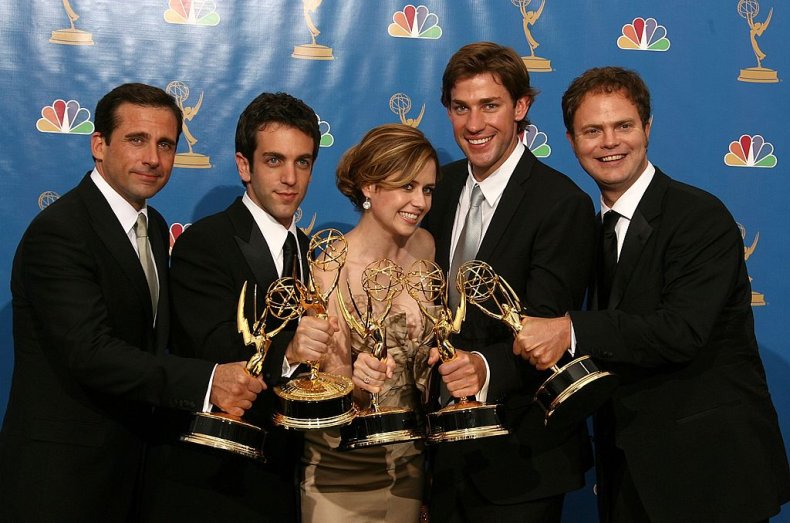 If you've been eagerly waiting for Michael, Jim, Pam, Dwight and the rest of the crew from The Office to return to your TV screens amidst this reboot renaissance of classic comedies we're currently living in, you're going to be waiting for a long time, according to Ellie Kemper. The Unbreakable Kimmy Schmidt star and Kelly "Erin" Hannon from The Office just dashed any hope for a reboot on Watch What Happens Live.
"I would love there to be a reboot, but I don't think there will be," Kemper told host Andy Cohen on Thursday. "So, that's a sad answer. But maybe like a reunion episode? That would be fun."
She then suggested Cohen could orchestrate a reunion, before becoming distracted by how hot John Krasinski is on the Amazon series Tom Clancy's Jack Ryan.
"Absolutely! Everyone adores him. I mean, he was, like, the hunk of The Office, right? I watched the show before being on it, and that's, like, how he was known, right? He's like the heartthrob of The Office. So, I don't think it's such a great leap. He was always hunky and handsome. Why am I talking so much about John Krasinski? He's great," she said.
If the dashed hope of a reboot makes you feel like screaming, "I. Declare. Bankruptcy," like Michael Scott, just in an emotional way, you're not alone. Even Jenna Fischer, who played Pam, wants it to happen.
"I think the idea of an Office revival is—I think it's a great idea," Fischer said in 2018 at a Television Critics Association event. "I would be honored to come back in any way that I'm able to. I loved playing that character, and as long as Greg Daniels [who adapted The Office for American audiences] is the person in charge and the visionary behind it, then I would absolutely be up for."
But there's one member of Dunder Mifflin who not only thinks a reboot will never happen, but also thinks it's a bad idea.
"Apart from the fact that I just don't think that's a good idea, it might be impossible to do that show today and have people accept it the way it was accepted 10 years ago," Steve Carell, who played Michael Scott, told Esquire. "The climate's different. I mean, the whole idea of that character, Michael Scott, so much of it was predicated on inappropriate behavior. I mean, he's certainly not a model boss. A lot of what is depicted on that show is completely wrong-minded. That's the point, you know? But I just don't know how that would fly now. There's a very high awareness of offensive things today—which is good, for sure. But at the same time, when you take a character like that too literally, it doesn't really work."
Sigh. At least we'll still have the Netflix binges of The Office, right? Wrong.
"We're sad that NBC has decided to take The Office back for its own streaming platform — but members can binge watch the show to their hearts' content ad-free on Netflix until January 2021," Netflix announced on Twitter.
NBC is pulling The Office from Netflix, the most-watched show on the streaming platform, in order to feature it on their new ad-supported streaming service, scheduled to debut sometime in 2020.
"The Office has become a staple of pop culture and is a rare gem whose relevance continues to grow at a time when fans have more entertainment choices than ever before," said Bonnie Hammer, chairman of NBCUniversal DTC and digital enterprises. "We can't wait to welcome the gang from Dunder Mifflin to NBCUniversal's new streaming service."
If there ever was a time to feel like Kevin's spilled chili, it is today. But like Kevin said, feeling sad about bad news is only "human natural."