'The Office' Star Rainn Wilson Talks Mental Health and Comedy In Upcoming Documentary 'It's Not That Funny'
Topics discussed in this article may be triggering for some readers.
Backed by SoulPancake, which Wilson helped co-found in 2009, the documentary's trailer dropped Tuesday and delves into the epidemic, yet taboo subjects of depression, anxiety and suicide. Cameos within the 2.5-minute trailer included Sarah Silverman (SNL, Wreck-It Ralph), Wayne Brady (Whose Line Is It Anyway?), Rachel Bloom (Crazy Ex-Girlfriend), Anna Akana (Youth & Consequences) and more — all who shared how comedy was a means of "survival."
"All of us learn a skill set inherently as children that gets us through childhood," Silverman tells the camera. "A hundred percent of comedians become comedians because somewhere in their childhood they needed to be funny in order to survive."
In light of the recent high-profile deaths of comedian Brody Stevens, designer Kate Spade, musician Avicii and media personality Anthony Bourdain, Wilson and Soulpancake general manager Shabnam Mogharabi, told Newsweek the campaign aimed to speak on the epidemic of loneliness, depression and suicide.
"We've talked about mental health for years. We care about this issue, we care about our audience," Mogharabi told Newsweek. "How do we create content for people to talk about this taboo subject, to encourage them to get help — and as we were talking about it, we realized the most powerful ways to get folks to reflect on their life is through humor."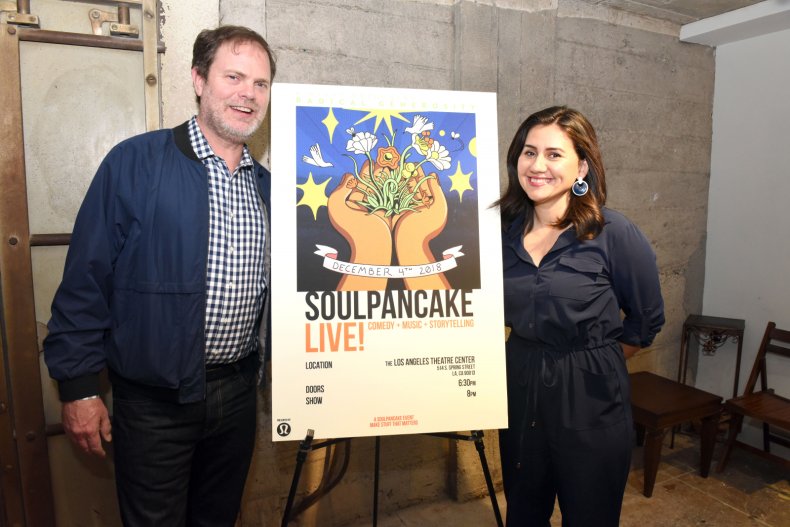 Along with Stevens, the deaths of comedians Robin Williams in 2014 and Chris Farley in 1997 rocked audience members to their core. It's Not That Funny delves the cliche saying that laughter is the "best medicine."
"Comedy is not going to save you," Chris Gethard said in It's Not That Funny. "If you are thinking about doing comedy as a substitute for therapy, it doesn't work — I tried, I tried for a long time."
Gethard continued with a question: "Are comedians more depressed?"
"I bet there are a lot of depressed stockbrokers," Gethard answered. "Maybe comedians aren't more depressed than the rest of society, maybe the rest of society just isn't talking about it more professionally."
Going through the door of comedy is a unique pathway into the conversation of mental health; however, Wilson wants to make clear what the purpose of the documentary.
"This isn't about 'Oh, funny people are f***ed up,'" Wilson said. "This is about what we are all messed up ... a lot of this conversation is about young people knowing that they are not alone."
A confirmed premiere date for the It's Not That Funny documentary is still in the works. For more information on SoulPancake and its numerous projects in conjunction with Mental Health Awareness Month in May, click here.
If you or anyone you know is struggling with mental health or suicidal thoughts, please call the national hotlines listed below.
National Suicide Hotline: 1-800-273-8255
SAMHSA's (Substance Abuse and Mental Health Services Administration) National Helpline: 1-800-662-HELP (4357)