Deputy Branded a 'Coward' for Staying Outside During Parkland Shooting Gets $8,700 Monthly Pension
The sheriff's deputy who stayed outside a Florida school while a gunman shot 17 people dead will be given a monthly pension of nearly $9,000.
Scot Peterson resigned and retired from his post as a resource officer at Marjory Stoneman Douglas High School on February 22. He had been captured on closed-circuit TV standing outside a door to the school in Parkland, Florida, while suspected gunman Nikolas Cruz went on the rampage, killing 14 students and three officials.
In April, the 55-year-old began getting a monthly pension of $8,702.35, which he is eligible to receive for life, the Sun Sentinel reported. The figure takes into account the average of his five highest-paid years and his 32 years of service.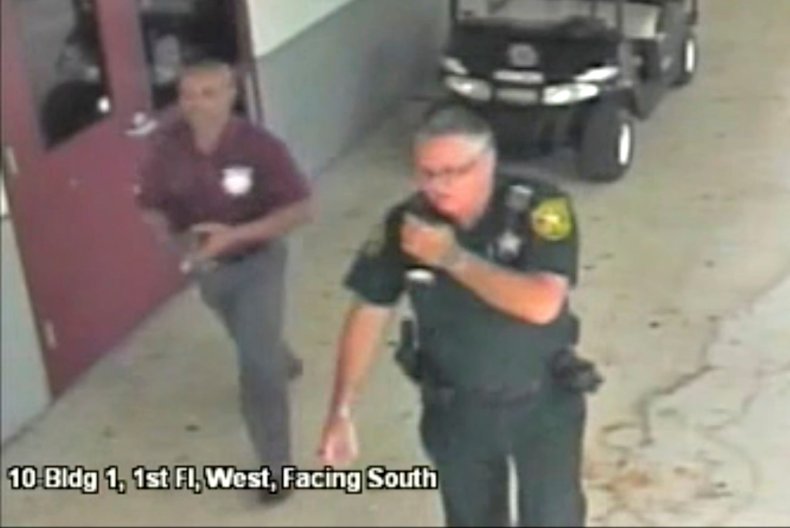 Peterson was branded a "coward" by President Donald Trump, and Broward County Sheriff Scott Israel said that he should have gone into the school building to "kill the killer."
Peterson defended his actions and said he followed his training. His lawyer said in a statement at the time that "the allegations that Mr. Peterson was a coward and that his performance, under the circumstances, failed to meet the standards of police officers are patently untrue."
However, he has been named as a defendant in a wrongful-death lawsuit filed by Andrew Pollack, whose 18-year-old daughter, Meadow, was among those killed.
"I'm not interested in any money. I just want to expose what a coward [Peterson] was and that he could've saved everybody on the third floor. I don't want him to go anywhere in the country and not have people recognize what a coward he is," Pollack told the Sun Sentinel.
This week, Ryan Petty, whose 14-year-old daughter, Alaina, was also killed in the massacre, announced his candidacy for the school's board. He aims to prevent potential shooters like Cruz from falling "through the cracks" of the education system, the Associated Press reported.