Officer Eric Talley Would Have Been 'Deeply Offended' if Used for Gun Control Push, Dad Says
The Boulder, Colorado, shooting has reignited the push for gun control, but the father of the police officer who was killed said his son was a gun owner and wouldn't have wanted his death to be used to restrict access to firearms.
A week after eight people were killed at three Atlanta spas, a gunman opened fire at a grocery store in Colorado, killing 10 people. The two shootings compelled lawmakers to call for a ban on certain firearms, a move that President Joe Biden and Vice President Kamala Harris support.
Homer Talley, the father of Boulder Police officer Eric Talley, who was the first law enforcement officer to arrive on the scene, told TMZ his late son owned an AR-15 he used for target practice.
"My son would have been deeply offended to know his death would be used to promote gun control. Before he was an officer, he enjoyed shooting," Talley told TMZ.
Talley added that the situation his son was in wasn't one that "the government could protect him from." While he's in favor of common sense gun laws, he and his son were against taking away the freedom Americans have to purchase firearms, he said.
"Just because some wacko goes around shooting people doesn't mean guns need to be taken away," Talley said. "You can't take away enough guns to protect this country."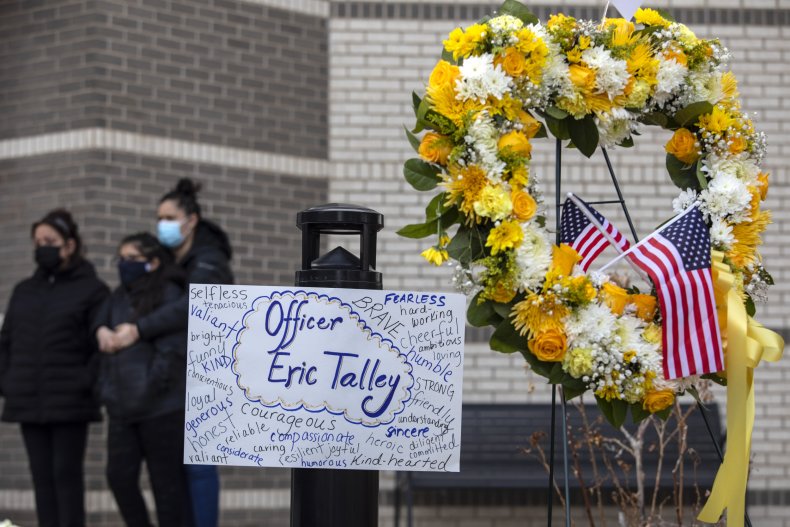 Newsweek reached out to the White House for comment but did not receive a response in time for publication.
Ahmad Al Aliwi Alissa, whom authorities identified as the Boulder shooter, purchased a Ruger AR-556 pistol on March 16, according to the arrest affidavit. His sister-in-law told authorities that days before the shooting that she saw him playing with what looked like a "machine gun" and that his family, who were upset that he was handling it in the house, took it away.
Officials haven't said whether the firearm the sister-in-law said looked like a "machine gun" was the AR-556 Alissa purchased or whether one of them was the firearm used in the shooting. However, it's possible the firearm the sister-in-law saw Alissa with was a Ruger AR-556, as it looks like a rifle. But since it isn't a rifle, it's regulated like a pistol, a nuance experts say could help people skirt gun restrictions.
Democrats are looking to close loopholes in the firearm-purchasing process by expanding background checks, and Biden has pushed the Senate to pass two pieces of legislation that have already passed in the House. The legislation would close gun show and online sales loopholes for background checks and eliminate what's called the "Charleston loophole" that allows gun sales to move forward without a completed background check if three business days have passed.
Eight Republicans voted in support of the first bill, and two supported the second. While that's not indicative of strong support in the GOP for the measures, Biden pointed to the bipartisan vote and said gun control shouldn't be a "partisan issue."
"This is an American issue that will save lives, American lives. And we have to act," he said. "We should also ban assault weapons in the process."
White House press secretary Jen Psaki said Biden wants to work with Congress but is also considering executive actions for gun control. However, if Biden were to enact gun control through executive action, a subsequent president could undo it. Psaki said the president recognizes that "lasting" legislation needs to be passed by Congress.
While those pushing for gun control point to the two shootings in one week as preventable with the proper legislation, Talley told TMZ the attack was just a "senseless act."