Officer Who Died After Learning He Would Be Fired for Death of Black Man Buried Quietly
A police officer who died in a car crash just hours after being told he was to be fired over his role in the death of a Black man has been buried in a secret ceremony.
Officials had moved to keep the funeral of Louisiana state trooper Chris Hollingsworth under wraps amid concerns it would attract protesters angry at the in-death custody of Ronald Greene.
The Associated Press (AP) reported that Hollingsworth was buried with with honors on Friday amid tight security.
Family members and state police mourned Hollingsworth whose death marks the latest turn in the long-simmering in-custody death case of Ronald Greene, which has prompted a federal civil-rights probe and increasing calls for authorities to release body-camera footage, according to the AP.
Speaking to the news agency earlier this month, Greene's mother, Mona Hardin, said her family has not been able to grieve because so many questions remain unresolved. She said her son had been a well-liked barber who lived in West Monroe and had a "giving spirit."
She said: "This has gutted our family. How do people live with themselves after doing something like this?"
Hollingsworth, who was white, was the only one of six troopers placed on leave earlier this month after the May 2019 death of Greene following a high-speed chase.
Officials originally told Greene's family that he died from injuries sustained in the crash.
Troopers later stated that there was a struggle with him during the arrest.
Greene's family has filed a federal wrongful-death suit alleging troopers shocked him three times with a stun gun, "brutalized" him and left him "beaten, bloodied and in cardiac arrest," according to the AP.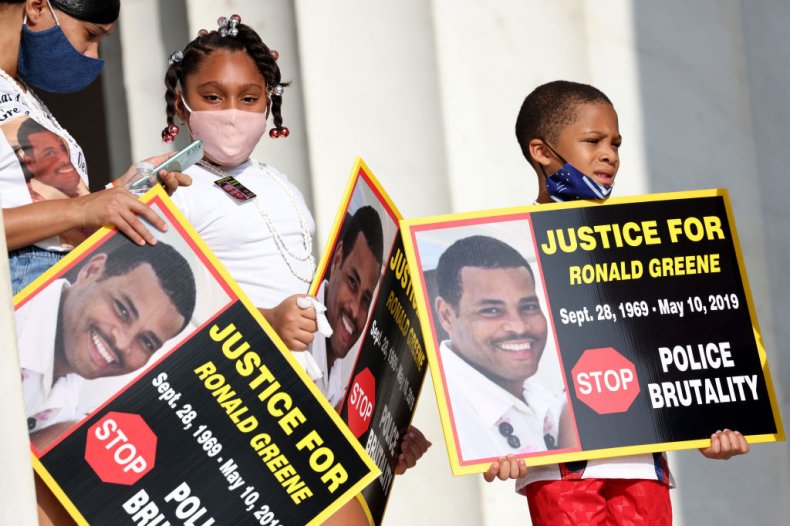 Hollingsworth died on Tuesday after being involved in a single-car highway crash in Monroe just hours after he received a letter informing him the was to be fired.
It is understood that State Police are remaining tight-lipped about any details of how the highway crash occurred and have refused to release the letter.
The news agency reported that despite mounting pressure, police have refused to release body-camera footage from Greene's arrest stating that the film cannot be handed over due to ongoing state and federal investigations.
Hollingsworth was a member of New Chapel Hill Baptist Church and on Friday fellow worshippers, some in trooper uniforms, flocked to the venue to pay tribute to their colleague.
The AP said a law enforcement official had said the public was barred from the service and a major police presence included plans for snipers, a SWAT team and a drone.
The news agency said the official only provided the details on condition of anonymity.
Hollingsworth's funeral comes amid a growing backlash against police following the case of George Floyd, the 46-year-old black man who died on May 25 after Minneapolis police officer Derek Chauvin kneeled on his neck for nearly nine minutes.
Protesters have clashed with police at demonstrations across the country as demonstrators demand reform amid claims of institutionalized racism and brutality.