A police officer "hesitated" when confronting the gunman accused of opening fire at a Uvalde, Texas, elementary school out of concern his gunfire would strike students, according to The New York Times.
On May 24, 18-year-old gunman Salvador Ramos shot and killed 19 students and two teachers at Robb Elementary School in one of the deadliest school shootings in United States history.
In the aftermath of the deadly incident, law enforcement has faced scrutiny for what has been viewed as a slow response that failed to stop Ramos, who police shot and killed 78 minutes after arriving at the scene.
Friday's report in the Times highlights another potential misstep in how police handled the shooting.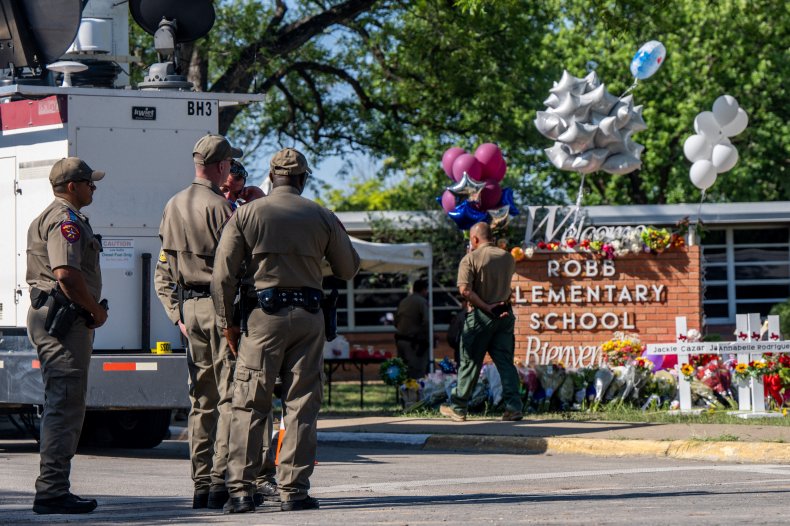 Zavala County Chief Deputy Sheriff Ricardo Rios recounted the conversation he had with the officer, who was not named, with the newspaper.
"I asked him, 'Why didn't you shoot? Why didn't you engage?' And that's when he told me about the background," he said. "According to the officers, they didn't engage back because in the background there was kids playing and they were scared of hitting the kids."
The officer was carrying an AR-15 at the time, and could have faced a criminal investigation if he had accidentally shot a bystander, Rios said, who added that the opportunity to confront Ramos passed "really quick."
Meanwhile, a second police officer employed by the Uvalde School District, who quickly arrived at the scene, also drove by the shooter in the parking lot and didn't notice him, according to the Times.
In the days following the massacre, details about law enforcement's response came to light, with officers facing criticism for not taking action more quickly. Lieutenant Chris Olivarez, from the Texas Department of Public Safety, said during a CNN appearance that police did not enter because "they could have been shot," but said officers by that point had contained the shooter to one classroom.
Jesse Rodriguez, who lost his 10-year-old daughter Annabell Guadalupe Rodriguez in the shooting, said that police "let our babies get slaughtered" by not confronting Ramos quicker as family members of the shooting victims have called for accountability.
Meanwhile, one mother, Angeli Gomez, ran into the school to save her two children after taking note of how the police were responding. She criticized the police, saying they seemed more concerned with containing concerned parents, and that they "could have saved more lives."
Police have also faced scrutiny from state officials. Steven McCraw, director of the Texas Department of Public Safety, said last month that holding back the officers from entering the school was the "wrong decision."
Newsweek reached out to the Texas Department of Public Safety for comment.