Officer Involved in Breonna Taylor Shooting Says City, Taylor Family's Attorneys To Blame for 'False Narratives' Related to Her Death
Sgt. Jonathan Mattingly, one of the Louisville police officers involved in the March shooting that led to Breonna Taylor's death, said city officials, police department leadership, and attorneys representing Taylor's family are to blame for "false narratives" surrounding the 26-year-old's passing in new public comments.
Mattingly spoke openly about the night Taylor died for the first time in a video interview with ABC News and The Courier-Journal, published on Wednesday.
Alongside Louisville Metro Police Department (LMPD) officers Brett Hankison and Myles Cosgrove, Mattingly was the focus of investigations led by Kentucky Attorney General Daniel Cameron's office and the FBI this year. Only Hankison, who was dismissed from the LMPD in June, faces criminal charges in the investigation's aftermath. He is charged with three counts of wanton endangerment for jeopardizing Taylor's neighbors when bullets he fired into her apartment traveled through the wall that connected it to an adjacent residence.
Although FBI analysis indicated one of the bullets either Mattingly or Cosgrove shot directly into Taylor's apartment, of which there were more than two dozen, ultimately killed her, Cameron said both officers are protected under a Kentucky state law related to self-defense. Kenneth Walker, Taylor's boyfriend, shot Mattingly in the leg when officers entered the apartment after midnight during a raid.
Taylor's death fueled widespread public outrage, as protesters rallied to demand the police involved be held criminally accountable. During his Wednesday interview, Mattingly described the response as frustrating. He said Louisville Mayor Greg Fischer and LMPD leadership contributed to the public's perception of his, Hankison's and Cosgrove's conduct—which he feels is incorrect—by failing to clarify confusing information, and some false details, about the police raid that initially circulated.
"The frustration came from our command, and from the mayor's office, because there was so much disinformation out," Mattingly said Wednesday. "Because this is not relatable to George Floyd, it's nothing like it. It's not Ahmaud Arbery, it's nothing like it...it's not a race thing like people want to try to make it to be."
Mattingly said these "false narratives" have allowed attorneys for Taylor's family, Benjamin Crump and Sam Aguiar, "to inflame people to get the end result they wanted."
Newsweek reached out to Mayor Fischer's office for comment but did not receive a reply in time for publication.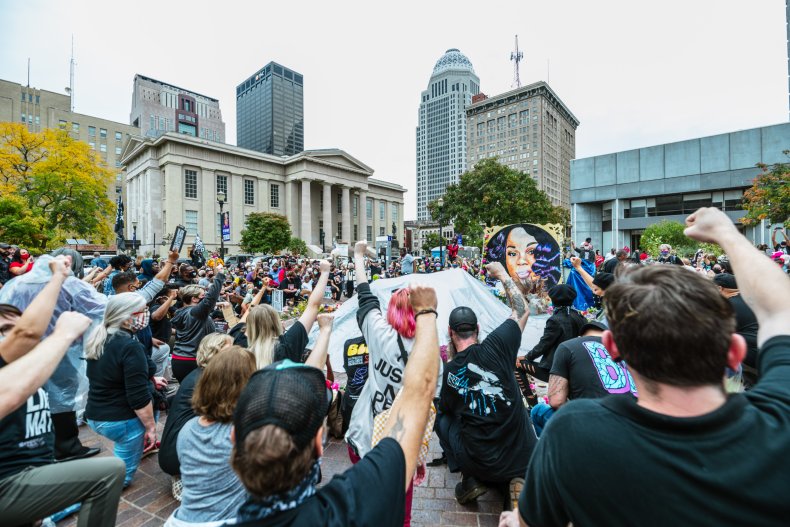 Demonstrations erupted across the U.S. after Floyd's death in Minneapolis police custody at the end of May. Derek Chauvin, the white officer who knelt on Floyd's neck for eight minutes leading up to his death, faces murder and manslaughter charges. In February, Arbery was allegedly shot and killed by Travis and Gregory McMichael, a white father and son, while jogging in Georgia. The McMichaels were also charged with murder.
Those cases, in addition to Taylor's, catalyzed ongoing protests against police violence and racism that continue to take place in the fall. Demonstrations shed light on the racist ideologies that have contributed to the disproportionate number of Black Americans killed during interactions with law enforcement.