Officer Involved in Daunte Wright Shooting Meant to Use Taser, Not Gun, Brooklyn Center Chief Says
Brooklyn Center Police Chief Tim Gannon believes the officer who shot Daunte Wright, a 20-year-old Black man, meant to use her Taser, not her gun.
On Sunday, police shot Wright after pulling him over for a traffic violation and he was pronounced dead on the scene. His death sparked protests and civil unrest in Minnesota, with many calling for transparency and a release of the body camera footage from the incident.
Gannon, who has been the chief for about five years, announced the release of the footage on Monday afternoon at a press conference. Having seen the footage, Gannon said there were no words for him to lessen the pain Wright's family and friends were feeling but said he released the video in an effort to be transparent.
"I'm not in the mind of the officer, I can only see what you all are seeing," Gannon said. "I believe this was an accidental discharge.… It is my belief that the officer had the intention to employ their Taser, but instead shot Mr. Wright with a single bullet."
In the video released on Monday, an officer yelled, "Taser, Taser, Taser," before firing the shot and yelling, "Oh s***, I just shot him."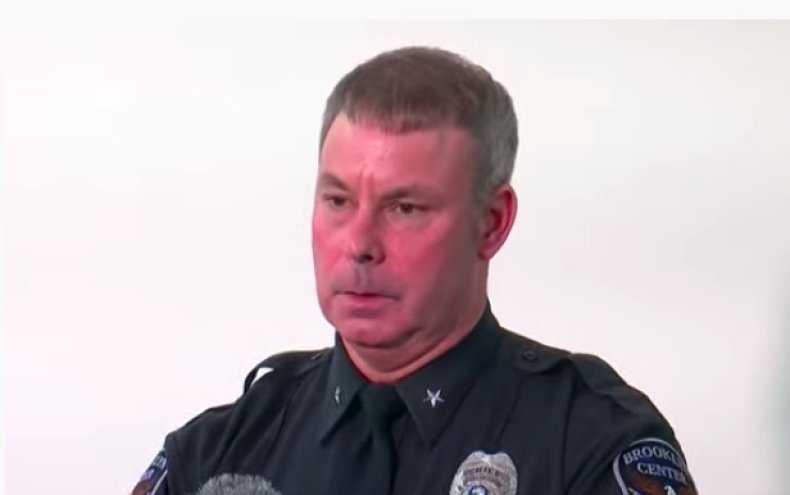 Gannon defended officers' training, saying there are "numerous trainings" throughout the year involving firearms and called Taser training "pretty thorough." Along with officers being recertified, the police chief said they do scenario training as well.
The officer, whose name has not been released, is on administrative leave. Gannon said it was "too early" to determine if there would be charges brought against the officer or who would be responsible for the officers' prosecution.
The "fatal mistake" the officer made warrants termination from the police department, according to Brooklyn Center Mayor Mike Elliot. He said the police department can't "afford to make mistakes that lead to loss of life." Under the city's government, it's not up to the mayor to relieve the officer of her duties and that responsibility lies with the city council and Curt Boganey, the city manager, who said the officer will receive due process.
Gannon wouldn't comment on whether the officer should be terminated, however, he said by watching the video people can ascertain if she'll be returning to duty. At this point, Gannon said that he had no plans to step down if people called for her resignation, and got emotional when talking about the department.
"I'm the leader of this department. They expect me to lead. Create a safe city, that's what I'm trying to do," Gannon said.