Officer Involved in Daunte Wright Shooting Should Be Removed From Duty, Mayor Mike Elliott Says
Brooklyn Center, Minnesota, Mayor Mike Elliot said on Monday that the officer involved in the fatal shooting of Daunte Wright should be removed from duty.
"We cannot afford to make mistakes that lead to the loss of life of other people and in our profession," Elliott said during a press conference. "And so I do fully support releasing the officer of her duties."
The comments by Elliott come shortly after the Brooklyn Center Police Department released body camera footage of the fatal shooting of Wright, a 20-year-old Black man, on Sunday.
While speaking during the press conference, Brooklyn Center Police Chief Tim Gannon said that he believes the officer who fatally shot Wright meant to use their Taser instead of their gun.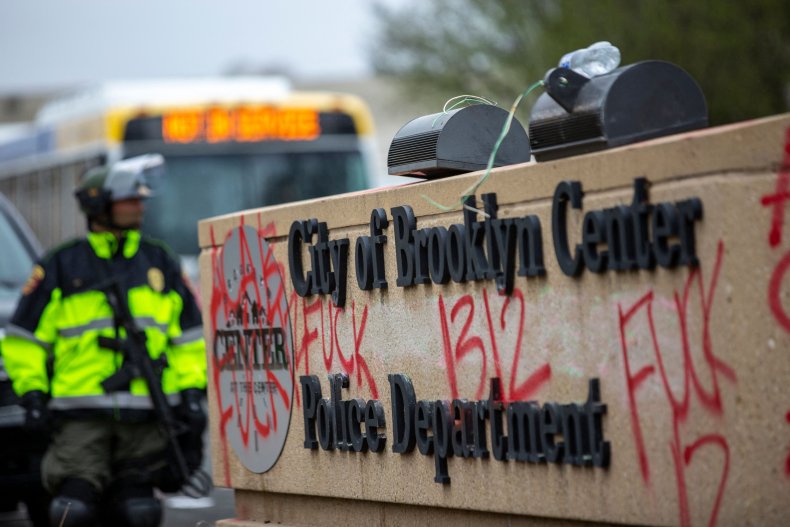 "I'm not in the mind of the officer, I can only see what you all are seeing," Gannon said. "I believe this was an accidental discharge....It is my belief that the officer had the intention to employ their Taser, but instead shot Mr. Wright with a single bullet."
In the body camera footage shown during the press conference one of the officers can be heard yelling "Taser! Taser! Taser!" The officer instead fired a single shot from her handgun and as Wright's car drove away, the officer can be heard saying "Holy s***! I shot him."
Shortly after showing the body camera footage of the fatal police shooting, one of the press conference's attendees can be heard asking "Oh my God, and you're trying to determine whether or not to terminate this officer?"
During the press conference, Brooklyn Center City Manager Curt Boganey, who has authority of the police department's personnel, did not explicitly state his support for terminating the officer, but instead said, "All employees working for the city of Brooklyn Center are entitled to due process with respect to discipline."
"This employee will receive due process and that's really all I can say today," Boganey added.
The police officer who fatally shot Wright on Sunday was not identified publicly by police but has been placed on administrative leave. Gannon noted that it was "too early" to say whether or not the officer will be charged.
Wright was fatally shot by a Brooklyn Center Police officer during a traffic stop on Sunday. According to police, Wright had an outstanding warrant and when officers attempted to arrest him, he attempted to flee. Officers discharged their firearms as he fled and Wright was pronounced dead at the scene.
The fatal police shooting prompted protests across Brooklyn Center, with many gathering outside the police station.
Newsweek reached out to Elliott and the Brooklyn Center Police Department for comment but did not receive a response in time for publication.