After Officer Is Killed in the Line of Duty, Inmates Send Condolence Letter to Sheriff's Office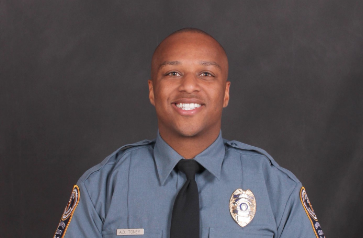 After Gwinnett County Police Department Officer Antwan Toney was killed in the line of duty, the sheriff's department received condolences from the entire community, including a group of inmates.
On October 20 at around 3:00 a.m. EST, Toney, 30, and another officer responded to a call about people possibly smoking marijuana in a car near Shiloh Middle School, according to WXIA. As the officers approached the vehicle, suspects shot at them, hitting Toney. His fellow officer pulled him to cover and Toney was transported to the hospital, where he died of his wounds.
On November 10, the Gwinnett County Sheriff's Department posted on Facebook that it had received overwhelming support from the community.
Residents lined the streets to watch Toney's funeral procession and pay their respects, and parents even took their kids out of school to honor the officer.
"These meaningful acts humbled every law enforcement officer who witnessed them," the sheriff's department said. "There have since been countless kind gestures from school rooms to ball fields expressing deep appreciation and respect for our fallen hero. We can't thank you enough for your continued support and empathy."
The Gwinnett County Police Department also received a letter from inmates housed in its jail. The letter, addressed to Sheriff Butch Conway, was titled, "With All Due Respect."
"This was a tragic accident that never should have occurred," the letter stated. "And though law enforcement and criminals may be considered opposites, the intrinsic value of a human life transcends those boundaries by far."
The letter declared that "right is right and wrong is wrong" regardless of the color of the uniform. Its authors extended their appreciation to all military personnel and first responders, saying their "service and sacrifice make the world a better place for all."
Concluding their letter, the inmates expressed their hope of "healing, restoration and forgiveness" for everyone affected by Toney's death.
The sheriff's department didn't release the authors' names to protect their privacy, but wrote on Facebook that it was "deeply appreciative" of their act of kindness.
"Never forget the sacrifice that law enforcement officers are willing to make for you. Never forget the tears of their families when they do," the sheriff's department said. "The streets of America are stained with the blood of countless officers across this great nation. Be thankful for them."
Toney had been with the department just shy of three years.