Officer Seen Standing by in Video While Woman Berated Over Puerto Rico Flag Shirt Resigns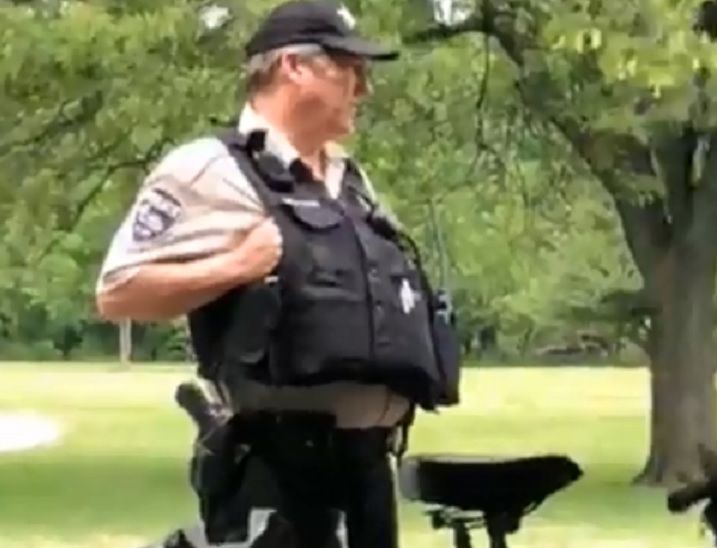 A police officer seen in a video "doing nothing," while a woman was being harassed by a drunk man for wearing a Puerto Rico flag shirt, has resigned.
The Forest Preserves of Cook County confirmed that Officer Patrick Connor no longer works for the department following an incident filmed on June 14, which went viral nearly a month later.
The Facebook Live video, filmed by Mia Irizarry, shows her being continually abused by a man later identified as 62-year-old Timothy G. Trybus at a picnic area in Cook County, Illinois.
During the clip, which went on to be viewed nearly two million times, Trybus yells at Irizarry that she "should not be wearing that in the United States of America" in reference to her Puerto Rican flag shirt, as well as repeatedly asking if she is an American citizen.
During the encounter, Irizarry asks Officer Connor to intervene as she feels "highly uncomfortable" as the 62-year-old continues to intimidate her.
"That officer did absolutely nothing, he did zero," Irizarry said during the video. "I told him I felt uncomfortable multiple times and he didn't do anything.
"The craziest thing is there's all these cops here and I still don't feel safe," she later adds.
A second officer eventually arrives to speak to Trybus. "You don't come here harassing people," she says. "People have just as much right to be here as you do, and when you're drunk you don't belong here."
The Forest Preserves confirmed they launched an investigation into the response of the officer, with Connor assigned to desk duty pending the outcome.
They have now confirmed that Cook has resigned from his role while promising further details to be released.
"Effective today, Officer Patrick Connor no longer serves in the police department of the Forest Preserves of Cook County. He resigned late today. But that isn't where our work ends," the department wrote on Twitter.
"We are further addressing aspects of this incident and more information will be shared here and with the media tomorrow (July 12)."
The incident was condemned by Puerto Rico Governor Ricardo Rossello, who said he was "appalled, shocked and disturbed" by the officer's behavior.
He added: "The United States of America is a nation that was built and thrives on diversity. We cannot allow those who do not understand America's greatness to terrorize people because of their background. This is not the America we all believe in. "
Trybus was later arrested and charged with assault and disorderly conduct.