Officer Shot 'Good Samaritan' Johnny Hurley Who Killed Arvada Shooter, Police Confirm
Police in Arvada, Colorado have confirmed that an officer shot and killed Johnny Hurley, the "Good Samaritan" who shot the man suspected in the fatal shooting of a police officer on Monday.
A police timeline of events shows that Hurley killed 59-year-old Ronald Troyke shortly after he shot and killed Officer Gordon Beesley in Olde Town Arvada. An officer responding to the scene then fatally shot Hurley, who was holding Troyke's AR-15 assault rifle at the time.
Investigators say that they found a four-page letter from Troyke that described his hatred for police and his intention to hurt Arvada police officers after the incident. Troyke's brother called the Arvada Police Department less than one hour before the shooting over concerns that he might "do something crazy."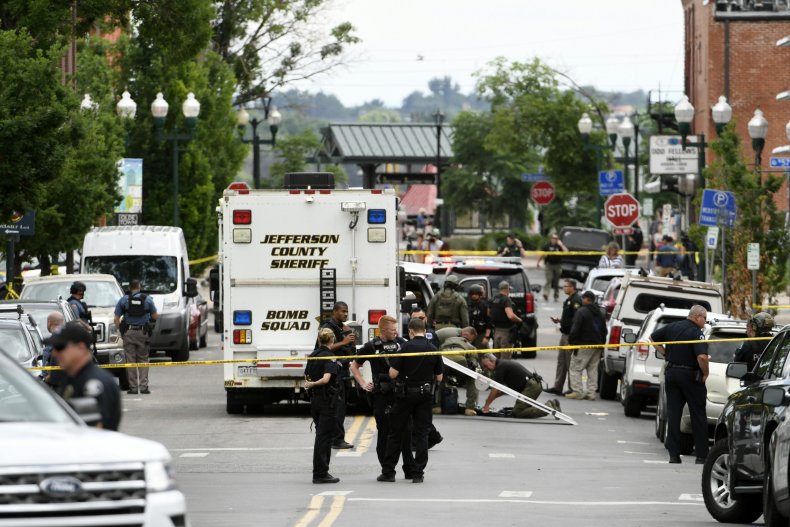 Beesley was one of two officers who went to Troyke's home to attempt a welfare check after his brother's call. Around the same time that Beesley was finishing the call, when it became clear that Troyke was not home, police received reports of a suspicious person at Olde Town Square.
Beesley responded to the call, being shot and killed by Troyke less than 15 minutes after leaving his home. A surveillance video released by police on Friday shows Troyke parking his truck and quickly approaching Beesley from behind before firing the fatal shots from a shotgun.
Troyke can then be seen returning to his vehicle to exchange his shotgun with the AR-15. Although the released video ends before Hurley appears, police say he confronted Troyke soon after and shot him with his concealed handgun before picking up the AR-15. Another officer arrived almost immediately and shot Hurley.
In a video press release, Arvada Police Chief Link Strate said that "two heroes" lost their lives on Monday while vowing to "respect their memories and loved ones."
"Officer Beesley was responding to a call in the area of Olde Town Arvada and within seconds he was brutally ambushed and murder by someone who expressed hatred for police officers," Strate said. "The threat to our officers and our community was stopped by a hero named Johnny Hurley. Johnny's actions can only be described as decisive, courageous and effective in stopping further loss of life."
"What happened next is equally tragic," added Strate. "A responding Arvada officer encountered Hurley, who was holding a rifle, and our officer shot him. Our police department and community's view of Mr. Hurley and his actions are heroic... Mr. Hurley's actions saved others from serious injury or death."
No details about the identity of the officer who shot Hurley have been released. Hurley's death is being investigated by the First Judicial District's Critical Incident Response Team.
Newsweek reached out to the Arvada Police Department for comment and additional information.