Officer Who Shot Rayshard Brooks Is Fired as Body Cam Footage Reveals Cops Who Searched Him Only Found a Wallet
Body camera footage has revealed Atlanta police officers only found a wallet on Rayshard Brooks in a search carried out shortly before he was killed—as the Atlanta Police Department announced the officer who shot him has been fired.
Brooks, a 27-year-old African American man, was fatally shot by a police officer in the parking lot of a Wendy's drive-thru restaurant during a struggle on Friday evening, authorities said.
The shooting prompted protesters on Saturday night to set fire to the Wendy's restaurant where Brooks was killed and block traffic on a nearby highway. Police fired tear gas in a bid to disperse the crowd outside the restaurant, according to The Atlanta Journal-Constitution.
Early on Sunday, Officer Steve Avery , a spokesman for the Atlanta Police Department, confirmed to Newsweek the officer who shot Brooks has been terminated while another has been placed on administrative duty.
The terminated officer was identified as Garrett Rolfe, who was hired in October 2013. Devin Brosnan, who was hired in September 2018, was placed on administrative duty.
The move came after Atlanta Police Chief Erika Shields resigned on Saturday after Brooks' death fueled new protests in the city after those prompted by the death of another black man, George Floyd, in Minneapolis police custody had died down.
Protests against police brutality and racism sparked by Floyd's death—as well as other recent killings of black people, including Ahmaud Arbery in Georgia in March—have rocked cities across the U.S. for almost three weeks.
Atlanta Mayor Keisha Lance Bottoms announced Shields' resignation during a news conference on Saturday afternoon—less than 24 hours after Brooks was killed.
Bottoms said security footage appeared to show Brooks had fired a Taser toward the officer who shot him, but said she didn't consider that justification for use of deadly force.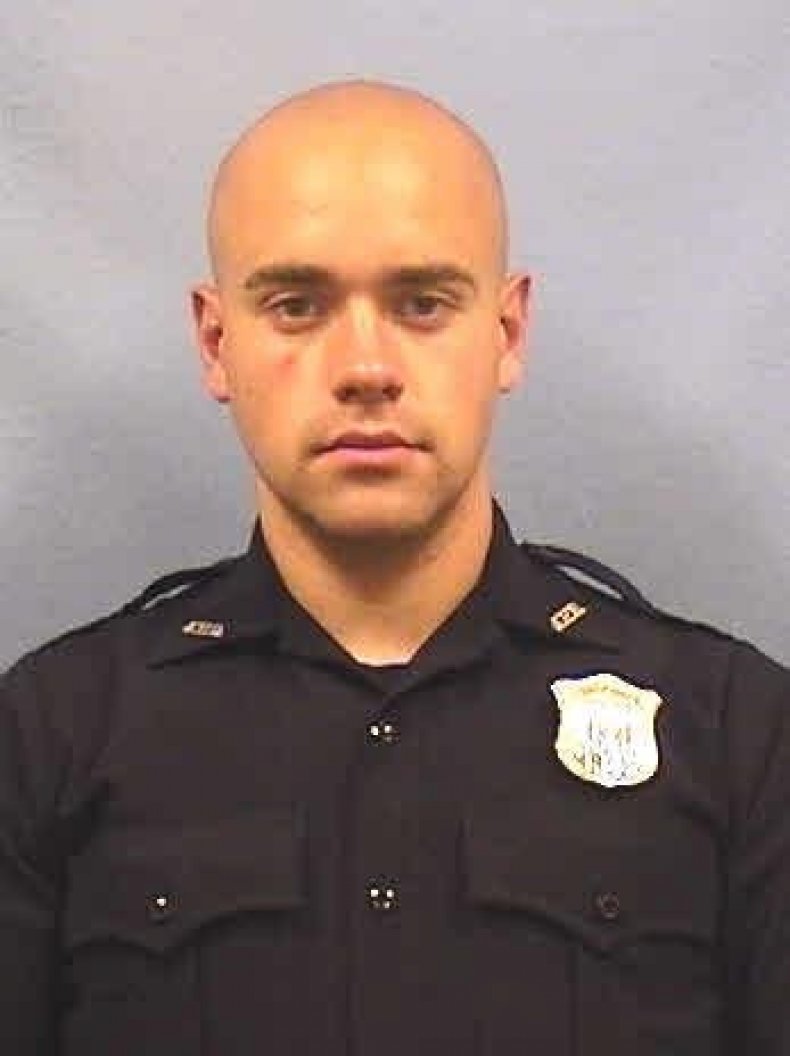 "I do not believe that this was a justified use of deadly force and have called for the immediate termination of the officer," she said.
In a statement, Shields, who is white, said she had offered to step down.
"For more than two decades, I have served alongside some of the finest men and women in the Atlanta Police Department. Out of a deep and abiding love for this City and this department, I offered to step aside as police chief," she said.
"APD has my full support, and Mayor Bottoms has my support on the future direction of this department. I have faith in the Mayor, and it is time for the city to move forward and build trust between law enforcement and the communities they serve."
The Georgia Bureau of Investigation, which is investigating the shooting, said the deadly encounter began at around 10:30 p.m. after officers responded to a complaint reporting a man asleep in a car and blocking the drive-thru lane of the Wendy's located at 125 University Avenue.
Brooks failed a field sobriety test and then resisted officers' attempts to arrest him, the GBI said.
On Saturday, the police department released body camera and dash camera footage showing the moments leading up to the shooting.
It showed that before Brooks was shot, an officer had patted him down and found he was unarmed.
Later, seconds after officers are seen attempting to place handcuffs on Brooks, a scuffle breaks out but the body camera falls to the ground and doesn't capture the rest of the incident.
The GBI also released security camera footage of the shooting. It shows Brooks running from two white police officers before appearing to raise a hand that was holding an object toward them. The officer fires his gun as Brooks keeps running, then he is seen falling to the ground.
The GBI initially said Brooks was shot by an officer "in the struggle over the Taser."
But on Saturday, the bureau changed their account, saying it had been based on the officer's body cam "which was knocked off during the physical struggle, preventing the capture of the entire shooting incident."
After reviewing videos posted on social media and the surveillance footage, the GBI said Brooks had obtained an officer's Taser after a "physical struggle" with officers and had begun to flee the scene.
"Officers pursued Brooks on foot and during the chase, Brooks turned and pointed the Taser at the officer," the GBI said. "The officer fired his weapon, striking Brooks."
Brooks was taken to a hospital, where he died after surgery, the GBI said.
During a news conference on Saturday, GBI Director Vic Reynolds said the officer fired an estimated three shots.
"I don't want anyone in any circumstances to rush to any form of judgement. It's very easy to do in these cases on either side," he said. "We realize there is a tremendous amount of emotion and passion involved in these cases and certainly with the way the environment is now."
But Brooks' family have disputed the account of the shooting provided by authorities.
L. Chris Stewart, a lawyer for the Brooks family, said in a news conference on Saturday night that witnesses told his team they didn't see officers conduct a field sobriety test on Brooks, The New York Times reported.
Stewart repeatedly stressed that a Taser was not considered a deadly weapon and therefore there was no reason to shoot Brooks just because he was in possession of one.
"His life was not in immediate harm when he fired that shot," Stewart said of the officer who shot Brooks.
The release of the body camera and security footage prompted many to take to Twitter saying the officers did not need to use lethal force.
Congressional candidate Qasim Rashid shared a video on social media showing an instance where a police officer didn't fire his gun despite the suspect repeatedly resisting arrest.
"Show this to anyone who dares claim the cops had to kill #RayshardBrooks. They didn't. Just watch this. Jaw dropping," he wrote alongside the clip.
Director Ava DuVernay shared the clip, adding: "A question for the "he resisted arrest so he deserved to be shot in the back" crowd: Does that apply to everyone?"
Others insisted Brooks' shooting should not be compared to George Floyd's death.
"Whatever the Atlanta shooting is, it is not the George Floyd case," President Donald Trump's lawyer Rudy Giuliani wrote. "This video appears to present circumstances which may justify this use of force. The only responsible position is to suspend judgment until a full investigation is done."
This article has been updated with information from the Atlanta Police Department.
Correction 6/14/20, 9:35 a.m. ET: An earlier version of this article, using information provided by authorities, misspelled the surname of an officer. It is Brosnan, not Bronsan.