Officer Who Fatally Shot Tamir Rice Says Threat Was 'Real and Active'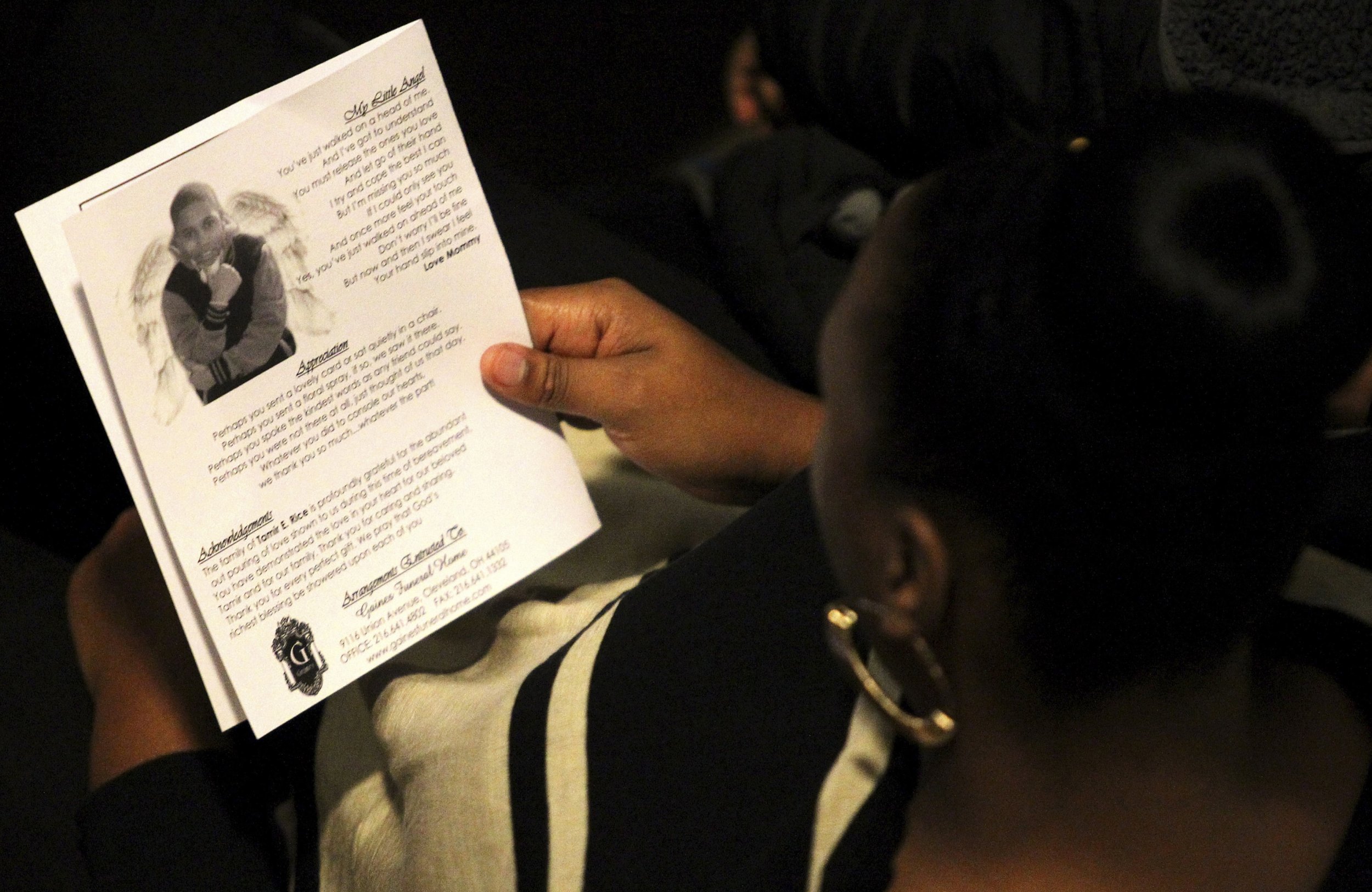 The police officer who fatally shot 12-year-old Tamir Rice at a park in Cleveland in November 2014 spoke out this week for the first time since the incident.
In a signed statement given to investigators and released by the Cuyahoga County Prosecutor's Office, Cleveland police officer Timothy Loehmann said he "saw the suspect pick up an object and stick it down into his waistband" as he and another responding officer, Frank Garmback, arrived to the Cudell Recreation Center on November 22, 2014.
Rice, who was black, had been walking on the sidewalk outside of the recreation center, carrying what later was determined to be a toy gun. A 911 caller reported a man waving a gun to a dispatcher. But the dispatcher, who since has resigned, didn't tell the officers that the caller had said the person might have been a juvenile and that the weapon could have been fake.
"We feared he was going to run into the recreation center," Loehmann, who is white, said in the statement, which was dated Monday.
Loehmann, who was 26 at the time, stated that both officers yelled repeatedly, "Show me your hands," as they opened their car doors. He said the suspect appeared to be older than 18 and about 185 pounds.
Loehmann called the incident an active-shooter situation, as the suspect "had been threatening others with the weapon and had not obeyed your command to show us his hands."
"I saw the weapon in his hands coming out of his waistband, and the threat to my partner and myself was real and active," he said, adding that he fired two shots toward the gun in Rice's hand, based on his police training. Surveillance footage released last year showed Loehmann shooting Rice within two seconds of arriving at the scene. Rice died on November 23, 2014, from a gunshot wound to the torso.
Garmback, who was driving the police cruiser, also released a statement on Monday, in which he said, "I thought the gun was real." He did not shoot.
Neither Loehmann nor Garmback has been charged for the shooting. A grand jury in Cuyahoga County is considering testimony over whether the officers should be held responsible for Rice's death.
On Tuesday, the Rice family's attorneys said the prosecutors allowing the officers to submit unsworn statements in response to grand jury subpoenas is "a stunning irregularity."
"No ordinary citizen who is under investigation would be afforded this special treatment," the attorneys said. The lawyers have asked the prosecutor for their use-of-force experts to testify in front of the grand jury.
Loehmann, who had joined the Cleveland police force in March 2014 and was sworn in as a full-time officer five months later, was deemed emotionally unstable and unfit for duty in a previous police role. In his statement Monday, Loehmann said he was on probation in November 2014.
Just weeks after Rice died, the U.S. Justice Department concluded that officers in Cleveland engaged in unnecessary use of deadly force.
Recent officer-involved shootings have renewed a national conversation about community policing and law enforcement policies, and protests have erupted nationwide in response to the crisis, notably after grand juries in Missouri and New York last year chose not to indict two white officers in the killings of Michael Brown and Eric Garner, respectively. Similar to Rice's death, the events that led to Garner's death were recorded on video and widely distributed in the media.
In Minneapolis, protesters have been occupying a police station for the past 18 days, where a black man, 24-year-old Jamar Clark, was fatally shot by an officer earlier this month.