Officer, Suspect Reportedly Killed in Shooting Outside of Pentagon Transit Stop
A police officer and one suspect were reportedly killed in a shooting outside the Pentagon building at around 10:37 a.m. Tuesday morning. A lockdown put into effect was lifted a little before noon, according to official tweets from the Department of Defense.
At an official press conference, Pentagon Police Chief Woodrow Kusse confirmed that an incident had occurred and been brought under control, but refused to confirm much else, citing the ongoing investigation.
Despite numerous questions from the press, Kusse would not confirm any reports that an officer and a suspect had been killed. He did confirm that the incident had caused an unspecified number of injuries that are being attended to.
Kusse repeatedly emphasized that the situation was over and the scene was safe. He confirmed that the FBI was on the scene and helping in the investigation. Reporters that had been on the scene mentioned seeing a bomb squad present and what looked like a dead body being taken away. Kusse would only say that all avenues and leads would be pursued by investigators.
"I'm not confirming or denying those particular reports right now. The investigation is ongoing," the police chief said.
Kusse said that no suspects are being pursued outside of the contained scene on the Pentagon campus and called reports of such things "erroneous," following a question from Fox News. He also did not comment on the possibility that the incident was terrorism-related.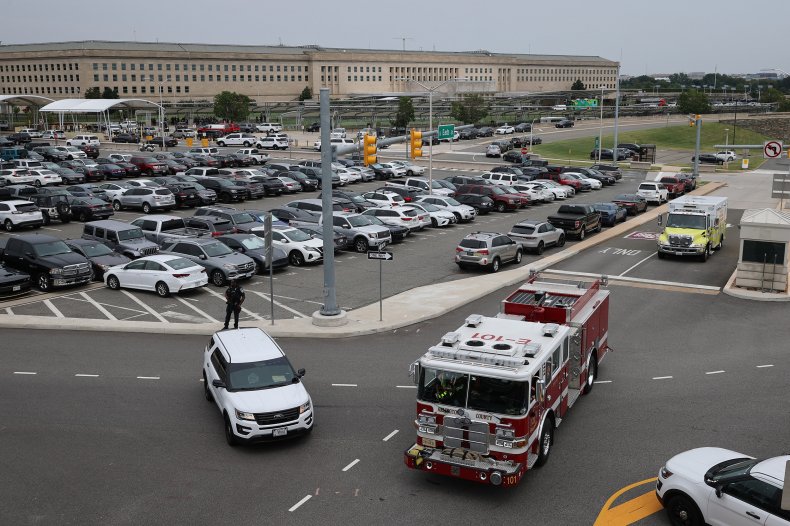 Pentagon Press Secretary John F. Kirby reported that Secretary of Defense Lloyd Austin was not in the building at the time of the incident. He had been attending his regularly scheduled weekly meeting with President Joe Biden at the White House but was updated on the situation by staff.
Lloyd was said to be back at the Pentagon by the time of the press conference, approximately 2:45 p.m. Kirby told reporters that his first act upon his return was to check on the Pentagon police force.
Reports that an officer and a suspect were killed in the incident emerged from anonymous officials that spoke to The Associated Press. These officials claimed that the officer died after being stabbed and that the suspect was shot dead by police.
Pictures taken at nearby George Washington University Hospital show officers appearing to salute an unmarked black van as it left the building following a procession of motorcycles. An officer had reportedly been taken to the hospital following the Pentagon incident. WJLA journalist Sam Ford described the scene as typical for a fallen officer, despite the lack of confirmation that such a thing had occurred.