Officers Arrest Florida Man With Ax Who Was Threatening Women in Convenience Store: 'No Telling What Else Would Happen'
A Florida man sexually harassed women at a convenience store and threatened a woman and her young daughter with an ax, according to police.
A police report seen by Action News Jax stated Van Arnold, 45, was sexually harassing women in the store in Duval County on Wednesday night. Arnold told a female member of staff he wanted to go behind the counter and have sex with her.
The suspect told the woman he was going to "**** her," ABC-affiliate First Coast News reported. While in Tanner's Grocery on Hipps Road, Arnold also approached a mother and her young daughter. The suspect attempted to lure the mother to the back of the building, according to the police document seen by Action News Jax.
A member of staff told Arnold to leave the premises. The suspect left the store and went to his truck to grab a rusty ax from the vehicle. Witnesses said Arnold came at the mother and her daughter, Action News Jax reported.
The woman, Silina Onorato, told News 4 Jax the man said he would pay for her cigarettes, before telling her he needed to speak to her about "religious stuff and spiritual stuff."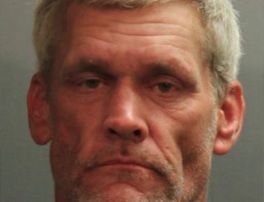 Suspect Van Arnold, 45, allegedly threw an ax at a mother and her young child as they tried to get away from him in a convenience store parking lot.
Jacksonville Sheriff's Office Department of Corrections
"I was like, 'What are you talking about dude?'" Onorato told News 4 Jax. "I was like, 'No. I don't think that's a good idea. I've got to go. I'm in a hurry.'"
Onorato left the store and headed for her car. "He was telling me that it was in my best interest that I get over there and that he needed to have a conversation with me now, and he advised me to do it right then or else," she said.
As she backed up, a staff member warned her Arnold was holding an ax. The suspect then threw the ax. The weapon landed near the mother's car, with her 3-year-old daughter inside.
Police officers were in the parking lot of the convenience store at the time, according to Action News Jax. An employee at the store told First Coast News Arnold wasn't a regular. Arnold waved his ax at police, the staff member said.
Officers apprehended Arnold, and used a Taser gun to stun him. The suspect didn't injure anyone during the incident. A Jacksonville Sheriff's Office Department of Corrections document shows Arnold was arrested and charged with resisting an officer without violence.
Surveillance video released by police to Action News Jax shows Arnold dressed in what appears to be a white T-shirt, falling to the ground.
A photo from the scene shared by Action News Jax reporter Christy Turner showed the rusty ax on the ground. Turner tweeted: "This is the ax witnesses say a man used to threaten a young mother and her child at a Westside convenience store."
Following the incident, the mother wrote on Facebook according to Action News Jax: "The ax would have killed my daughter and no telling what else would happen. My daughter was so scared. I'll literally be tormented for who knows how long."
Witness Lacy Scardasis told Action News Jax the child was "trembling" during the incident. "He more or less tried to corner her into that area where the bathrooms were," she said.
Joseph Truett, who lives nearby, told Action News Jax he often visits the store which is usually quiet. "A woman should be able to come up here without having to worry about being harassed in any way. That's just unfortunate," he said.