As a viral video of Colorado police fracturing 73-year-old Karen Garner's bone circulates the internet, the officers involved will soon experience a pay raise approved by the city of Loveland.
In bodycam footage of the incident on June 26, 2020, Loveland, Colorado police officer Austin Hopp can be seen driving behind Karen Garner—a grandmother of nine who was accused of walking out of a Walmart without paying for items totaling $14—before getting out of his car and yelling for her to stop. Walmart employees stopped Garner when she stepped outside the store, reclaimed the items, denied her attempts to pay for them and called the police.
Looking confused, Garner repeatedly says, "I'm going home," before the officer throws her to the ground, pulling out handcuffs.
Garner was still clutching a bunch of wildflowers as she was pinned down, hands hog-tied behind her back, in the arrest that has been watched online by more than 100,000 people.
The bodycam footage was released online Wednesday, when Garner's lawyers filed a federal civil rights lawsuit against the city and three cops involved in her arrest. The suit alleges that the incident left Garner with a fractured and dislocated shoulder, a sprained wrist, a bloody nose and multiple bruises.
Garner's dementia and sensory aphasia stopped her from being able to adequately respond to the situation, according to the lawsuit.
On March 16, Loveland's City Council approved a revised pay scale for numerous positions in the Loveland Police Department, including police officer, sergeant and community service officer, according to records seen by Newsweek.
The pay bumps amount to a roughly 3.4 percent increase across the qualifying positions and went into effect April 9. The individual employees will receive the expanded pay on the anniversary of the date they were hired.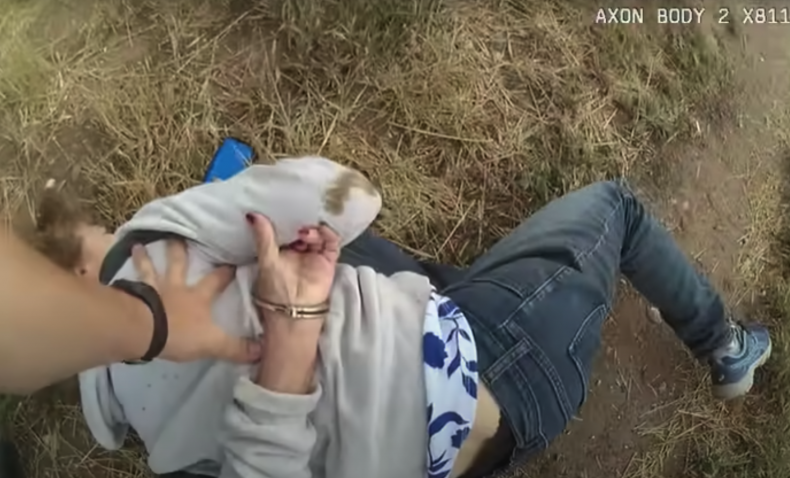 Julia Holland, director of the city's Human Resources Department, said that pay raises are enacted annually to ensure that salaries are competitive while still reflecting the market, according to the Reporter Herald.
The Loveland Police Department said they were unaware of the incident until Garner's lawsuit was filed on Wednesday.
"Loveland Police became aware late Wednesday, April 14, of details contained in a federal lawsuit alleging excessive use of force and serious bodily injury during the arrest of a Loveland resident in connection with a shoplifting incident," the department said in a statement. "The department has undertaken an investigation of the June 26, 2020, incident that will include the examination of all images, documents and records compiled in connection with the event."
The arresting officer in the case has been placed on administrative leave pending the investigation's outcome, according to the department. Officer Daria Jalali, who assisted in the arrest, and Sgt. Philip Metzler, the on-scene supervisor, have both been reassigned to "administrative duties."
Garner was charged with theft, resisting arrest and obstructing a peace officer, but prosecutors requested that the charges be dropped in court. She "appears to be incapable of understanding her surroundings or her actions," they wrote in a motion.
Loveland Police Chief Bob Ticer told the Herald that the case had damaged public trust and vowed transparency in the probe.
"We have upset people, rightfully upset people. When that happens we have broken trust, and to be able to be a community ... when that is fractured, that is difficult, it is alarming, it is hard to handle," he said. "When we have a lawsuit or a complaint that comes up such as this one, some in the public will look at that and say 'that is the Police Department.' This is one incident that we are addressing right now."
Garner's lawsuit comes during a period of national attention and outrage over aggressive police manoeuvres in confrontations with suspects, particularly Black individuals. Sarah Schielke, Garner's lawyer, said that police can also abuse power when arresting vulnerable or disabled suspects, according to the Associated Press.
Dr. Erroll Southers, former assistant chief of homeland security and intelligence for the LA Airports Police Department, called Garner's incident "a classic case where de-escalation could have changed the entire situation for both the officer and [Garner]."
"Just because something is within department policy, doesn't mean it's necessary," Southers told Newsweek. "I would remind people that the actions that are being taken against these officers are not being done because the department has to do it, they're being taken because the public has seen the video."
As police were arresting Garner, one bystander can be seen stopping by the scene. "Do you have to use that much aggression?" the bystander asked, according to the footage. "Get out of here," Hopp responded.
The lawsuit alleges that police only sought medical help for Garner roughly six hours after she suffered injuries caused by the arrest. It also claims that the officers violated Garner's constitutional right to be protected against excessive force, as well as the Americans With Disabilities Act.
"What little freedom and happiness Ms. Garner enjoyed in her life as an elderly adult with declining mental health was, on June 26, 2020, recklessly and deliberately obliterated by the Loveland Police Department," it added.
Newsweek reached out to the City of Loveland and Walmart for comment. This story will be updated with any response.
Watch the bodycam footage of Garner's arrest below:
Warning—images may disturb some readers