Officers Seize Meat Cleaver That Was Mailed to Inmate
Officers managed to intercept a meat cleaver that was mailed to an inmate at the Riverhead Correctional Facility in Suffolk County, New York.
A press release issued by the Suffolk County Sheriff's Office stated that while officers were inspecting mail they reportedly discovered the sharp kitchen utensil used for chopping meat and vegetables in an Amazon package addressed to an inmate which also contained other items.
According to the sheriff's office's website, it is encouraged that inmates maintain a relationship with family and friends. Sending items and letters through the mail is one way these relationships can continue.
However, there are items that people cannot send.
For example, envelopes must be white and polaroid pictures, stickers and pornographic pictures or pictures graphic in nature are prohibited. Pictures and cards are prohibited from exceeding a certain size and incoming mail cannot contain stamps or other postage.
"You are permitted to receive books, magazines and newspapers directly from the publisher or reputable online vendors," the website noted, citing Amazon and Barnes and Noble as acceptable vendors. "Books, magazines and newspapers brought by visitors or sent through the mail will no longer be accepted at the facility."
Additionally, inmates cannot receive materials that may threaten the security of the facility. This includes information about making explosives, firebombs, weapons, escape devices, alcohol, poisons or drugs.
Per the press release, packages sent to the correctional facility are opened and inspected.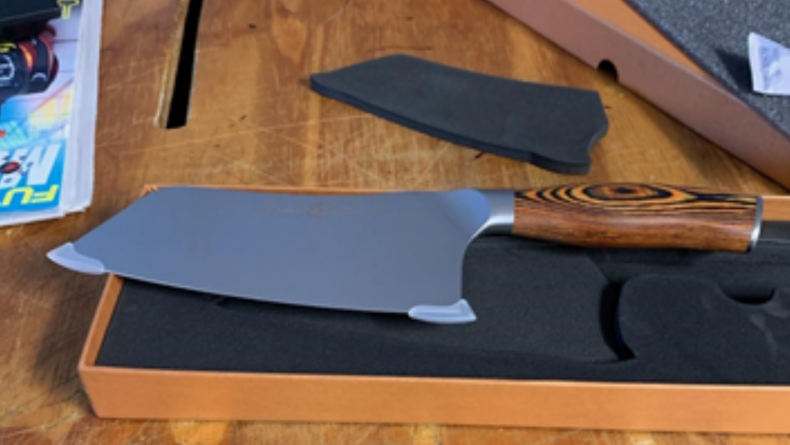 "Careful inspection and processing of all mail and packages before they enter the correctional facility is critical," Sheriff Errol Toulon Jr. said. "Any dangerous item, let alone a large knife, that makes its way into the facility could be deadly for staff and inmates alike."
Victoria DiStefano, a public relations official for the sheriff's office, told Newsweek officers are investigating the matter. The meat cleaver was confiscated, but the acceptable items in the package were delivered to the inmate.
This is not the first time contraband was intercepted by officers at the facility.
Patch reported that eight people were charged for allegedly attempting to bring drugs into the Suffolk County Correctional Facility in Riverhead. The drugs that were found included heroin, buprenorphine and cannabis.
Other correctional facilities have also faced attempts to smuggle in contraband.
Newsweek reported in November 2021 that three employees at the Metropolitan Correctional Center in New York were charged for allegedly bringing phones, alcohol and cigarettes to inmates in the facility, per the Associated Press.
The three employees were charged with conspiracy charges and honest services wire fraud.