Jean Charles de Menezes: No Justice For Family at European Court of Human Rights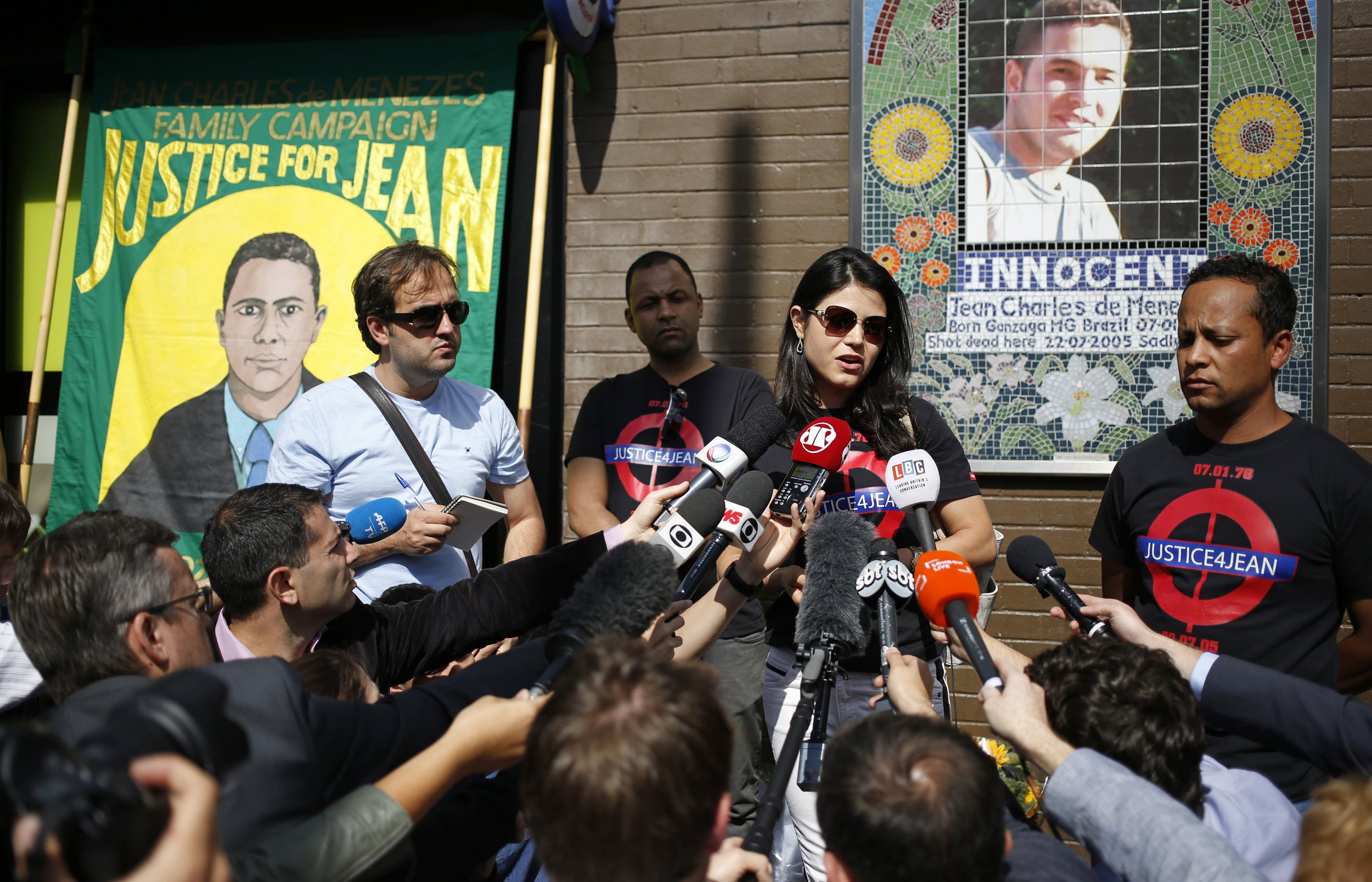 The European Court of Human Rights has ruled that prosecutors were right not to charge police over the shooting of Brazilian man Jean Charles de Menezes in London.
De Menezes, 27, from Brazil, South America, was killed by officers of the London Metropolitan Police Service at Stockwell Station on the London Underground after he was wrongly deemed to be one of the fugitives involved in the previous day's failed bombing attempts.
His death came two weeks after the London bombings of July 7, 2005, in which 52 people were murdered, when the threat of terrorism was still prevalent and there was "a huge pressure on officers" said Clare Montgomery QC, who represented the British police force in last year's hearing.
After the Crown Prosecution Service decided that no individual police officers should be prosecuted, relatives of Mr de Menezes lodged an application in the European Court of Human Rights (ECHR).
The Strasbourg court today ruled that the killing was lawful.
During the hearing last year, lawyers for the family argued the assessment used by prosecutors in deciding that no individual should be charged over the shooting is incompatible with Article 2 of the European Convention on Human Rights, which covers the right to life. The claim also challenged the definition of self-defence.
Today's ruling comes as a blow to his family, who have endured a 10-year legal battle and a long fight through the Justice4Jean campaign .
De Menezes grew up in Minas Gerais, Brazil, before moving to Britain in 2002. A trained electrician, he lived in Tulse Hill, south London, and on the morning of July 22, two weeks after the 7/7 bombings, he left his home for work.
He was unaware that the block of flats was being watched by police and soldiers because they believed it to be where Hussain Osman, a suspect in four failed bomb attacks in July 21 in East London the day before, was living.
Only the detonators of the bombs exploded at Shepherd's Bush, Warren Street and Oval stations, in the London Underground, and a fifth bomber dumped his device without attempting to set it off. A popping sound was heard by commuters and all stations were evacuated, but no one was injured.
Undercover officers followed de Menezes and observed him jump back on the bus after realising his local Tube station was closed, a decision which officers allegedly mistook for an "anti-surveillance" technique.
As de Menezes entered the station, the officers radioed to their firearms colleagues. What they said is under dispute, with a jury during de Menezes' inquest finding shortcomings in the police's communication system contributed to his death.
However, two firearms officers chased de Menezes into the station, jumped over the barriers and ran down the escalators. De Menezes was shot seven times in the head and once in the shoulder at close range, and died at the scene.
The following year, in 2006, an Independent Police Complaints Commission (IPCC) report said he had been killed because of avoidable mistakes and identified a number of possible criminal offences that might have been committed by the officers involved, including murder and gross negligence.
But the CPS decided not to press criminal charges against any individual, saying there was no realistic prospect of conviction. Harriet Wistrich, the Birnberg Peirce solicitor who represented de Menezes' family in the case, said that the CPS's decision was based on an assessment that there was less than a 50 per cent chance of conviction and it would be very difficult to prove beyond reasonable doubt that the officers had not genuinely believed that they were facing a lethal threat.
However in 2007 the police force was fined £175,000 after being convicted of breaching health and safety laws, and in 2008 an inquest jury returned an open verdict, having rejected the police account of the shooting. The coroner had already ruled out a verdict of unlawful killing.
De Menezes's cousin, Patricia Armani Da Silva, who was living with him in London at the time of his death, took her family's legal battle to the European Court of Human Rights in 2008.
If the family had of succeeded, it could have led to a lower evidential test for prosecuting police for homicide offences and change self-defence law for officers.