The 2020 U.S. Presidential election is coming up on November 3, 2020, and many states are already gearing up with early voting and absentee voting.
Due to the coronavirus, states have enabled voting via ballot drop boxes, however this has already caused confusion in states such as California where there have been reports of unofficial drop-off boxes.
To help voters find their nearest official ballot drop box, Newsweek has compiled a list of resources.
How do I know what an official ballot drop box looks like?
The U.S. Election Assistance Commission has released guidelines on what ballot drop boxes should look like, and what state and local governments need to make them safe.
Ballot drop boxes can be manned by bipartisan teams—poll workers or temporary workers—or can be unmanned but under surveillance.
Staffed indoor temporary ballot drop boxes should have the following:
Should be made from durable material
Padlock and keys
Bike chain or some other method to fasten the box
Security seals
Outdoor temporary drive-through drop-off ballot boxes should be set up in a parking lot or in a street, depending on the location. The team staffing the site accepts ballots from voters as they pull through, depositing them directly into a ballot box.
For voters who prefer placing the ballot directly into the box themselves, the portable ballot box needs to be brought to the car window. These locations are advised to have the following:
A bipartisan team of at least two to three to support the drop-off site
Pop-up tent
Road signs
High-visibility vests for workers
Personal protective equipment such as gloves, masks, and hand sanitizer, as appropriate and in accordance with current Centers for Disease Control and Prevention (CDC) guidance
Unstaffed 24-hour ballot drop boxes are normally in "high-demand" areas in which votes are or will be cast primarily by mail or when voters need 24 hour access.
The boxes should be constructed of durable material such as steel and be permanently cemented into the ground
Video surveillance camera, which will have a media storage device for recording video
Decal branding and information
Security seals and extra keys for opening slot and access door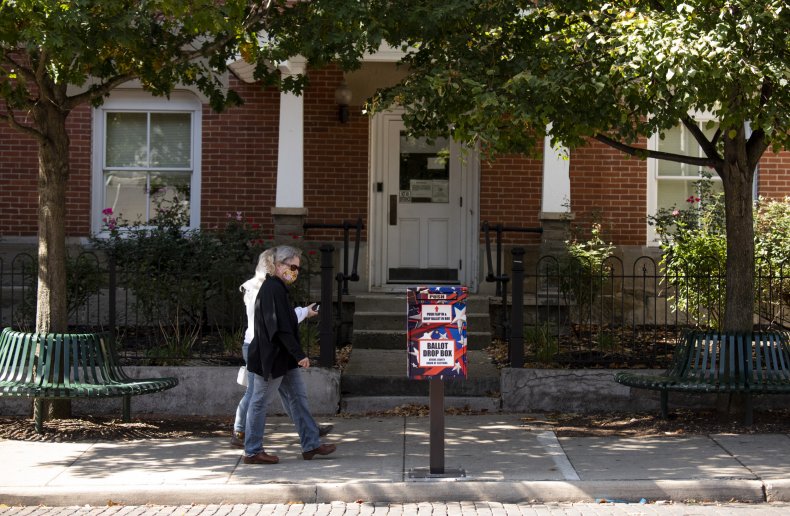 As with any other voting information, Americans can use the state directory created by the Vote Foundation to find the contact details for their local election offices if they have any concerns about their local ballot drop boxes. Information voting rules for all states are also available in this directory.
Some states have created their own ballot drop-off box locator, with some counties going a step further and creating localized maps. Discover some via the links below:
Washington: