Official Says No Evidence of Fraud During Wisconsin County's Recount, Biden Still Wins the State
A Dane County, Wisconsin, official said there was no evidence of voter fraud during the county's partial recount that the Trump campaign paid for.
The county's final count, which was announced on Sunday, found another 45 votes for President Donald Trump. However, between Dane County's recount and that of another in Milwaukee County, President-elect Joe Biden still won the state with a net gain of 87 votes—further increasing his margin in Wisconsin to approximately 20,600 votes, according to the Milwaukee Journal Sentinel.
"What this recount shows was there was absolutely no evidence of voter fraud," Dane County Clerk Scott McDonell told the Wisconsin State Journal. He continued to note that the results of the recount should reassure the public's faith in the democratic process.
McDonell also noted that there was no evidence of voter fraud in an emailed statement to Newsweek Sunday.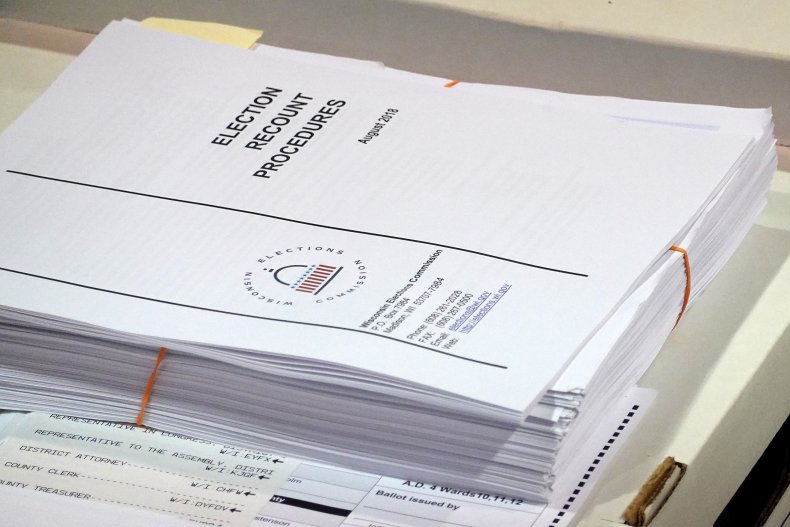 The county clerk then stated that the recount didn't significantly change the outcome of the election in the county, but he anticipated that the results would be challenged by Trump's campaign in court.
Jenna Ellis, senior legal adviser to Trump's campaign, told the Wisconsin State Journal Sunday: "The recounts in Dane and Milwaukee Counties have revealed serious issues regarding the legality of ballots cast."
Ellis continued: "As we have said from the very beginning, we want every legal vote, and only legal votes to be counted, and we will continue to uphold our promise to the American people to fight for a free and fair election."
Dane County's recount completion came two days after Milwaukee County finished its recount. That county's recount found 257 more votes for Biden and 125 for Trump, giving Biden a larger lead of 132 votes in the county, according to a Friday report by the Journal Sentinel. The final recount in Milwaukee County showed 317,527 ballots cast for Biden and 134,482 for Trump.
On Saturday, following the results of Milwaukee County's recount, Trump tweeted that the count was for "finding people who have voted illegally," rather than "finding mistakes in the count." He continued to claim that the campaign has found illegal votes that will be brought up in the upcoming week.
The president ended his tweet by telling his followers: "Stay tuned!"
Both Milwaukee and Dane County are historically Democratic-leaning areas. Hillary Clinton won the counties by more than 36 points in 2016, although Trump won Wisconsin as a whole by narrow margins.
According to the Associated Press, Biden won Wisconsin by a slim margin. Biden received 46.9 percent on the state's vote, while Trump received 48.9 percent.
The Trump campaign requested a partial recount in Milwaukee and Dane County, Wisconsin's two largest counties, earlier this month. The president's campaign paid the state about $3 million to cover the cost of the recount.
Although Biden began his formal transition into office last week, Trump has yet to concede the presidential race. Instead, his campaign continued to claim without substantial evidence that widespread voter fraud and irregularities contributed to Biden's victory.
Milwaukee County Clerk's office didn't respond to Newsweek's request for comment in time for publication.