Dallas County Judge Clay Jenkins is warning parents that the health care situation in Dallas, Texas, is so dire that if their child gets seriously injured or sick, they'll have to be airlifted to another place.
Texas is seeing a massive surge in COVID-19 cases as the Delta variant spreads and it's putting a significant strain on the state's health care system. With increased hospitalizations and a labor shortage, it's left hospitals ill-equipped to handle the influx of patients and Jenkins said there are no Intensive Care Unit beds available for children for 100 miles.
"That means if your child's in a car wreck, if your child has a congenital heart defect or something and needs an ICU bed, or more likely if they have COVID and need an ICU bed, we don't have one. Your child will wait for another child to die," Jenkins said at a press conference on Friday.
If a child comes in with COVID-19 and needs a ventilator, he said they will not get one in the Dallas area. Instead, they will have to be airlifted to a nearby hospital in Temple or Oklahoma City or "wherever we can find them a bed." This has been true for the past 24 hours, according to Jenkins.
The Dallas County judge acknowledged that people may be wondering why a child can't go to a nearby hospital if there's no bed available in the Dallas County area. He said in the 19 counties in the area, spanning as far as 100 miles away, there are "zero ICU beds left for children."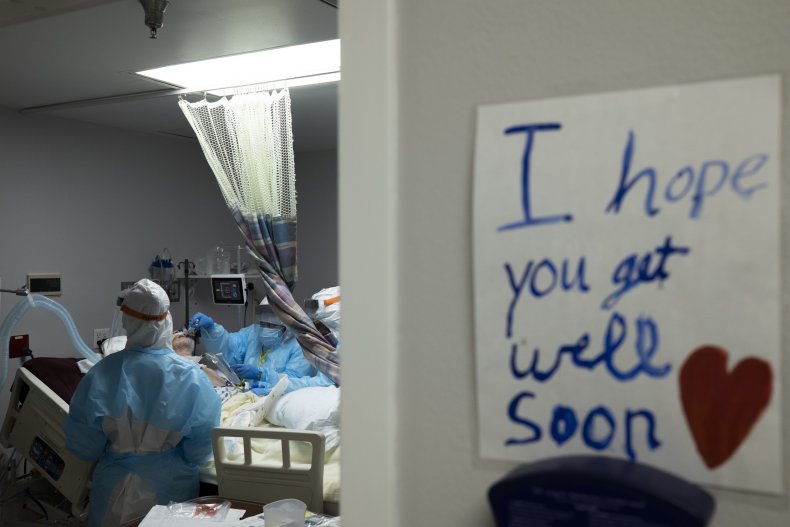 Dr. Sara Andrabi, an assistant professor of emergency medicine at Baylor College of Medicine, told Yahoo! Finance Live this is an "all-time low" for bed availability. She added that it couldn't come at a "worst time" given that COVID-19 cases are "running rampant."
"If you have a heart attack or a stroke, you could be waiting for hours to get a bed. Most of those beds are full of COVID patients who are unvaccinated, and that could have been completely preventable," Andrabi said.
As cases continued to rise in Texas, Governor Greg Abbott implemented an executive order barring businesses and public entities from instituting mask and vaccine mandates. The decision was the target of significant criticism, but the governor has resisted calls to rescind the order and defended its implementation on the basis that people are responsible enough to make their own decisions.
Texas schools have rebuked the governor's order, issuing mask mandates of their own, and Jenkins signed an order requiring schools implement requirements for face coverings. On Friday, he said it's "not a lot to ask people to wear a mask," but Abbott and Attorney General Ken Paxton are asking a Texas court to strike down Jenkins' order.
"Attention-grabbing judges and mayors have defied executive orders before, when the pandemic first started, and the courts ruled on our side—the law," Paxton said in a statement. "I'm confident the outcomes to any suits will side with liberty and individual choice, not mandates and government overreach."
About 54 percent of Texas' population over the age of 12 is fully vaccinated against COVID-19 and Jenkins advised those who have been vaccinated to help encourage others to get inoculated, as well. He rejected that unvaccinated people are the "enemy" and advised vaccinated individuals to meet others in the "spirit of grand and understanding" and listen to concerns people may have and offer information.
Uncommon Knowledge
Newsweek is committed to challenging conventional wisdom and finding connections in the search for common ground.
Newsweek is committed to challenging conventional wisdom and finding connections in the search for common ground.
About the writer
Jenni Fink is a senior editor at Newsweek, based in New York. She leads the National News team, reporting on politics and domestic issues. As a writer, she has covered domestic politics and spearheaded the Campus Culture vertical. Jenni joined Newsweek in 2018 from Independent Journal Review and has worked as a fiction author, publishing her first novel Sentenced to Life in 2015. She is a graduate of the University of Arizona. Language: English. You can get in touch with Jenni by emailing j.fink@newsweek.com.