Officials Capture 'Stunning' Illegal Wild Cat After It Appeared in Resident's Backyard
The appearance of a severely-injured, wild serval in a Massachusetts backyard has left officials confounded. Native to sub-Saharan Africa, these potentially-dangerous felines are illegal to possess as pets in the state.
"We've never encountered a serval before," explained a spokesperson from the Massachusetts Society for the Prevention of Cruelty to Animals (MSPCA-Angell), the organization behind the wild cat's rescue. "We've definitely had 'Savannah' cats, a cross between servals and domestic cats, surrendered to us in the past, but this is the first time a truly wild African cat has crossed our threshold."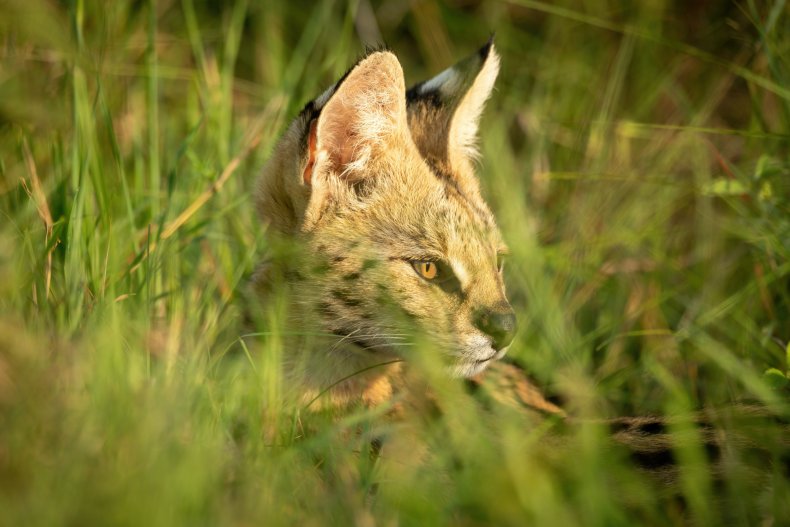 The MSPCA-Angell further described the incident in a recent Facebook post, which began with a resident spotting the serval in their backyard on Tuesday. The organization also reported that in the days leading up to the call, there had been several sightings of the wild cat in Lincoln, Massachusetts.
"We immediately got on the road to see if we could capture and help this cat," the statement noted. Upon successfully capturing the serval, officials named him "Bruno."
Bruno was described as "thin" and "severely" injured, having suffered from a several-month-old broken hind leg. The organization noted that it was unclear how long he had been left outside.
Despite his injuries, Bruno is said to be "doing well." In an email to Newsweek, the same MSPCA-Angell spokesperson wrote: "He's eating well and resting at the MSPCA-Angell's headquarters in Boston. Our veterinary team is still determining the best course of treatment—whether to amputate his injured hind leg or whether we can save it—and that decision is likely to be made next week."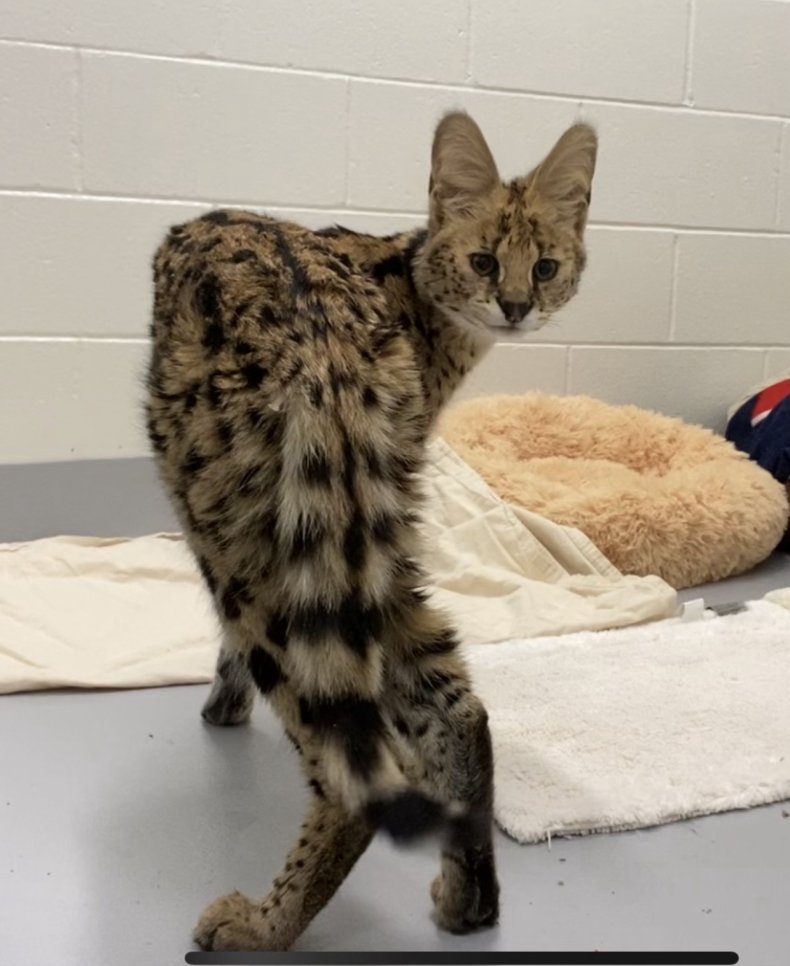 Meanwhile, "a handful of wildlife sanctuaries have contacted [the organization] in the last few days with offers to take him in once he's healed."
"The response to his story on social media has been historic: thousands of likes and shares on Facebook for the several Bruno-specific posts we've done in the last few days," added the spokesperson.
"We are profoundly grateful for the massive public response to his plight, and are wholly committed to providing him the very best care ahead of placing him in the most responsible home environment as soon as we can."
Regardless of all the public support, officials say it's unlikely that Bruno's origin story will ever be uncovered. "As for how he got to Lincoln, Mass., we'll never know, nor could we ever know if someone was keeping him ... as a pet," said the spokesperson.
Sometimes kept as exotic pets, servals are wild creatures that are difficult to manage—a far cry from a domesticated house cat. Typically weighing between 20 and 40 pounds, these large cats require "a large, secure outdoor enclosure and ... a warm environment year-round," noted The Spruce Pets. Servals also "need to feed on whole prey food items and require veterinary care from an experienced exotics vet."
The publication added: "Ownership of a serval cat is illegal in many locales and requires licenses, permits, and inspections in others."