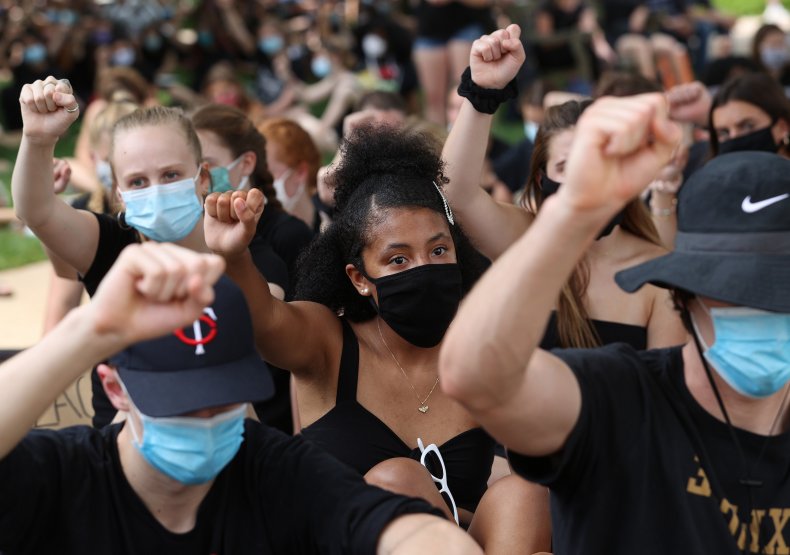 As government authorities gear up for large-scale protests in the nation's capital this weekend, officials are scrambling to clarify deployments, chains of command and rules of engagement for a now more-than-6,500-strong military force that hails from 13 different states.
The role that the armed forces play is particularly complex because the White House has failed to consult with the city government, resulting in the creation of two separate task forces, one under the DC National Guard and other under the Pentagon. Further, who actually commands the National Guard task force—and who provides direction to thousands of additional civilian federal law enforcement officers that have also been sent into the streets of Washington—remains unclear.
District of Columbia Mayor Muriel E. Bowser yesterday called for National Guard troops from outside Washington to go home even as more forces were pouring into the DC metropolitan area.
"We want troops from out-of-state out of Washington, DC," Bowser said at a press conference.
Numerous government and military experts agree that the District of Columbia arrangements—particularly the antagonism between civil authorities and the White House—threatens to cause chaos and even cost lives if violence again breaks out.
"Everything we supposedly resolved after 9/11—unity of command and cooperation between federal and local—is now in a shamble," a senior military officer tells Newsweek. "I fear that this is also the product of no one wanting to stand up to the White House and the president," the officer says, requesting anonymity because he is not authorized to speak to the news media.
He says that various arrangements exist, including dual federal and state command and even a unique Washington Task Force, but that if implemented, none would satisfy the implicit requirement of having Donald Trump and his Attorney General William Barr in control. The unorthodox command structure, even if it makes no sense, he says, is to satisfy the desires of the White House.
Meanwhile, the White House increasingly looks like an armed and besieged complex—"the monarchical palaces or authoritarian compounds of regimes in faraway lands" says the Washington Post—while authorities argue about how far the federal perimeter can encroach into the city.
"The District is unique," says one senior military spokesman, dismissing the words "chaos" and "confusing" in describing the situation behind the scenes. Yet that official was unable to say who ultimately was in charge—nor what would happen if a crisis demanded intervention on behalf of the active duty military forces that have been deployed to DC but have so far been kept off the streets.
Newsweek contacted city, National Guard, and Army officials in seeking clarification about the command arrangements. While U.S. Northern Command provided initial background help, additional questions were referred to the Pentagon, which provided on-the-record clarifications. The Army, District of Columbia National Guard, and Joint Task Force National Capital Region failed to respond to questions.
House Speaker Nancy Pelosi sent a letter to President Trump Thursday expressing her concern over the increased presence of federal law enforcement and military forces in the nation's capital, requesting specific answers as to why National Guard forces from other states were being employed.
"We are concerned about the increased militarization and lack of clarity that may increase chaos," Pelosi wrote; she requested a full list of federal law enforcement agencies operating in the city.
A group of seven Democratic Party senators wrote to Secretary of Defense Mark Esper Thursday to explain Pentagon decision-making and missions associated with the active duty force that has been moved to bases around the District.
As of Friday morning, three distinct federal task forces are active in the nation's capital, one a loose confederation of civilian law enforcement agencies under the direction of Attorney General William Barr and the two other military task forces, one commanding National Guard troops from 13 different states and the other commanding active duty troops, almost 2,000 of which have been especially staged to the capital area but that still have not been "employed" in any operation.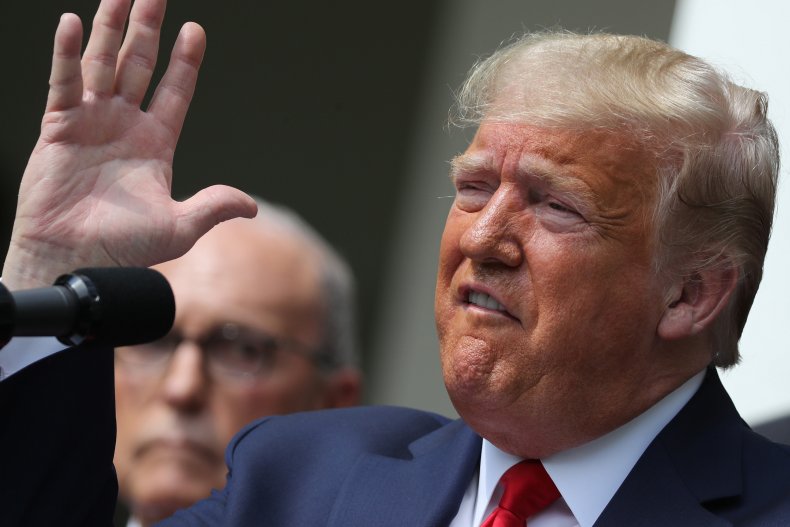 The law enforcement operation, two government sources familiar with current planning say, is called Operation Themis, and was begun over the weekend in response to vandalism against federal facilities and monuments in the district. On Tuesday, Attorney General Barr said a dozen different federal civilian law enforcement units from the Park Police to the Border Patrol were operating inside the District. Acting Homeland Security Secretary Chad Wolf tweeted that more than 600 officers from his department were standing "shoulder to shoulder" with their Justice Department brethren and the DC Metropolitan Police Department (MPD).
"We have deployed all the major law-enforcement components of the department in this mission, including the FBI, ATF, DEA, Bureau of Prisons, and U.S. Marshals Service," Barr said in another statement Thursday. A total of some 3,000 civilian law enforcement officers have been on the streets of Washington in multiple shifts and another 1,500 are on alert to respond.
The District of Columbia National Guard, a unique force of more than 2,700 Soldiers and Airmen which reports only to the president, was activated at the direction of White House Monday to respond to increasing protests across the city. The D.C. soldiers were initially put under the command of Attorney General Barr in support of federal Park Police and the Secret Service but then was shifted to the command of Secretary of the Army Ryan D. McCarthy.
The D.C. National Guard says that its forces are directly under Maj. Gen. William J. Walker, the DC National Guard commanding general and the head of Joint Task Force-DC, which was specially activated to respond to civil unrest.
Almost immediately, the Army and the National Guard Bureau started asking states to contribute forces to Joint Task Force-DC—without consulting either Mayor Bowser or Maj. Gen. Walker.
By convoy, bus and airplane, forces began arriving on Tuesday. As of Friday mid-day, 5,100 guardsmen and women from 11 different states are deployed to D.C. to supplement about 1,200 members of the D.C. National Guard that are on duty. Forces from the 11 states include:
Florida: 500 troops to be sent, it was announced Wednesday.
Idaho: 400 troops.
Indiana: 180 troops.
Maryland: 120 troops.
Mississippi: 400 troops of Task Force Magnolia of the 55th Armored Brigade Combat Team.
Missouri: unknown number of troops.
New Jersey: unknown number of troops.
Ohio: 100 troops.
South Carolina: 450 troops.
Tennessee: Up to 1,000 troops of the 278th Armored Cavalry Regiment and the Air National Guard.
Utah: 200 troops.
The West Virginia National Guard has announced that it is preparing troops for DC duty.
Governors in four additional states—Delaware, New York, Pennsylvania and Virginia—have refused to deploy their National Guard forces to the District. Virginia Governor Ralph Northam said he declined to supply troops because Mayor Bowser didn't request them.
Maryland Governor Larry Hogan said Wednesday that his National Guard troops were sent to D.C. to help guard national monuments at the request of the National Guard Bureau.
Mayor Bowser said Thursday that despite agreements with Maryland that laid out the procedures for mutual support, she has not spoken to Governor Hogan.
"If I wanted troops from Maryland to come into the district, we are a member of a compact, which allows me to make that request specifically to any state National Guard to do that. I have not done that for any state," she said.
According to National Guard officials, the forces deployed to the district, some residing in facilities in Maryland and Virginia, are there to implement civil disturbance operations plans and to assist in "crisis management."
The Mississippi Guard, for instance, said that its soldiers were to provide "military and strategic support to law enforcement to provide a safe and secure environment in the District of Columbia."
Ohio National Guard chief Maj. Gen. John Harris said his force was supporting local law enforcement agencies "with minimum force necessary to complete the mission."
White the largest National Guard force was being assembled, the Pentagon ordered its forces and bases—including the Pentagon—to "Force Protection Condition Charlie," a threat condition that indicates "likely" targeting of military forces and or terrorist action and the second-highest alert level available. Such a declaration triggered plans for protection of the National Capital Region, including the rapid deployment of the "Immediate Response Force," a constantly ready infantry battalion at Ft. Bragg, North Carolina, a unit that has been kept on alert and under quarantine throughout the COVID-19 crisis.
That unit, now designated Task Force 504, moved to Ft. Belvoir, Virginia, in the D.C. suburbs on Monday night.
Task Force 504 was followed by two additional military police units—one from Ft. Bragg and the other from Ft. Drum, New York, both under orders from U.S. Northern Command (NORTHCOM). Altogether, the 1,600 active duty soldiers are under the tactical control of Joint Task Force-National Capital Region (JTF-NCR), a NORTHCOM unit that has been standing by since March 16 to respond to emergency conditions in the capital.
Lt. Col. Christopher Mitchell, a DOD spokesperson, says that active duty forces are on heightened alert status, but have not participated in any operations. On Thursday, Col. Mitchell says, the Pentagon made the decision to return members of some of the active duty units to their home bases. But he said that the return of the remainder was "conditions-based."
The Pentagon, he said, was "continuously monitoring this dynamic situation."
A NORTHCOM senior spokesperson told Newsweek that none of those forces have been physically deployed inside the District of Columbia, nor have they been "employed" for any active missions.
The NORTHCOM official says that whenever defense department forces operate inside the United States, they operate under a lead agency. For COVID-19 response, that lead agency has been FEMA. But for the current civil unrest, the JTF-NCR remains on call to Secretary of Defense Esper, nominally under NORTHCOM. If the force were needed for duty inside the district, it would either have to be seconded to the D.C. National Guard Task Force or receive unique orders.
"You don't have two different command structures operationally," the official says, because the commander of the D.C. National Guard could still be designated a "dual status": in charge of both National Guard and active-duty forces. As of Friday, according to multiple sources, no moves have been made to designate Maj. Gen. Walker as a dual status commander
While she was fighting to regain control of civil Washington, Mayor Bowser lifted the District of Columbia curfew on Thursday after two nights where local police found it more effective to let protesters take to the streets than to arrest peaceful marchers. The Metropolitan Police Department says it arrested 19 protesters on Saturday, 90 on Sunday, and 194 on Monday before two nights where authorities made little effort to enforce the curfew.
"We have a lot of public, open-source information to suggest that the event on this upcoming Saturday may be one of the largest that we've had in the city," Metropolitan D.C. Police Chief Peter Newsham said during a briefing Thursday.