Officials Probing Threats to Attack Lawmakers as They Travel to and from Trump Impeachment Trial
Violent threats aimed at lawmakers ahead of former President Donald Trump's impeachment trial have prompted fears among federal law enforcement officials that armed protesters could return to wreak havoc in the U.S. Capitol.
An unnamed U.S. official told the Associated Press on Sunday that law enforcement were probing threats to kill or attack congressional lawmakers near the Capitol building ahead of Trump's Senate impeachment trial. The source spoke on condition of anonymity as they were not allowed to publicly discuss an ongoing investigation.
The threats, which were mostly shared online and in chat threads, included plans to attack congressional lawmakers as they're traveling to and from the Capitol building to attend the impeachment proceedings, according to the official.
Capitol police and other federal authorities have insisted that thousands of National Guard troops remain in Washington D.C. throughout Trump's impeachment trial to address potential violence following the threats, the official said.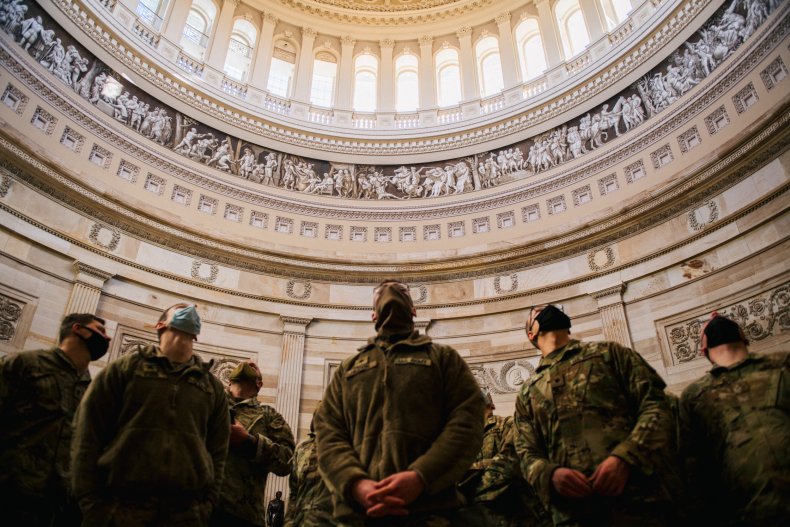 Newsweek reached out to the Department of Defense for comment.
More than 25,000 members of the National Guard were deployed to D.C. to secure President Joe Biden's inauguration in the aftermath of the deadly Capitol riot by a pro-Trump mob on January 6. Around 7,000 troops are expected to remain in the district until February, and 5,000 will stay until at least mid-March.
Following the Capitol insurrection, officials feared that another attack could occur before or during Biden's inauguration, but the ceremony passed with few disruptions after the increased security measures were put in place.
Senate leadership has agreed to delay the Trump trial until the week of February 8 to allow Biden time to jumpstart his legislative agenda and the legal teams sufficient time to prepare their arguments.
"The January 6th insurrection at the Capitol incited by Donald J. Trump was a day none of us will ever forget," Senate Majority Leader Chuck Schumer said in a recent floor speech. "We all want to put this awful chapter in our nation's history behind us. And healing and unity will only come if there is truth and accountability, and that is what this trial will provide."
Earlier this month, the House impeached Trump for his role in allegedly inciting the insurrection on January 6, which left five dead, including a Capitol police officer. Several rioters charged after the attack claimed that they were acting on orders from Trump when they stormed the Capitol to protest Congress certifying Biden's election win.
House Speaker Nancy Pelosi is expected to deliver the impeachment charge Monday night.
Trump would be prohibited from running for president again if the Senate moves to convict him.