Officials Save Young Manatee Found Stranded On The Side of a Dirt Road
A juvenile male manatee that was swimming during high tide became stranded on the side of a dirt road in Crystal River, Florida, but rescuers were able to save and transport him for rehabilitation.
A Facebook post published to the Florida Fish and Wildlife Conservation Commission stated that staff received a call regarding the manatee after a storm passed through.
"During high tide, the manatee was likely able to swim near the side of the road in the rising waters, and when the waters receded, it got stuck!" the post reads.
According to the agency, the Florida manatee can grow up to 10 feet long as an adult and may also be known as "sea cows." They are aquatic herbivores and graze on seagrasses and other vegetation for up to eight hours each day.
"Most of the year, the animals may be found in fresh or salt water, preferring calmer rivers, estuaries, bays and canals around coastal Florida," the department's website states. "In the winter, manatees seek warmer waters and often migrate to the discharge areas near power plants and in natural warm water springs to survive the cold temperatures."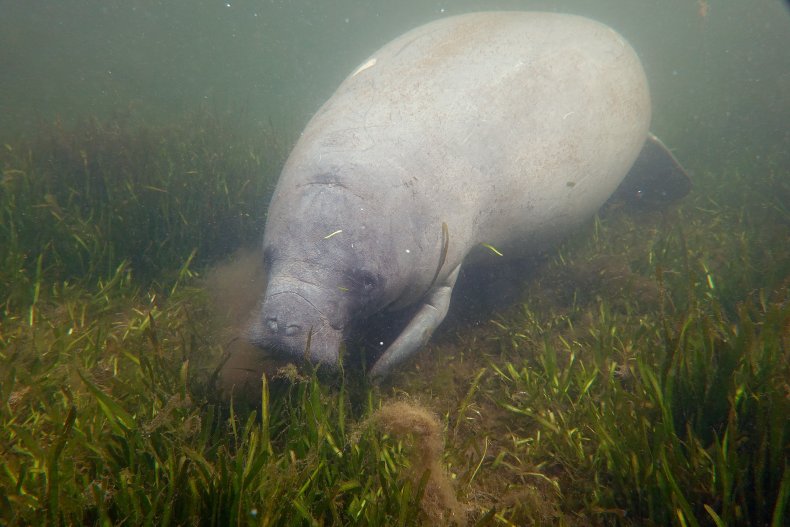 These animals are protected under state and federal laws. Those who violate state law can face up to a $500 fine and, or up to 60 days in jail. If someone violates a federal protection law, they may face fines up to $100,000 and, or one year in prison.
According to a release about the incident from the Florida Fish and Wildlife Conservation Commission, because the manatee was found to be underweight and had a healing wound with cold stress lesions, he was transported to SeaWorld for further evaluation.
Andy Garrett, the manatee rescue coordinator for the Florida Fish and Wildlife Conservation Commission, told Newsweek that a member of the public called officials about the matter.
"We knew a storm passed through overnight," Garrett said. "We usually see these events during hurricanes or a storm surge."
After discussing how best to approach the situation, officials and volunteers got to work on rescuing the manatee.
Local ABC affiliate station WWSB reported that rescuers kept the manatee warm with blankets and put him into a truck that took him to the SeaWorld location in Orlando.
Garrett said the first call reporting the matter came in at about 7:30 AM and the manatee was on his way to SeaWorld at around noon that day. Most of the time in that period was spent driving. Garrett said once on scene, it took officials and volunteers a few minutes to load the manatee into the transport box truck.
He also said it is not uncommon to receive these types of calls about manatees spotted out of the water and encouraged people to call in if they see one themselves.
A SeaWorld spokesperson told Newsweek that SeaWorld helps rehabilitate animals frequently. Just last year, SeaWorld rescued and rehabilitated 56 manatees.
This particular manatee, which has been named "Duncan," is still receiving intensive care, but the spokesperson said he is beginning to improve and is starting to eat on his own.
Brant Gabriel, the supervisor of rescue operations for the Orlando SeaWorld location, said Duncan is rehabilitating well because of the quick action taken to rescue him.
"Thanks to their fast action, we have been able to save Duncan's life—and we have every hope of returning him into the wild soon," he said.
Duncan is currently in a rehabilitation pool at SeaWorld Orlando's Critical Care Facility with three other manatees. He is the closest to being fully rehabilitated and returned to his natural habitat of the rescued manatees.
Gabriel said he may be released within a few months.
In an effort to address the rising number of deaths and starvation among manatees, wildlife officials in Florida announced a feeding plan.
Newsweek reported in mid-December that the program will involve humans feeding manatees at the Florida Power and Light's Cape Canaveral plant. Manatees are known to spend time in that area because of the warm water that is produced by the plant.
Although humans will feed manatees as part of the program, it is still illegal for people to feed wild animals in Florida.
Update 01/07/2022, 4:18 p.m. ET: This article was updated with quotes from Andy Garrett, the manatee rescue coordinator for the Florida Fish and Wildlife Conservation Commission.